California Bans Plastic Bags and the Consequences Aren't Wholly Unforseen
Relying on reusable bags does come with some consequences.
by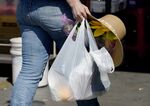 By the time California Governor Jerry Brown signed a ban on single use plastic bags into law on Tuesday, more than 120 cities and towns in the nation's largest state — including Los Angeles, San Francisco, Santa Monica, Santa Barbara, Long Beach and Laguna — had already beat him to the punch. 
Still, while a growing number of cities around the country are enacting ordinances promoting the use of reusable bags, California, the most populous state in the nation, is also the first to do so. Now, grocery stores and pharmacies in the Golden State must phase out the flimsy plastic starting on July 1, 2015, while convenience stores must eliminate them a year later. 
 "This bill is a step in the right direction--it reduces the torrent of plastic polluting our beaches, parks and even the vast ocean itself," Brown wrote in a signing message. "We're the first to ban these bags, and we won't be the last."
The American Progressive Bag Alliance, an industry group, countered that Californians don't actually want to give up plastic, and vowed to introduce a ballot measure that will let them 
"Our research confirms that the vast majority of California voters are opposed to legislation that bans recyclable plastic bags and allows grocers to charge and keep fees on other bags," a release from the organization said, denouncing the legislation as "a back room deal between the grocers and union bosses to scam California consumers out of billions of dollars without providing any public benefit--all under the guise of environmentalism."
While SB270 does provide $2 million in loans to plastic bag manufacturers to help the companies shift their operations to reusable bags, consumers will now have to purchase reusable bags or pay ten cents every time they receive a recyclable paper bag. 
Of course, that's not the only consequence. Reusable bags used for grocery shopping carry potential health risks if not regularly washed. Numerous studies have found that harmful bacteria such as E. coli and salmonella can be transferred by fruit, vegetables and meat products transferred using reusable bags. On the bright side, a 2011 study also showed that washing reusable bags kills 99.9% of potentially harmful bacteria. Less encouraging, however, is a University of Arizona finding that 97% of people don't actually wash their reusable bags. 
Health concerns aside, as any pet owner will tell you, there's also the matter of walking a dog or changing cat litter. So-called single use plastic bags, the kind now outlawed in California, sure did come in handy for that. 
Before it's here, it's on the Bloomberg Terminal.
LEARN MORE