Lack of Ebola Screening at U.S. Airports Draws Scrutiny
Mark Drajem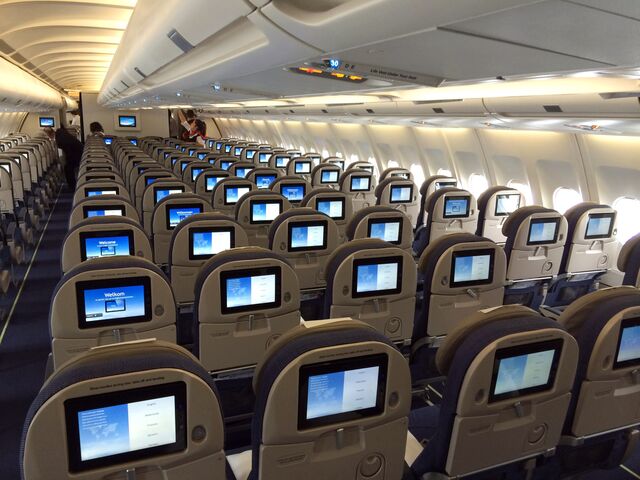 Airline passengers arriving in the U.S. from West African nations gripped by an outbreak of Ebola get a fact sheet about the deadly disease.
What they don't get are detailed questions from agents at the U.S. airport to determine if they had contact with an Ebola victim or screening to see if they have a high fever or other signs of the disease.
After a Liberian man arrived in Dallas and became the first confirmed Ebola case in the U.S., lawmakers are urging more aggressive action and some said they would convene hearings. Senator Rob Portman, an Ohio Republican, renewed a call for the U.S. to check travelers for Ebola symptoms, pressing Thomas Frieden, head of the Centers for Disease Control and Prevention.
"The time for action has come and gone and the CDC has yet to answer why they are resisting this next commonsense step that is long overdue," Portman said yesterday in a statement.
About 100 people in Dallas are being monitored for symptoms of Ebola after having contact with patient Thomas Eric Duncan or others he met. Duncan arrived in Dallas from Monrovia, Liberia's capital, after passing through Brussels and then Washington's Dulles International Airport.
Jason McDonald, a spokesman at the CDC, said the agency has no intention of raising screening process at U.S. airports from passive to active.
The House Energy and Commerce Committee is set to examine this issue at a subcommittee hearing on the Ebola outbreak on Oct. 16 with Frieden and other government officials, according to a statement the panel issued today.
Cruz, FAA
Senator Ted Cruz, a Texas Republican, yesterday asked the Federal Aviation Administration to describe what training is being provided to airlines and their crews to identify symptoms of the disease.
"Does the FAA intend to take any steps to limit or suspend air travel to countries that have experienced a significant Ebola outbreak?" he asked.
The FAA is monitoring the situation, according to an e-mail from the agency. Transportation Department regulations let airlines deny boarding to passengers with contagious diseases that may spread during flight, according to the CDC website.
Duncan, who the New York Times reported had shared a taxi with an Ebola patient before his departure, didn't show any symptoms, and so wasn't deemed contagious, according to the CDC. Early signs of the disease are a fever and flu-like symptoms.
Hand Washing
Passengers leaving Monrovia on international flights must wash their hands twice with chlorinated water before boarding, get their temperatures taken at a security gate and fill out a form indicating if they had contact with someone who had the disease. Duncan failed to disclose that he had had that contact, according to the Liberian government, which said on a Twitter account that it will charge him with making a false declaration.
"Individuals don't know what their exposures may have been. Not all individuals fully disclose what their exposure may have been," Frieden said on a teleconference with reporters. "We can't make the risk zero until the outbreak is controlled. What we can do is minimize that risk."
The CDC has worked with governments in West Africa so that "100 percent of the individuals getting on planes are screened for fever before they get on a plane," Frieden said.
'Few Signs'
The current outbreak in West Africa, including in Liberia, Sierra Leone and Guinea, has infected 7,718 people and killed 3,338, the World Health Organization said. "There are few signs yet that the Ebola virus disease epidemic in West Africa is being brought under control," the WHO said in a report this week.
Duncan and others arriving in the U.S. from nations with Ebola cases aren't given any special screening by U.S. border or customs agents. As of Oct. 1, agents were handing out cards that describe the disease's symptoms and timeline. It has a second section the person can give to a doctor.
"The patient giving you this card was recently in a country experiencing an outbreak of Ebola and may have signs and symptoms consistent with Ebola," the card says. "However, other more common infectious diseases should also be considered in the differential diagnosis."
Agents also observe all travelers for "overt signs of illness," said Jennifer Evanitsky, a spokeswoman for U.S. Customs and Border Protection. Those that show signs are sent to an airport CDC official for review.
Isolated Travelers
"The traveler would be isolated from the traveling public while the CDC and local public health authorities conduct an evaluation," according to a Customs statement.
The CDC could order customs and border agents to begin active screening, Portman said in a Sept. 15 letter. The agency has advised hospitals to treat people returning from West Africa with flu-like symptoms as possible Ebola patients.
Jeff Smith, a physician who works on maternal health for a unit affiliated with Johns Hopkins University, traveled back to Washington from Nigeria in recent days. Flying out of the capital Abuja and into Frankfurt, he wasn't asked anything about Ebola or his health. As he presented his passport to the border agent in Washington, Smith said he made a point of saying he had been in Nigeria.
"Welcome home," was the only response, he said.
During the 2003 outbreak of the deadly severe acute respiratory syndrome virus, or SARS, in Asia, health officials took the temperatures of passengers on inbound flights from Hong Kong, Tokyo and other Asian cities. According to an analysis of similar screening in Canada, which experienced SARS cases in Toronto, no cases of SARS were detected with the airport forms and screening there.
Unlike SARS, Ebola isn't transmitted by air.
"A lot of this is about making the right people aware of the situation," Robert Mann, president of RW Mann & Co., said in an interview. "You get an obvious histrionic response, but I wouldn't worry about it."
Before it's here, it's on the Bloomberg Terminal.
LEARN MORE