Do It For Dole
The former senator cuts an ad in Pat Roberts' hour of need.
by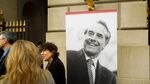 There's little chance anyone in Kansas has forgotten Bob Dole.
The former Republican majority leader is a beloved figure in the state's politics, and he has become a key ally in Senator Pat Roberts' efforts to hold onto his seat.
Roberts is out with a new ad today starring the 91-year-old Dole, who opens by dryly joking: "Hello, everyone. In case you've forgotten, I'm Bob Dole." He goes on to call Roberts a "workhorse" who "fights for Kansas every day."
The ad comes as Republicans call in the cavalry to save their incumbent senator, who trails independent Greg Orman by five points in the latest public poll. John McCain, Sarah Palin, and Jeb Bush have all flown in to campaign for Roberts. Rand Paul and Paul Ryan are expected later this week.
But "Do It For Dole" seems to be the slogan — no matter which way state officials plan to vote on Roberts. In 2012, Dole personally lobbied Roberts to back a U.N. treaty banning discrimination against people with disabilities. Roberts voted it down, siding with the Tea Party, as Dole sat on the Senate floor in his wheelchair pushing for passage.
According to The Washington Post:
"People thought, 'Gosh, why couldn't he have done that for Bob?' " said former GOP senator Nancy Kassebaum Baker, whose seat Roberts now holds. Among some prominent Republicans in Kansas, she said, "that just triggered an emotional disappointment with Pat. I think that carried on and has not been changed."
Before it's here, it's on the Bloomberg Terminal.
LEARN MORE