Iowa Democrats Hold Early Voting Lead
It's potentially good news for Senate hopeful Bruce Braley.
by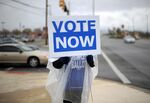 After more than a week of early voting in Iowa, voters have cast more than 61,000 ballots and Democrats are returning their votes with greater intensity.
That's potentially good news for Bruce Braley, the U.S. House member trying to keep the Senate seat held by retiring Senator Tom Harkin in Democratic hands. The race between Braley and Republican state Senator Joni Ernst is one of the most closely watched nationally because it's central to the Republican Party's goal of gaining a net six seats and control of the chamber.
Through Oct. 2, Democrats had requested 103,537 and returned 31,437 ballots, while Republicans had requested 62,881 and returned 20,732.  

Even more critical than the ballots being cast by Democrats and Republicans are those being returned by independent voters, Iowa's largest bloc in terms of registration.
"No Party" voters have requested 42,424 ballots so far and have returned 9,502. There's no way to know whether these voters — or registered Democrats and Republicans returning ballots — are marking their ballots for Braley or Ernst.
The 61,741 ballots returned so far represent a small proportion of the expected total. In a much less competitive Senate race in 2010, nearly 1.1 million Iowans voted.
Democrats have traditionally outdone Republicans in getting voters out early, both nationally and in Iowa. In 2012, 43 percent of Iowa's vote was cast early.
Republicans say they plan to spend $1 million in Iowa this fall to try to boost their early voting totals, although they don't expect to catch up to Democrats in the practice because more of their voters don't want to give up their Election Day routine.
The most recent poll by the Des Moines Register, released Sept. 27, showed Ernst with a six-percentage-point lead over Braley, 44 percent to 38 percent.
Early voting in Iowa continues through Nov. 3, the day before the election.
Before it's here, it's on the Bloomberg Terminal.
LEARN MORE