5 Fresh Takeaways From Primary Season
Members of Congress won primaries less overwhelmingly in 2014 than in past election years, but they still won. Just four members were rejected by their own party's voters.
by
The Brookings Institution yesterday released several reports on characteristics and implications of the 2014 congressional primaries. They're all worth reading.
Here are five takeaways from the Washington-based think tank's findings about the primaries:
1. More challengers
In 2014, there were more competitive primary challengers than in 2010, the last midterm election, according to a report from Robert Boatright, a Clark University political scientist who's written two books on congressional primaries. But incumbents' diminishing margins of victory may not matter all that much. A win is a win, after all. And Boatright finds no evidence that closer primaries influence incumbents' voting behavior.
The following chart from Boatright's report displays the number of House incumbents who won their primaries with less than 60 percent and 75 percent of the vote. The 2014 numbers exceed the 2010 numbers. The 2012 numbers are higher because that was the first election held after a redrawing of congressional district lines, and some incumbents  lost to other incumbents: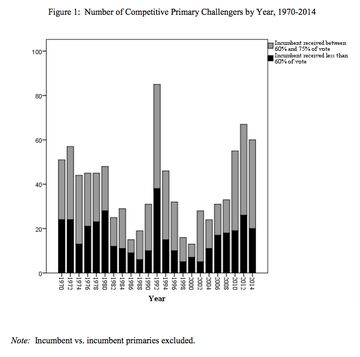 2. Incumbents ruled
Incumbents may have won their primaries less impressively, but they still had a nearly unblemished win-loss record in the primaries. No senator and just four House members were denied renomination this year. The number is in line with historical trends:
And there's no common thread linking the four House members who were beaten in the primaries. This bloc of three Republicans and one Democrat included the oldest House member in history, then-House majority leader Eric Cantor, an ex-reindeer farmer elected in a fluke two years ago, and a Democrat scarred by ethics questions.
With the possible exception of Cantor, who lost his Virginia primary to economics professor Dave Brat, no incumbent lost as a result of ideological differences with the challenger. As Boatright writes, far more primary challenges are motivated by "idiosyncratic failings of the incumbent" than by ideological reasons.
3. About that Republican 'civil war'
Still, primary challengers who attempted campaigns on explicitly ideological grounds were more numerous than in previous years, and the activity took place exclusively on the Republican side. Many of them ran anti-establishment Tea Party campaigns. They generally weren't successful, though.
"There may well have been a civil war, but it was arguably smaller and less successful than one might have expected at the outset of the 2014 primaries," Boatright wrote. On the Democratic side, the primary season was very quiet. Republican incumbents faced more primary challenges than Democrats for six consecutive elections.
4. More Money, But Spread Out
While primary challengers together raised significantly more money than in previous election years, the money was spread out across the candidates. Few primary challengers were well-funded. Republican senators were well-prepared to deter or combat primary challengers. There was little self-financing by Senate primary challengers.
5. Any implications for November?
Boatright finds a high correlation between the number of incumbents who face competitive primary challenges and the number of incumbents defeated in the November general election, though that pattern probably won't hold this year. Even with public approval of Congress hovering near historic lows, the nonpartisan Cook Political Report rates just 23 House races as highly competitive. It won't be a "throw the bums" out kind of election.
A big question: will the primary challengers' more competitive (if losing) efforts in 2014 embolden more of them to run in 2016.
Here's a webcast of the Brookings presentation:
Before it's here, it's on the Bloomberg Terminal.
LEARN MORE