Secret Service Director Hemorrhaging Democratic Support
Across Congress, lawmakers are starting to turn on agency's first female director.
by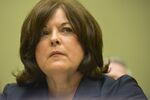 The morning after a rough day of hearings, Secret Service Director Julia Pierson is on the verge of losing her job.
Pierson maintains the public support of the White House, Press Secretary Josh Earnest said this morning on CNN's "New Day," in the wake of an incident where a man -- Omar J. Gonzalez -- jumped the White House fence, made it inside the building and all the way to the East Room before being apprehended. To be clear, that's really the only thing that matters.
But across Congress, lawmakers are starting to turn on agency's first female director, most notably Democrats -- a group that traditionally waits for the White House before weighing in on calling for resignations. 
"I have come to the conclusion that my confidence and my trust in this director, Ms. Pierson, has eroded," Representative Elijah Cummings, a close White House ally and top Democrat on the House Oversight Committee, said this morning on MSNBC's "Morning Joe."  "And I do not feel comfortable with her in that position."
The position is a shift by lawmakers in the wake of the disclosure yesterday just hours after Pierson testified on Capitol Hill that an armed man with a criminal record was let inside an elevator with Obama in September.
Representative Stephen Lynch, a Massachusetts Democrat, said in a statement late last night that in Pierson's testimony he "was led to believe that the only breach of the president's security was the Gonzalez fence jumping incident." 
"The elevator incident occurred two weeks ago," Lynch said. "I feel like the committee was misled." 
Lynch called for changes to "restore the integrity and rebuild the confidence of this important agency." 
Before it's here, it's on the Bloomberg Terminal.
LEARN MORE