Julia Pierson Is Running Out of Friends in Washington
As more Secret Service incidents come to light, support for the director dwindles.
by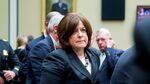 Under fire all week, Secret Service Chief Julia Pierson is about to see her prospects dim considerably. U.S. Senator Chuck Schumer, the No. 3 Democrat in the chamber, will call on her to resign later Wednesday, hours after she lost the support of several other key Democrats.
The White House is maintaining public support, consistent with President Barack Obama's reluctance to scapegoat administration officials in the face of a scandal. But even their support is beginning to sound awkward. White House Communications Director Jennifer Palmieri this morning when asked on MSNBC whether Pierson should quit:
"The president and the White House have confidence in Director Pierson's ability to do this job. We have confidence in the review that she's undertaking, about exactly what happened at the incident that you referred to that happened here at the White House a couple weeks ago. It's something that they're taking very seriously. You've seen here that they've upped some of the security procedures already. And she's undertaking that review. We're letting that process go forward. The president has confidence that this is a 30-year veteran. She's has the ability to run the department and to conduct this review. And we'll see what comes of that."
Schumer is the highest ranking Democrat to call for Pierson to resign. That will happen later, an aide tells Bloomberg News on the condition on anonymity. The daily White House briefing, originally scheduled for 12:15 p.m., has been pushed back until 3:15.
Another bad sign for Pierson: House Democratic Leader Nancy Pelosi said an "independent investigation" was needed to hold people accountable and determine how to "go forward," adding that recent security breaches are "inexcusable." 
Pelosi said the Secret Service's problems predate Pierson, but left plenty of room for Obama to make his own decision on the agency's first female director.
"I'd like to see an investigation of the culture and the procedures and the accountability in the Secret Service," Pelosi told reporters in Washington on Wednesday morning. "I do think the challenge may go beyond her."
(Also on Bloomberg Politics: Timeline: The Secret Service's Shifting Story)
The president's safety has become a top concern in Washington following an incident last month where a man — Omar J. Gonzalez — jumped the White House fence and managed to get deep into the Executive Mansion before being captured. Agency officials on Tuesday confirmed another lapse occurred on Sept. 16 when they permitted an armed security guard with a criminal record to get on an elevator in Atlanta with Obama.
 "The president should fire her or at least she should resign. I have lost confidence in her," Representative Jason Chaffetz, a Utah Republican on oversight committee, told Bloomberg News in an e-mail. "More importantly, the men and women of the Secret Service have lost confidence in her."
Representative Elijah Cummings, the top Democrat on the House Oversight Committee, said this morning on "News One Now," Roland Martin's radio program, that "the president is not well served" by Pierson.
"I think this lady has to go — Ms. Pierson," he added. 
Cummings, a close White House ally, later softened his response on Twitter.
Obama has taken his time deciding the fate of administration officials who have found themselves at the center of scandal.
Kathleen Sebelius maintained her post at Health & Human Services for months after the embarrassing rollout of the Affordable Care Act, the signature law of Obama's era.  Eric Holder has been perhaps the most politically unpopular member of Obama's administration, yet only announced his resignation last month. It took a month after reports of systemic failure to care for military veterans before Obama accepted the resignation of former VA Secretary Eric Shinseki, which he did while noting the former Army general's integrity who had "done exemplary work."
Republicans aren't waiting on the president.
House Speaker John Boehner backed calls from House Homeland Security Committee Chairman Mike McCaul to establish a commission to conduct a comprehensive review of the Secret Service.
"The more we discover, the clearer it becomes that the Secret Service is beset by a culture of complacency and incompetence," Boehner said in a statement. "As such, the president must make a swift determination on whether the agency is being well-served by its current leadership."
Before it's here, it's on the Bloomberg Terminal.
LEARN MORE