Is Wendy Davis Catching Up With Women?
She's now down by just two points among the key group -- but still trails overall, a poll says.
by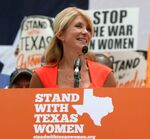 Texas Democrat Wendy Davis is down just two points among female voters, according to a Texas Lyceum poll of the gubernatorial race released today.  That suggests Davis could finally be gaining ground among women, a group where she lagged since her famous filibuster against an abortion bill last year vaulted her into the race.
But she still trails by 9 points among likely voters overall, the survey found — a big gap to close as the beginning of early voting on Oct. 20 looms.
Among women, Davis drew 44 percent to Republican Greg Abbott's 46 percent in the poll,  conducted Sept. 11-25 among 1,000 adults with a margin of error of plus or minus 3.1 percentage points.  That's far closer than the 10-point margin found in a University of Texas/Texas Tribune poll taken May 30-June 8, as well as the 8-point margin found by the Democratic firm Public Policy Polling in April.
The results are heartening news for Davis' campaign, coming weeks after she went on air to aggressively prosecute Abbott as an "insider" who doesn't side with — among other groups — Texas women.
Before it's here, it's on the Bloomberg Terminal.
LEARN MORE