Obama Takes a Veiled Swipe at Hillary Clinton
Annoyed by second-guessing of his Syria policy, Obama ridiculed the "mythology that's evolved that somehow if we had given those folks some guns two-and-a-half years ago, that Syria would be fine."
by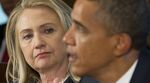 Hillary Clinton, teller of tall tales. That's not the pronouncement of Occupy Wall Street, MoveOn.org or the Republican National Committee, though each might agree for different reasons.
It's what President Barack Obama said, in so many words, on "60 Minutes" Sunday, evoking a theme -- Clinton makes stuff up -- that helped him defeat her in 2008 and could hurt her with voters in both parties heading into 2016. It also signifies a recurring point of tension between Clinton and a president she'll want on her side for that election.
Annoyed by second-guessing of his Syria policy, Obama ridiculed the "mythology that's evolved that somehow if we had given those folks some guns two-and-a-half years ago, that Syria would be fine."
Obama never said her name, but Clinton was the highest-profile advocate for that approach. She has used it to try to distance herself from Obama's foreign policy both in her recent book and during the ensuing promotional tour. Before she left her job as secretary of State in early 2013, Clinton counseled Obama, along with then-CIA Director David Petraeus, and then-Defense Secretary Leon Panetta, to arm Syrian rebels.
Obama refused.
In an interview this summer, Clinton criticized him for leaving a power vacuum that Islamic State filled. She also said the "don't do stupid s---" mantra Obama and his team used to describe his foreign policy approach isn't an "organizing principle."
All the president's men got upset. Clinton called Obama. Her spokesman said the two would "hug it out" at a party later that week on Martha's Vineyard.
But they didn't hug it out.
Clinton tried to walk it back again last week at the Clinton Global Initiative's annual conference. She reiterated a less-noticed line from the original interview in which she acknowledged she couldn't be sure that the outcome in Syria would have been different if Obama had taken her advice.
In a way, Clinton's current position and Obama's are the same: It's not clear that arming Syrian rebels would have prevented the rise of Islamic State or toppled Bashar al-Assad and brought moderates to power. But she didn't arrive there until after she'd called him out for a "failure" to act swiftly, a stance she could return to if the political winds suit it.
When Obama arrived at CGI last week, they met in private. On stage, he spoke graciously but not glowingly about her, praising Clinton's "extraordinary leadership" and calling her posting as the nation's top diplomat "one of the best decisions" of his presidency -- as much an endorsement of his own judgment as of her skill.
Obama sounded a bit like someone who finds Clinton "likable enough," as he said in a 2008 presidential debate.
At the very least, his remarks at CGI were hardly the kind of political love letter he'd orated in a January 2013 "60 Minutes" interview timed to her departure from his administration.
"I just wanted to have a chance to publicly say thank you, because I think Hillary will go down as one of the finest secretary of states we've had," Obama said then. "It has been a great collaboration over the last four years. I'm going to miss her."
It was hard to miss his diss Sunday night.
Before it's here, it's on the Bloomberg Terminal.
LEARN MORE