Politics & Policy
Why Gen Z Brits Are Dreading Freedom Day
Many young Britons wish the U.K. would keep its mask mandate in place. If not, they fear missing more work, school — and their summer holidays.
By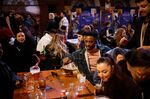 As of July 19th, people in England will be able to rave in nightclubs, host house parties and weddings with unlimited guests, crowd into music and sporting venues and line up at the bar for a pint. It's the summer of fun that young adults and teens have been yearning for. But will they really be able to enjoy it, and at what cost?
As Covid cases soar again, many millennials and Gen Zers are angry at U.K. Prime Minister Boris Johnson's decision to drop mask mandates and most social distancing rules now. They fear they're being put in harm's way before they've been able to get fully vaccinated. After all, Health Secretary Sajid Javid has warned that infection numbers could easily rise above 100,000 a day in the coming weeks.