Finance
The Crypto Revolution Will Not Be Public
Is a central bank digital currency, or CBDC, a solution in search of a problem?
By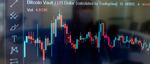 A revolution is pending in finance, and the world is only beginning to realize the transformations it is likely to bring. Financial institutions will have to take a radically different approach to information technology just to stay in business.
Bullish Global, a crypto firm, is planning to go public this year, with an expected valuation of $9 billion. Circle Internet Financial Inc., the company behind stablecoin, is also planning to be publicly listed, as is cryptocurrency platform Bakkt Holdings. Financial markets are difficult to predict, but at this point, 12 years after the inauguration of Bitcoin, it is hard to argue that this is all a bubble.