Politics & Policy
Trump's About to Make a Huge Coronavirus Mistake
Reopening the economy too soon would devastate both public health and the economy.
By
Trump's About to Make a Huge Coronavirus Mistake
Reopening the economy too soon would devastate both public health and the economy.
By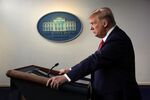 This is Bloomberg Opinion Today, an assembly line of Bloomberg Opinion's opinions. Sign up here.
Today's Agenda

Economy vs. Lives Is No Choice at All
President Donald Trump apparently wants to be a wartime president without asking for wartime sacrifices. It's a good way to lose the war.
For days, Trump has openly itched to forget all of this coronavirus stuff and get everything back to normal, and today he said he hoped to end social distancing by Easter. Welcome to the club, Mr. President; nobody enjoys hunkering down in their house while the economy collapses and incomes and retirement savings vanish. But the math is not as simple as coronavirus = x deaths and terrible recession = y deaths, as Trump frames it. As Michael R. Strain notes, letting the virus run wild will only hurt the economy more, driving up illnesses and leading to unnecessary deaths, including of people who don't have Covid-19 but can't get proper care in a decimated health system.
Trump should listen less to people like Arthur Laffer and hedge-fund managers and more to health-care experts, writes Noah Smith. They suggest that Easter will be far too soon to sound the all-clear. And without more widespread testing, which has been slow to get going (see below), we could be in and out of shutdowns for months to come.
The truth is, we're already not really in a full lockdown of the sort seen in Wuhan or Italy, notes Noah Feldman. Huge parts of the economy are still functioning, and shelter-in-place "orders" are hard to enforce. We'll see how much this actually stops the virus.
A call for shared sacrifice from the president would make all of our jobs in this crisis easier, including his own. Other wartime presidents knew the role involved making difficult choices and selling the country on them, in a nationwide team-building exercise, writes Jonathan Bernstein. Trump, meanwhile, indulges in magical thinking that only demoralizes and divides us.
This is a rare opportunity for a grander gesture, given we're suffering a level of disruption akin to World War II, as Tyler Cowen writes. Corporate America seems to get this; Ford Motor Co. and others are voluntarily producing health equipment, despite Trump's reluctance to use wartime powers to recruit them. But as Brooke Sutherland writes, even these admirable efforts are too disjointed to make a difference in, say, New York, which is already swamped with pandemic victims.
As for the rest of us, as others have noted, we're not being asked to invade Normandy; just to endure shaky teleconferencing and change our sweatpants every now and then, as Congress and the Fed handle the economic costs. It's a small price for saving possibly millions of lives.
We Need More Testing Now
Covid-19 officially arrived in both South Korea and the U.S. on Jan. 20. Yet South Korea's outbreak peaked nearly a month ago, while America's is still soaring. The difference? Testing, or the lack thereof. South Korea could test large numbers of people, while the U.S. still struggles to test even the sick. This failure has many fathers, but one big reason we still can't test adequately is that we long ago offshored the production of the swabs and protective gear we need for mass testing, writes Noah Smith. Now we're struggling to import supplies and shift factory production to fill the gap. In this case, a little protectionism will go a long way to helping the U.S. prepare for the next pandemic.
The lack of tests and protective gear is especially punishing for medical professionals. Even those who aren't directly treating known virus patients are at unusually high risk of contracting the disease, writes Therese Raphael. Orthopedic surgeons, for example, get exposed to patients' blood during operations, and more-intense concentrations of the virus may cause more-severe cases of Covid-19. Our failures are killing the people we need on the front lines.
Further Pandemic-Response Reading:
Credit Crisis 2.0
To be sure, the pandemic's economic destruction is roaring like a wildfire through financial markets in ways not seen since 2008. There's a scramble for cash in derivatives markets, where there could be $25 trillion in margin that needs covering, writes Shuli Ren. The commercial real estate mortgage market will soon need its own Fed bailout, writes Marcus Ashworth. The entire banking system is seizing up for lack of cash, which the Fed is addressing, but also for the simple reason people don't want to buy debt or lend money when they can't see the economic bottom, writes Matt Levine.
Meanwhile, many barely investment-grade companies are about to fall into junk status at just the wrong moment, notes Brian Chappatta. These "fallen angels" will be out of reach of Fed rescue, but it could be an opportunity for people to make money on credits being punished too harshly.
Doing Bailouts the Right Way
The stock market had its best day since 2008 on hopes Congress will soon agree on an enormous stimulus package. A key sticking point was oversight of a $500 billion pot of bailout money. One of its biggest recipients will probably be Boeing Co. Distasteful as it may be to reward the company that brought us the 737 Max disaster, the economy needs the airplane maker to survive, writes Brooke Sutherland. In exchange, though, it must make sacrifices to protect travelers, workers and its own finances.
The package will also include checks sent directly to individuals. The trouble with such things is that they take time to deliver and spend, and people without bank accounts must rely on check-cashing services that take a cut. This crisis is a great opportunity for the launch of sovereign digital money, write Morgan Ricks and Lev Menand. We can give people stimulus money in digital Fed accounts, making it more efficient.
Further Economic-Rescue Reading: The ECB must drop its limits on QE to support everyone in the euro zone. — Melvyn Krauss
Telltale Charts
Teladoc Health Inc. stock is understandably soaring as telemedicine demand rises, but the industry still has many challenges, Alex Webb writes.

Further Reading
Here's the kind of Navy we need to top China's ambitions. — James Stavridis
While its Big Oil rivals take bitter price-war medicine, Exxon Mobil Corp. lives in denial. — Liam Denning
Cigarette packages are about to get much scarier. — Cass Sunstein
No, you can't sue China for the coronavirus. — Stephen Carter
Frantically working won't make you feel better. Do stuff that actually helps. — Gianpiero Petriglieri
ICYMI
Youthful patients make Germany's virus death toll lower.
Distilleries and breweries are making hand sanitizer.
What it looks like from space when everything stops.
Kickers
Fox walks from Norway to Canada in 76 days. (h/t Scott Kominers)
Scientists find an animal that doesn't breathe oxygen.
Mother and son debunk a geographic hoax.
The 50 best episodes of "The Office."
Note: Please send oxygen and complaints to Mark Gongloff at mgongloff1@bloomberg.net.
Sign up here and follow us on Twitter and Facebook.
To contact the editor responsible for this story:
Stacey Shick at sshick@bloomberg.net