Markets
Markets Are Worried About Much More Than Trade
Investors are back to worrying about stagnation and economic decline, despite a labor market that looks tight.
By
Markets Are Worried About Much More Than Trade
Investors are back to worrying about stagnation and economic decline, despite a labor market that looks tight.
By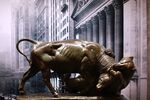 To get John Authers' newsletter delivered directly to your inbox, sign up here.
Markets are a mess. Across the world and across asset classes, there were new highs and lows Thursday, and sharp deviations from trends. Something is definitely up. But what?
There is also, of course, a welter of news coverage of the increasing hostilities between China and the U.S. over trade and technology. Does it therefore follow that the trade war is to blame for the turbulence in markets? We should not take this for granted.
So, could this be about world trade? Equity traders do not generally think of world trade data much in their day-to-day work, but it turns out that changes in equities do tend to predict changes in global trade volumes. The following chart, from London's Absolute Strategy Research, shows that equity market moves tend to move ahead of changes in trade flows, with a six-month lag:

The issue here is that the rebound in world equities since the Christmas Eve selloff suggests that traders are pricing in a trade recovery. This would imply that they are due quite a correction. Further, trade volumes appear to be enduring the most significant interruption yet to their steady improvement since the aftermath of Lehman's bankruptcy:

A further argument that this market selloff, unlike the one that preceded it in December, is about trade, might come from the relative performance of emerging markets. Rightly or wrongly, they are seen as far more exposed to trade conflict than the U.S. This might explain why the sell-off at the end of last year functioned as a correction to drawn-out U.S. outperformance, while this latest moment has seen emerging markets lag behind the S&P 500 even more. At this point, all the outperformance by emerging markets since 2003 has been canceled out – an extraordinary statistic given the speed of growth in much of the emerging world. 

But despite this, it is hard to say that what's going on is just about trade. Or at least, if the trade conflict is driving this it is leading to a startling and swift reappraisal of the prospects for the economy.
The recent rise in the price of oil has gone into a sudden reverse, for reasons that can mostly be explained with reference to demand and supply (or an excess of it) in the oil market. That is an important driving factor in its own right, and tends to reduce inflation forecasts in the bond market. That said, the way breakeven rate on Treasuries have dropped in the last few weeks is startling and goes far beyond a normal reaction to a drop in oil prices:

Bear in mind also that tariffs are directly inflationary. All else equal, they increase the prices that Americans have to pay for imported goods. So this move lower in inflation expectations needs more than the trade conflict to explain it.
Meanwhile, Wednesday's release of the minutes to the Federal Reserve's last meeting on monetary policy suggested that the central bank was more hawkish than had been thought. In other words, the Fed is keener to keep rates higher for longer than anticipated. The response in the federal funds futures market has been to move the odds of a rate cut this year above 80% for the first time.

That only makes much sense if the trade conflict has completely changed traders' outlook for the economy since the last Fed meeting at the start of May. It may well have done so, but it is likely that some other shocks to the system are at work.
For further evidence of this, look at Treasuries, the most important of all markets. Early last year, as 10-year note yields burst upwards, it appeared that a steady downward trend that had lasted more than three decades had finally ended. Yields, according to prognosticators, had entered a new rising trend, which translates into a bear market for the price of bonds. There are different ways of capturing that downward trend, but on virtually any basis, it looks as though bond yields are now back in line with the bull market trend. The 10-year yield traded below 2.3% for much of Thursday.

Logically, it makes sense to assume that traders are back to worrying about stagnation and decline, despite a labor market that looks tight, and a welter of sentiment measures that suggest confidence is still robust. The publication of the IHS Markit purchasing manager indexes on Thursday did indeed scare markets. It would be absurd to attribute some big moves in huge and liquid markets that have been afoot for a while to one economic number, but the Markit manufacturing number suggests reasons for caution. Similarly, economic surprises as measured by Citigroup have been negative of late:

Amid all of this, stocks sold off, although a strong end to the day showed that U.S. traders are nowhere near panicking. The S&P 500 is down only 4.2% from an all-time high set at the end of last month. Even if the trade war outlook is alarming, lower bond yields and expectations of rate cuts from the Fed would tend to buoy them.
An overall picture, if there is one, is that investors are worried about the economy. It is hard to explain the extent of that worry unless trade is beginning to affect them. Meanwhile, U.S. stocks scarcely begin to take account of the risks.
The biggest problem is knowing what to do about this. The best evasive action would be to invest in assets that are not exposed to either the U.S. or Chinese economies. There are very few of those. For the longer term, there may be an opportunity in over-sold emerging markets, particularly those countries that might benefit from suppliers leaving China for somewhere else, such as the countries of southeast Asia or Mexico. And on a relative basis, Europe already looks cheap and might suffer less than from the U.S.- China conflagration than the two combatants themselves. But none of this can be done with any conviction. This may not be a mad world, but it is a dangerous one. 
To contact the editor responsible for this story:
Robert Burgess at bburgess@bloomberg.net