view
Europe's Convinced U.S. Won't Solve Its Problems
Leaders decide they'll have to learn to live with a resurgent Russia.
By
Europe's Convinced U.S. Won't Solve Its Problems
Leaders decide they'll have to learn to live with a resurgent Russia.
By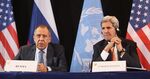 Europe is facing a convergence of the worst crises since World War II, and the overwhelming consensus among officials and experts here is that the U.S. no longer has the will or the ability to play an influential role in solving them.
At the Munich Security Conference, the prime topics are the refugee crisis, the Syrian conflict, Russian aggression and the potential dissolution of the European Union's very structure. Top European leaders repeatedly lamented that 2015 saw all of Europe's problems deepen, and unanimously predicted that in 2016 they would get even worse.
"The question of war and peace has returned to the continent," German Foreign Minister Frank-Walter Steinmeier told the audience, indirectly referring to Russian military interventions. "We had thought that peace had returned to Europe for good."
What was missing from the conference speeches and even the many private discussions in the hallways, compared to previous years, was the discussion of what Europe wanted or even expected the U.S. to do.
Several European officials told me that there was little expectation that President Barack Obama, in his last year in office, would make any significant policy changes to address what European governments see an existential set of crises that can't wait for a new administration in Washington.
"There's a shared assessment that the European security architecture is falling apart in many ways," said Camille Grand, director of the Foundation for Strategic Research in Paris. "There is a growing sense that this U.S. administration is focused on establishing a legacy on what has already been achieved rather than trying to achieve anything more. Yet the problems can get much worse."
During the first day of the conference, the U.S. role in Europe was hardly mentioned in the public sessions. In the private sessions, many participants told me that European governments are not only resigned to a lack of American assertiveness, they also are now reluctantly accepting a Russia that is more present than ever in European affairs, and not for the better.
"There's not a lot of talk about how the United States can be part of the solution. We seem to be disappearing from their calculations," said Walter Russell Mead, a historian with the Hudson Institute. "From the European standpoint, Putin has become somebody that like it or not that they have to deal with."
On Saturday, Secretary of State John Kerry gave a speech filled with optimism about the future of Europe and the trans-Atlantic alliance. He sought to assuage concerns about American withdrawal from the region and paint the current state of affairs in a positive light.
"We know many Europeans right now feel overwhelmed by the latest round of challenges," he said. "I want to express the confidence of President Obama and all of us in America that, just as it has so many times before, Europe is going to emerge stronger than ever, provided it stays united and builds common responses to these challenges … We are going to do just fine."
Kerry said the U.S.-Europe relationship was not "unraveling," as some claim, and he pointed to joint efforts to rebut Russian aggression in Ukraine and the Iran nuclear agreement as examples of successful collaboration. He said the Islamic State would be defeated and he acknowledged the U.S. should do more to help Europe deal with the millions of refugees flowing into the continent.
Kerry then touted his agreement struck last Thursday with Russian Foreign Minister Sergei Lavrov on a "cessation of hostilities" in Syria to begin in a week. He didn't mention that Syrian President Bashar al-Assad publicly rejected the idea, or repeat his statement that if Russia doesn't stop its indiscriminate bombing in Syria, he would go to an as yet unspecified "Plan B."
Many in the audience noted that Kerry has little leverage with which to pressure Russia to abide by any cease-fire. There's little faith among European officials I spoke with that Russia has any plan to end the fighting, unless it is on Moscow's own terms. Lavrov spoke after Kerry and reiterated that Russia would continue to bomb the "terrorists" in Syria, and that Russia's view of "terrorists" was expansive.
"Kerry is coming in there telling them this is what he hopes they will do, without having a way to elicit a response to them," said Mead. "That looks like a negotiation, but that's not actually a negotiation."
Derek Chollet, who served in the Obama administration from 2009 until last year, told me the White House believes that while the U.S. should stay committed to European security, it is the Europeans who will have to do more to solve their problems.
"It's a false choice to say either America solves every problem or the problems don't get solved," he said. "All of our allies for justifiable reasons want more of the United States, but more of everything is not a strategy."
In a world of limited resources, according to Chollet, the Obama administration is seeking a way to balance several competing strategic interests and manage the related trade-offs.
"You can put together a long list of individual things you could do more of, but when you add all that up it's not a sustainable strategy," he said. "We are not going to solve the European Union's problems for them."
That view is not universally held inside the U.S. government. There are officials in the State Department, the U.S. military, and especially in Congress who believe the administration should be doing much more. For example, some support giving arms to the Ukrainian military, establishing safe zones inside Syria, giving the Syrian rebels advanced weaponry to defend themselves, and doing more to remove Assad from power.
In fact, at different times Kerry has supported every one of these policies, but has repeatedly been rebuffed by the White House. Based on his speech, we can conclude he has now come to the same conclusion as European leaders: Obama is not going to drastically change his policies before he leaves office.
For Europe, that might be too long to wait.
To contact the author of this story:
Josh Rogin at joshrogin@bloomberg.net
To contact the editor responsible for this story:
Tobin Harshaw at tharshaw@bloomberg.net