view
Fed Leaves Rates and Doubts Unchanged
Maintaining the status quo outweighed taking a risk.
By
Fed Leaves Rates and Doubts Unchanged
Maintaining the status quo outweighed taking a risk.
By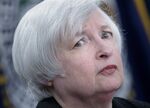 The Federal Reserve has chosen to leave interest rates unchanged, effectively at zero. What does this mean? First and foremost, it means that we are unlikely to see any big or significant changes in monetary policy in the near future. 
The Fed's interest rate itself isn't that important -- a quarter-percentage point or a half-percentage point basically doesn't alter the financial and business calculations of banks, companies or the federal government. Far, far more important is the Fed's "regime" -- the decision-making process by which the the central bank sets interest rates in response to inflation, unemployment and other conditions. The effect of monetary policy depends on people's expectations of how the Fed will behave in the future, so people are really watching for any hint of a "regime shift" or deep attitudinal change. Has the Fed become more hawkish toward inflation? Has it started to worry about financial stability? Does it believe that quantitative easing really boosts the economy? 
There were indications that a regime shift was coming. The Fed seemed increasingly worried about leaving interest rates near zero -- so much so that some observers thought that the central bank would raise rates just to prove it was capable of doing so. In addition, there was a technical issue. The large amount of reserves that banks built up during QE means that the Fed's typical mechanism for raising rates -- swapping bonds for bank reserves -- would not even work unless huge amounts of reserves were mopped up, which might risk large disruptions to the banking system. Instead, the Fed will turn to untested alternative mechanisms. 
For these reasons, some observers believed that the Fed would raise rates just once, in order to make sure that its alternative rate-hiking mechanisms actually work, and to prove that rates wouldn't be stuck at zero forever. "The importance of the initial increase should not be overstated," Fed Chairman Janet Yellen declared back in June. There is still a strong possibility that the Fed might do this at some point -- according to markets, possibly in 2016. 
So the decision to leave rates unchanged doesn't mean much. The Fed hasn't chosen to resolve the doubts about whether its monetary tools can raise rates without causing upheaval in the banking system. But it has also chosen not to create new uncertainty over whether a rate hike is a one-off or a signal of more to come. 
That latter consideration, I am guessing, was probably important to the Fed's decision. With China's economy still slowing and stocks down a lot from their highs of earlier this year, the Fed was probably wary of hiking rates, since such an increase might spark a raucous debate over whether the rate was a one-off or a shift to a new, hawkish regime. Creating uncertainty just as global economic danger looms would put the Fed at risk of being blamed for a major misstep. Meanwhile, inflation is still a good deal lower than the Fed's 2 percent target. 
Therefore, the Fed seems unlikely to embark on the monetary experiment of rate liftoff until the uncertainty about the effect of China on the global economy has been at least partially resolved.
To contact the author of this story:
Noah Smith at nsmith150@bloomberg.net
To contact the editor responsible for this story:
James Greiff at jgreiff@bloomberg.net