view
What If Uber Drivers Owned Uber?
It would end the contractor vs. employee debate.
By
What If Uber Drivers Owned Uber?
It would end the contractor vs. employee debate.
By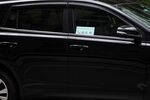 On Thursday, U.S. District Judge Edward M. Chen in San Francisco is going to hear arguments on whether a class-action lawsuit by Uber drivers looking to get their gas and maintenance expenses reimbursed can go forward. As Bloomberg's Joel Rosenblatt and Eric Newcomer explain:
Chen's decision hinges on the broader issue of whether Uber drivers are independent contractors, as the company claims, or employees entitled to unemployment and workers' compensation as well as the right to unionize.
As I've written before, that's a really tough call. Chen's colleague Vince Chhabria, who is presiding over a similar case involving Uber rival Lyft, wrote in March that:
At first glance, Lyft drivers don't seem much like employees. … But Lyft drivers don't seem much like independent contractors either.
What, though, if Uber and Lyft drivers were something else? What if they were…owners? This was a topic of conversation last week at Foo Camp, an annual tech gathering in California hosted by O'Reilly Media (Foo stands for "friends of O'Reilly"). Wrote attendee Cory Doctorow:
Such notions spring up pretty frequently around what are sometimes called multisided platforms -- companies or other organizations that bring together buyers and sellers (eBay, Uber) or users and advertisers (Google, Facebook). That's partly because these entities derive so much of their value from interactions among people who don't work there. It's also because they have a tendency toward natural monopoly; as you attract more people to your platform, it becomes more valuable.
This is where half-tongue-in-cheek suggestions such as University of Washington communications professor Philip N. Howard's "Let's Nationalize Facebook" come from. More practically, there are the examples of Linux, the Apache Web server and Wikipedia -- cooperative projects that have become crucial to the workings of the online world.
Academic researchers have spent a lot of time studying what makes these collaborative efforts succeed. One model, devised by business school professors Carliss Baldwin (Harvard) and Eric von Hippel (Massachusetts Institue of Technology), distills it down to design cost and communication cost:

When the design cost is very high but the communication cost very low, cooperative collaboration is the way to go. The rise of "low-cost any-to-any and any-to-all communication via the Internet," Baldwin and Von Hippel write, has pushed more projects into that zone, especially in the realm of software development. With a car service, though, communications costs for drivers are actually pretty high -- time spent communicating via the Internet is time spent not driving (one hopes), and tracking down all your peers isn't a trivial task -- while the design costs for a dispatch and payment app are somewhere in the middle range. This makes it a job seemingly best suited for a "producer innovator," aka a company such as Uber or Lyft.
Now that's just one simple model, and it isn't necessarily the right one. But venture-capital-backed for-profit corporations have undeniably been the main movers in the recent explosion of on-demand marketplaces for services (Uber, Airbnb, TaskRabbit, Upwork and so on). There are big costs involved in establishing a new marketplace, winning providers and customers over to it and -- in the case of Uber and Airbnb -- lobbying for regulatory changes to make the business viable. When I visited dog-sitting marketplace DogVacay last week, I asked founder and Chief Executive Officer Aaron Hirschhorn what his venture-backed startup had been able to do that a dog-sitting cooperative probably couldn't. His first answer was that it had invested heavily in customer service -- essential to making dog-owners comfortable with leaving their pets with a stranger.
Still, it is possible to imagine that years down the road, when these marketplaces are mature businesses, there might be advantages to running many of them as cooperatives instead of as shareholder-owned for-profit corporations. Service providers would feel a greater sense of ownership and responsibility; customers might trust the organization more. Outside shareholders wouldn't be pressuring the organization to do stupid things.
The difficulty is getting there. The U.S. has lots of employee-owned and customer-owned businesses, but my impression after looking over a bunch of them is that most started out that way. In financial services they began as mutual associations of people in similar situations (Philadelphia homeowners needing fire insurance, for example), in retail and other fields it was usually the doing of a quirky and/or visionary founder or group of founders who wanted to share the bounty with all employees.
Producer-owned cooperatives, the closest analogy to an Uber driver co-op, are found mostly in agriculture, and some of them are huge. The biggest of the lot, Minnesota-based CHS, had $42 billion in revenue in its most recent fiscal year and ranks 69th on the Fortune 500 listing of the country's biggest companies. CHS is the product of merger after merger of smaller farmer cooperatives over many decades -- the name is an abbreviation of Cenex, originally Farmers Union Central Exchange, founded in St. Paul, Minnesota, in 1931, and Harvest States Cooperatives, a predecessor of which was founded in Lewiston, Idaho, in 1929. These were associations of independent businesses (farms) that banded together in ever larger groups to distribute their products. It's a little hard to see a parallel developing in the on-demand economy -- things are simply moving too fast to allow for that kind of slow growth and consolidation.
What that leaves, then, is the possibility that in the future some of these on-demand companies will shift to different ownership models. This is hard because the existing owners will usually want to be compensated. The Firefox Web browser is the descendant of Netscape Navigator, the original commercial Web browser, which after being crushed by Microsoft's Internet Explorer in the late 1990s was spun off to the Mozilla Foundation and enjoyed a rebirth under new, less-profit-oriented owners. That only happened, though, because Navigator was seen as commercially worthless by that point.
There are also cases where founders of successful companies hand control over to foundations they create. Germany's Bosch and Bertelsmann are notable examples. So maybe Uber executives will someday answer to the Kalanick Foundation for the Benefit of Car-Service Drivers Replaced by Robots, which would be nice. It isn't something I'd count on, though -- the outside investors who have poured $6.9 billion into the company so far wouldn't put up with it.
The most significant switch of a for-profit company to a co-op in the past half-century was almost certainly the 1975 creation of Vanguard. It was the product of a power struggle at Wellington Management -- the just-ousted CEO, Jack Bogle, still had friends on the boards of some of the mutual funds that Wellington managed, and he persuaded them to effectively declare their independence and put him in charge. It was an act of self-preservation that created a customer-owned cooperative that became the most innovative force in investing. How do we make that happen again?
To contact the author on this story:
Justin Fox at justinfox@bloomberg.net
To contact the editor on this story:
James Greiff at jgreiff@bloomberg.net