Opinion
Jeb Bush to Call Out Putin in Europe
He's trying to be the not-Obama and the not-W.
By
Jeb Bush to Call Out Putin in Europe
He's trying to be the not-Obama and the not-W.
By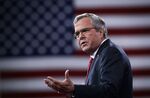 Former Governor Jeb Bush will call for a more assertive and united front against Russia and President Vladimir Putin when he arrives Tuesday in Germany, the first stop of Bush's three-country tour of Europe. His task on the trip is to articulate a vision of the U.S.-Europe relationship that is distinct from both the Obama and the George W. Bush administrations, both of which are unpopular there.
"Seventy years after America and Western Europe began to build the post-war architecture of security, that alliance is as relevant as the day it was founded," Bush is to say at the conference of Germany's Christian Democratic Party in Berlin, according to excerpts of the speech. "Who will say otherwise, as we watch the fate of Ukraine slowly unfold in tragedy? Ukraine, a sovereign European nation, must be permitted to choose its own path."
Bush has a clear but challenging aim for this trip, which will also take him to Poland and Estonia. He arrives in Europe a day after President Barack Obama led a meeting of the Group of 7 countries in Krun, Germany. Obama threatened new sanctions against Russia if Putin doesn't stop his aggression in Ukraine and abide by the Minsk agreement signed in March. Bush is expected to distance himself from Obama but be light on specifics about what he would do differently.
"Russia must respect the sovereignty of all of its neighbors," Bush is to say. "And who can doubt that Russia will do what it pleases if its aggression goes unanswered? Our alliance, our solidarity and our actions are essential if we want to preserve the fundamental principles of our international order."
Bush has previously said he supports providing lethal defensive arms to the Ukrainian military, a step Obama thinks is too risky and would only escalate the situation. In March, Bush called Putin a "ruthless pragmatist" who won't stop until the costs for his mischief outweigh the benefits. In Germany, Bush will talk about the threat Russia poses generally to all of Europe, not just Ukraine.
Bush will take questions from the audience in Berlin but otherwise plans to keep a low profile in Europe, two advisers who will accompany him told me. There won't be any rallies like Obama's.
"He's going to want to listen and learn, first and foremost," one foreign policy expert who is accompanying him told me. The trip is timed to the Berlin conference but also works because Bush is scheduled to formally announce his candidacy for the White House as soon as he gets back. "If he announces as we expect he will on June 15, he will have less and less time to do these kinds of things," the adviser said.
Bush will have a full team of experts by his side in Europe, led by former World Bank chief Bob Zoellick and the two full-time foreign policy staffers now working for his super PAC, Right to Rise, former Congressional staffers Robert Karam and John Noonan. Also on board the plane will be former White House official Steve Biegun, now a vice president at Ford, and former State and Commerce Department official Kenneth Juster.
Germans had a low opinion of Jeb's brother and in 2008 had high expectations for Obama. But after six and a half years of the Obama administration, the Europeans may be more receptive to GOP policies, said Kurt Volker, a former U.S. ambassador to NATO, who will join Bush in Estonia when he meets with Estonian President Toomas Ilves.
"Their attitude is they have been very disappointed with how things played out with Obama. They found that the U.S. seems a little bit disengaged," said Volker. "They definitely want the U.S. involved more to deal with these problems that we've got, that's who they are looking for with any candidate."
Germany does not want to arm Ukraine, and Bush won't be meeting with German Chancellor Angela Merkel. But in Poland and Estonia, both countries on Russia's border, Bush's message could be very well received. On Thursday, he will participate in a roundtable at the Polish-American Freedom Foundation and meet with former and current Polish government leaders. He is also expected to visit Auschwitz.
On Friday, Bush will meet representatives of all the Baltic states at the International Center for Defense and Security in Tallinn, Estonia, and then tour NATO's Cyber Defense Center of Excellence. On Saturday he will go to the e-Estonia showroom to meet with tech innovators. The stops are opportunities for Bush to focus on economic cooperation between the U.S. and Europe and to promote trade deals like the Transatlantic Trade and Investment Partnership.
Bush's advisers plan to use the trip to make the argument that the Right to Rise PAC's economic agenda is applicable to Europe and can benefit the U.S.-Europe relationship. He is to talk about both "internal and external" threats to Europe, and advocate for a strong euro zone and more European investment in the United States.
Overall, Bush's message to Europeans will be this: No matter what they thought of either the Bush administration or the Obama administration, Europeans now should see their goals and fears are the same as Americans'.  If Bush conveys that, he can check one campaign stop off his list, before he even announces his candidacy.
To contact the editor responsible for this story:
Philip Gray at philipgray@bloomberg.net