view
Depositors Flee Greece as Recession Rolls In
The stalemate with Europe hasn't come cheap.
By
Depositors Flee Greece as Recession Rolls In
The stalemate with Europe hasn't come cheap.
By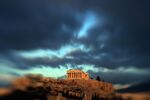 The cost of the stalemate between Greece and its creditors became apparent today with the release of Europe's latest gross domestic product figures. Even as its euro zone peers are enjoying a burst of growth, the Greek economy is slumping back into recession. Even more worrying for the nation (and any of its lenders who still hope to get repaid in full) is evidence that capital is fleeing at an accelerating rate.
Deposits at Greek Banks seem to have dropped by 20 percent since September; Bloomberg's Athens bureau chief Nikos Chrysoloras reports that outflows may have quickened to as much as 7 billion euros ($7.8 billion) last month, which would leave just 131.6 billion euros in the banking system:

As a result, the European Central Bank has increased the emergency liquidity assistance it's providing to Greek banks by 35 percent since the start of February. But the ECB can't be pleased that a contingency program designed to temporarily ease distress has become the only thing standing between Greek banks and insolvency:

The Greek economy shrank by 0.2 percent in the first quarter, extending the 0.4 percent contraction in the previous three months. Last week, the European Commission slashed its 2015 Greek GDP forecast to 0.5 percent from 2.5 percent:

Greece's relapse contrasts with the 0.4 percent first-quarter expansion in the euro region as a whole, led by a jump of 0.9 percent in Spain and reinforced by France's surprise 0.6 percent growth and Italy's 0.3 percent showing. As I've written previously, a country with debts equal to almost 180 percent of GDP that's struggling to grow is a country that's unlikely to be able to avoid default.
Meanwhile, some 6,000 miles from Athens, a banknote printing company called Fortress Paper in Vancouver, Canada, has seen its shares climb 67 percent this month on speculation it has a contract with the Greek government to turn on its printing presses if the country decides it needs a new currency.
Fortress said Tuesday it doesn't know why its shares are climbing, and Chief Executive Officer Chadwick Wasilenk declined to comment when a Bloomberg reporter cornered him. But with Greek officials reduced to withdrawing money from the country's account at the International Monetary Fund to pay their debts to the IMF -- robbing Christine Lagarde to pay Christine Lagarde, if you will -- the euro zone looks increasingly like a club Greece shouldn't belong to.
To contact the author on this story:
Mark Gilbert at magilbert@bloomberg.net
To contact the editor on this story:
Cameron Abadi at cabadi2@bloomberg.net