view
Draining California's Water Savings Account
Aquifers will run dry without rain and snow.
By
Draining California's Water Savings Account
Aquifers will run dry without rain and snow.
By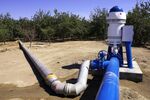 Drive down Interstate 5 along the west side of California's San Joaquin Valley and the signs of drought are everywhere. A lot of them are actual signs, with slogans such as "Water Cuts = Lost Jobs" and "Congress Created Dust Bowl." Then there are the fallowed fields, the orchards of uprooted and dried up almond trees and -- perhaps most ominous of all -- a whole field of prickly pear cactuses. The desertification of California farm country is upon us! 
Well, not quite. The prickly pears are an experiment, dreamed up by a U.S. Department of Agriculture research scientist, meant to take advantage of salty soil that isn't good for growing much else. Knocking over almond trees and letting them dry out before the wood chipper comes through is standard practice when their production starts to decline after 25-odd years, although growers are definitely pulling the trigger a couple of years earlier than usual because of the lack of water. 
As for the signs and fallowed fields, those have a lot to have with the unique predicament of the farmers along that stretch of I-5. They belong to the Westlands Water District, a recipient since the early 1970s of water from the federal government's Central Valley Project. Only, this year they're not getting any water from it. They didn't get any last year, either. 
There are a bunch of reasons for this. The main one is a drought that has left California's mountain snowpack, the main source of Central Valley Project water, at 5 percent of normal levels. There's not much to be done about that, so the farmers tend to focus their ire on the demands on water flows for environmental purposes (keeping fish alive, keeping salt water from intruding into the valley) that have piled up since the 1980s. 1 There's another big reason, though: a lot of the water is going to other farmers who happen to have stronger historical claims to it. 
You can see this in the U.S. Bureau of Reclamation's latest update of 2015 Central Valley Project water allocations. Agriculture is getting no water and municipal and industrial users are getting 25 percent of their historical average usage. Wildlife refuges and water rights holders, on the other hand, are each getting 75 percent of normal -- and the normal amount for water-rights holders is much bigger than for refuges. Who are these water-rights holders? Farmers, mostly, who hold rights to water that were claimed long before the dams and canals of the Central Valley Project diverted some of it away and the federal government committed to make good on it. 
Many of these water rights go back as far as the California gold rush of the 1850s. The Sacramento Bee published a fun interactive map over the weekend if you want to see who has claims to what. What this means is that some California farmers are getting lots of surface water to irrigate their farms this year and some are getting none. Farmers who rely on the State Water Project, the other giant Central Valley water purveyor, are getting 20 percent of their regular allocation this year instead of zero. This must be particularly aggravating for Westlands Water District farmers, since the canal that flows through their lands and usually provides their water -- the California Aqueduct -- is shared with the State Water Project and is thus delivering water right past them to farmers and cities farther south. 
What are we to make of all of this? One obvious takeaway is that the complaint that Governor Jerry Brown has told California urbanites to cut consumption by 25 percent and required no cuts for farmers just isn't true. Another is that the state's system of water rights is going to come under increasing pressure -- in February the state Water Resources Control Board issued an order requiring water-rights holders to justify and document their water diversions. 
There's another thing. Even in the Westlands Water District, there are still big, healthy orchards and fields of green. How can that be? Groundwater. The aquifers under Westlands aren't the best -- many are salty, and the water table has been falling -- but they will do in a pinch. Stuart Woolf, who with his extended family grows almonds, pistachios, tomatoes and onions on a sprawling spread that straddles I-5 near the town of Huron, says they've fallowed a third of their acreage, use drip irrigation for everything but the onions (and will stop growing onions soon because they can't be drip-irrigated), and are replacing some almond trees with pistachios because pistachio trees like the salty water and can survive -- albeit without producing many pistachios -- extended spells without water. "We have a five-year plan built around zero surface supplies," he says. 
If the drought goes on longer than that, though, things start really getting tough. Farmers all around the Central Valley, and other parts of the state, have been depending on groundwater to tide them over. Most of them have better-quality groundwater than the Westlands farmers, and California's groundwater supplies generally aren't like the Ogallala Aquifer in the Plains states, which is filled mostly with water left over from prehistoric times. The aquifers in the Central Valley are replenished in wet years, and many agricultural water districts even buy extra water in those years to pour into the ground and raise the water table. The overall water-table trend is down, though, and in parts of the San Joaquin Valley ground subsidence from over-pumping is squeezing out the places where underground water is stored. In September the California adopted the state's first groundwater management law, but it may take decades to fully implement. 
The result is an agricultural sector that seems to be producing almost as much as ever despite the lack of water from the sky. Yet something eventually has to give. William Phillimore, executive vice president of Paramount Farming Co., a giant grower of almonds and pistachios along the east side of the San Joaquin Valley, told me a story of driving an Australian visitor through the valley this week:
He said, "If this was an Australian drought there'd be nothing growing and there would be dead cattle everywhere." You don't see that here because everyone is drawing on their savings account. But in the end you can't draw on it forever.
So, for now, the plan is for it to start raining and snowing again before forever comes.  
To contact the author on this story:
Justin Fox at justinfox@bloomberg.net
To contact the editor on this story:
James Greiff at jgreiff@bloomberg.net