economics
Putin's Economic Team Plays Houdini
Russia's international reserves are no longer shrinking: It's time to admit the Russian economy won't fall apart anytime soon.
By
Putin's Economic Team Plays Houdini
Russia's international reserves are no longer shrinking: It's time to admit the Russian economy won't fall apart anytime soon.
By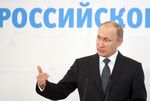 Last week, the Russian central bank's currency reserves increased for the first time since last July, showing that the economy may have moved past the panic caused by last year's oil price slump. Perhaps Russia's improving indicators will convince Western governments that economic sanctions are having no discernible effect and that President Vladimir Putin's regime and the country it runs aren't facing imminent collapse.
Russia has lost a little more than a quarter of its foreign reserves since mid-July 2014:

The decline was particularly sharp last December, as the central bank frantically sought a way to stop the ruble from losing value against the dollar. The much gentler slope on the chart -- beginning in January -- says more about the structure of Russia's foreign reserves than about chronic depletion.
In January 2014, Russia held $131.8 billion of U.S. debt. As its relationship with the U.S. deteriorated after the revolution in Ukraine and the annexation of Crimea, Russia began shrinking its dollar reserves and increasing the share of euros and gold. While the reserves as a whole dropped 23.9 percent in 2014, the holdings of U.S. debt fell 37.6 percent, to $82.2 billion. Russia now holds less U.S. Treasury securities than Ireland, Turkey or Singapore.
The total value of foreign reserves is expressed in dollars, so Russia's euro-heavy stockpile took a hit from the dollar's rapid appreciation against the euro this year. The central bank no longer had to prop up the ruble with big foreign exchange sales: The currency has been doing OK so far this year, partly because oil has bounced back from January lows, and partly because Russia, with an interest rate of 17 percent at the beginning of the year and 14 percent now, became an attractive, though risky, carry trade destination. A glance at the relationship between the ruble and the price of Brent crude shows that the currency is now doing better than the oil benchmark -- that's a sign that the carry trade, in which speculators borrow in dollars and lend in rubles, is pushing it upward:

 In the week ended March 20, the euro gained a little more than 3 percent against the U.S. dollar; that was the reason for the $1.2 billion uptick in Russian foreign reserves. 
Many of the unfavorable forecasts for the Russian economy -- such as the one published a month ago by Anders Aslund of the Peterson Institute for International Economics -- were predicated on the melting away of currency reserves. "Russia's reserve situation is approaching a critical limit," Aslund wrote. "At present, Russia loses more than $10 billion a month, which means that a real reserve crisis will erupt in the third quarter." That, however, is not going to happen unless the price of oil starts going down steeply again.
Analysts are divided about the future of oil prices, with predictions ranging from $50 to $90 per barrel of Brent in the fourth quarter of this year. But the consensus forecast compiled by Bloomberg put it at $68.65 today -- higher than the actual price of $57.5. The Russian Economy Ministry has also suggested raising the official oil price forecast from $50 per barrel -- in line with the most pessimistic of analysts -- but the government has so far resisted these calls, preferring to remain cautious.
The current government forecast says the Russian economy will shrink 3 percent. If oil is higher than budgeted, however, the decline -- which is inevitable for structural reasons, and because of the abnormally high interest rates left over from last year's defense of the ruble and that remain useful because they attract the carry trade -- will be even less pronounced. Economists polled by Bloomberg still expect, on average, a 4 percent drop, but Goldman Sachs, for example, now predicts a decline of only 2.7 percent -- in line with some forecasts from Russian liberal economists. 
To be sure, that's hardly a stellar economic performance. It's painful for a country as big as Russia to have its crucial economic indicators depend so heavily on civil strife in Yemen and the debt problems of U.S. frackers -- both important determinants of the oil price. The country's oil dependency won't end anytime soon, however, and so far Russia's key market has stabilized at an acceptable level. 
So where do the Western sanctions come in? They don't. It's easy to see how Russian economic indicators react to developments in oil and foreign exchange markets, but not to the trade and funding restrictions. They are a nuisance to a number of Russian companies, but Sberbank, the mammoth state institution now unable to obtain Western funding, still reported a healthy profit of $7.7 billion for 2014. That's less than for the year before, but still far from tragic. 
Russia's economic managers, especially at the Central Bank and the Finance Ministry, should be given their due: In a difficult environment, they have avoided major mistakes and managed to keep open Russia's economy. Putin has plenty of advisers who would prefer a different approach, arguing for "fortress Russia," but despite the instincts that feed the president's own siege mentality, he has chosen wisely whom to empower. Despite the Soviet revival theatrics Putin has employed -- at a recent meeting, he pointedly addressed top operatives of Russia's FSB domestic intelligence as "comrades" -- Russia remains a major market economy that cannot be derailed by a few timid restrictions.
That makes it both a bigger threat to weak neighbors such as Ukraine, as well as an underrated land of opportunity. It's not for nothing that in its 2015 investor sentiment survey, the CFA Institute -- a global association of investment professionals -- named Russia one of the top markets for equity performance this year, along with the U.S., China and India.
To contact the author on this story:
Leonid Bershidsky at lbershidsky@bloomberg.net
To contact the editor on this story:
Max Berley at mberley@bloomberg.net