view
How Obama Can Lose in Israel's Election
If Netanyahu loses, it's not necessarily good for Obama.
By and
How Obama Can Lose in Israel's Election
If Netanyahu loses, it's not necessarily good for Obama.
By and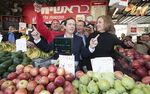 When Israelis vote Tuesday, there is a very good chance that Benjamin Netanyahu's Likud-led governing coalition won't survive. You'd expect this to be good news for U.S. President Barack Obama, whose relationship with the prime minister has grown from chilly to hostile.
Not necessarily. Even though the main opposition -- the left-center Zionist Union coalition -- has pledged to improve relations with the U.S., its leaders share Netanyahu's reservations about the emerging Iran nuclear deal. Labor Party chief Isaac Herzog made his views on any Iran deal crystal-clear last week during a debate, when asked how his views differed from Netanyahu's: "There are no differences about the strategic threat."   
QuickTake Two-State Solution: A Dimming Dream
This puts the White House in a delicate position: On the one hand, forging a nuclear deal is one of the top priorities for Obama's second-term foreign policy. But so is making progress on the Israeli-Palestinian peace process. And even if Netanyahu loses, U.S. progress on the first goal may imperil Israeli support for the second. 
Netanyahu and his rivals have bigger differences on the peace process than on Iran, and they grew starker on Monday when Netanyahu said he would not withdraw from Palestinian territory if re-elected. The announcement was seen as a rejection of the peace negotiations that frittered out last year. Herzog and his alliance partner, Tzipi Livni, who heads the centrist block, have both pledged to pursue peace talks with the Palestinian Authority if elected. But both have also said they opposed Obama's first-term position to stop all construction in East Jerusalem during any such negotiations.
All of this means that even if the Herzog-Livni group wins, a nuclear deal with which they could not live would force them to stand up to the Obama administration at the same time the White House hopes new peace talks would start. Erel Margalit, a Labor party member of Knesset, confirmed to us that his party fiercely opposes Iran becoming a "threshold nuclear state" -- that is, allowing it to keep thousands of centrifuges that could enrich nuclear fuel for a weapon. He added that Labor also opposed allowing any deal to sunset in just 10 years, which Obama has confirmed was being discussed earlier this month.
Margalit did say that a Labor-led government would work more discreetly than Netanyahu to persuade the U.S. and the five other powers negotiating with Iran to forge a tougher deal. "We want to reverse the entire way that Israel is conducting itself with the current administration," he said. "We want to go back to a process where the dialogue is trusted, intimate and between friends and partners on the highest levels."
Pledging to handle squabbles discreetly is not nothing. And many Americans involved in the issue take Labor at its word. Ilan Goldenberg, a former State Department official who now heads the Middle East program at the Center for a New American Security, said that if the Labor-centrist alliance takes over in Jerusalem, there would still be anxiety in the Israeli government about the pending nuclear deal with Iran, but that the Israelis "will go back behind closed doors to try to deal with the U.S. They won't try to publicly impact the day-to-day negotiations."
Dan Arbell, the former deputy chief of mission at the Israeli embassy in Washington, told us, "Herzog and Livni will not play Congress against the administration the way Bibi has."
Martin Indyk, a former ambassador to Israel who was Obama's envoy for the peace process between 2013 and 2014, agreed. "With the Iran negotiation it would be possible to turn a new page and start afresh," he said. "I think both Livni and Herzog are on the record repeatedly that they don't like this deal either, but their concerns about it can be handled in a very different environment than the toxic relations that developed between the administration and Netanyahu." 
Indyk, who is now vice president of the Brookings Institution, said there are guarantees that Obama could make to a Livni-Herzog government to assuage some of their concerns. He felt that such security guarantees made in private to Israel could thwart members of Congress in both parties who have threatened to pass tougher sanctions on Iran and a bill to give Congress a role in reviewing the deal.  "Imagine if Herzog came out and said 'I have concerns but I am satisfied by assurances from the president,'" Indyk said. "It would change the dynamics in Congress."
The question is whether Obama would be willing to make promises that would assuage Herzog and Livni's concerns about what is going on in Geneva.
No matter who ends up winning, one immediate benefit for the Obama administration is that there will likely be a caretaker government in Israel in late March, when the deadline for a political agreement with Iran comes due. "If you get a deal in the next couple of weeks, the Israeli political establishment is going to be too distracted with forming political coalitions to respond," Goldenberg said.
Still, if the government that emerges from that coalition-building process feels betrayed by the Iran deal, Obama may have made peace with Iran at the expense of forging peace between Israel and the Palestinians. 
To contact the authors on this story:
Eli Lake at elake1@bloomberg.net
Josh Rogin at joshrogin@bloomberg.net
To contact the editor on this story:
Tobin Harshaw at tharshaw@bloomberg.net