view
Soros's Terrible Plan to Throw Money at Ukraine
George Soros suggests putting together a $50 billion aid package for Ukraine, but that would only create moral hazard for politicians and bureaucrats.
By
Soros's Terrible Plan to Throw Money at Ukraine
George Soros suggests putting together a $50 billion aid package for Ukraine, but that would only create moral hazard for politicians and bureaucrats.
By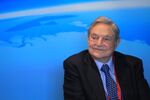 The case President Petro Poroshenko's government has made for international financial support got a boost from the financier and philanthropist George Soros, who urged Europe to put together a $50 billion rescue package for Ukraine. Both Soros's detailed plan and the government's  fundraising efforts face an uphill struggle: The government lacks the credibility to command such a sum, and European nations have better things to do with their money.
Soros, who emigrated to the U.K. in 1947 to escape Hungary's Soviet-backed regime, has taken Russia's attack on Ukraine to heart. He has warned that Russia's nationalist resurgence poses the biggest threat to Europe. And he argues that the European Union, and the West in general, are wrong to treat Ukraine like any other nation in need of financial help. "This perspective needs to be altered," Soros wrote recently in the New York Review of Books. "The birth of a new Ukraine and the Russian aggression are not merely temporary shocks but historic events."
According to Soros, altering the perception of the crisis would mean "offering financial and technical assistance commensurate with the magnitude of the reforms." Soros ticked off European programs with unused funds, such as the facilities extended to Hungary, Romania, Portugal and Ireland, and argued the money should be diverted to Ukraine. The International Monetary Fund would then feel it could match some of that assistance. Help from other international financial institutions and a debt restructuring could contribute to a total aid package of $50 billion, Soros wrote.
The billionaire made a passionate case for helping Ukraine rather than solely trying to hurt Russia with sanctions (a "necessary evil," he writes). I agree with him on the importance of making Europe "a land of promise" both for Ukraine and, eventually, for Russia by helping Ukraine. I find it harder to accept his assertion that "the reformists in the new Ukrainian government are advocating a radical 'big bang' reform program that is intended to have a dramatic impact."
So far, the government has not only dragged its feet on reform and taken a gradualist approach to urgently needed change -- it has failed to draw up a coherent budget. Though the parliament passed the 2015 spending plan late last year, and Poroshenko signed it, its contents remain unknown. Serhiy Leshchenko, a former investigative journalist and one of the new crop of politicians who joined the Ukrainian parliament in Kiev, decried the situation in a column on Pravda.com.ua, admitting that legislators didn't know what they were voting for.
Leshchenko describes the current Ukrainian government as an ad-hoc division of power between "two political monopolies," one headed by Poroshenko and the other by Prime Minister Arseniy Yatsenyuk, with a third clan, that of billionaire Igor Kolomoisky, on the fringes. That's a far cry from Soros' generous description of an idcealist, reformist government preparing to take a giant leap forward. 
"Western governments and international financial organizations are our biggest allies,"  Leshchenko wrote. "Having become the only savior for the Ukrainian economy, they have the moral right to demand reforms as a precondition for funding."
Carpet-bombing Ukraine with money for ideological and geopolitical reasons, as Soros seems to suggest, would create enormous moral hazard for the country's politicians and bureaucrats. They already hope to receive enough financial support that they won't need to restructure the country's debt, likely to exceed 80 percent of gross domestic product for 2014. 
To see why pledging $50 billion to Ukraine would be a bad idea, Soros should look back at his philanthropic efforts in 1990s Russia. He spent about $1 billion aiding scientific, cultural and civil society institutions only to watch Russia move away from a Western-leaning course and become a threat again. 
Yatsenyuk and his team, however, are hoping Western leaders will go along with Soros's logic.The Ukrainian prime minister was in Berlin today for talks with Chancellor Angela Merkel and her allies. He echoed Soros's assessment of Russia, calling it a threat to Europe and saying it aimed to create a frozen conflict zone in Ukraine. He didn't appear to win any major funding pledges, however. All Germany has done so far is to guarantee a 500 million euro ($589 million) loan to help rebuild the war-ravaged eastern Ukrainian regions. The European Commission, for its part, proposes a 1.8 billion euro loan, which would still need to be approved by the European Parliament. That's a tiny fraction of what Ukraine needs to avoid economic collapse, even though EC President Jean-Claude Juncker calls it "unprecedented financial support."
Despite Merkel's sympathy for Ukraine's cause, her government cannot spend billions on aid. To keep the euro area intact, Germany will soon have to write off some the loans it made to Greece. Shelling out more money without credible guarantees of repayment isn't on the agenda. Other European governments, especially those that took part in the Greek rescue effort, share Germany's concerns. And the IMF, which will make a decision on Ukraine on Jan. 18, must ensure that Ukraine will meet the criteria for aid that already has been disbursed before any new funding is made available.  
It's not the foreign governments and the IMF that are missing an historic opportunity to build up Ukraine, but the country's own politicians. The budget exercise at the end of last year was a major test the government has failed. It needs to do much better -- in fact, it must show it has done all it can -- to justify more funding.
To contact the author on this story:
Leonid Bershidsky at lbershidsky@bloomberg.net
To contact the editor on this story:
Max Berley at mberley@bloomberg.net