view
Jawbone's Missing Christmas
Production delays mean its latest fitness band won't be delivered by Santa.
By
Jawbone's Missing Christmas
Production delays mean its latest fitness band won't be delivered by Santa.
By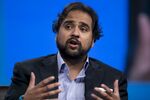 If you wonder how long the market can support richly valued startups, and what sorts of corporate stress might test investor enthusiasm, look no further than Jawbone, which is struggling to overcome missed deadlines for its latest fitness band.
The wearable-tech maker is one of Silicon Valley's most revered startups. Its roster of blue-chip investors includes Andreessen Horowitz, Khosla Ventures, Kleiner Perkins Caufield & Byers, Sequoia Capital and Yuri Milner. JPMorgan Chase, Silver Lake and Fortress Investment Group loaned the company about $93 million. Its board includes Silicon Valley luminaries such as Yahoo's Marissa Mayer and Andreessen's Ben Horowitz.
That pedigree has helped Jawbone raise more than $500 million over the past 15 years, and the company's value on paper is about $3.3 billion. That big valuation, on par with public companies such as JDS Uniphase, HomeAway and Sothebys, places Jawbone among billion-dollar businesses at the forefront of the current private market boom, or bubble, depending on your point of view.
Jawbone is facing an immediate challenge. Its newest health tracking band, the UP3, won't be released in time for the holiday shopping season. The device, which starts at $179.99, is the company's most expensive and, arguably, most advanced fitness band. The UP product line currently accounts for most of the company's revenue and recent topline growth. The company declined to comment on revenue, but the financial information research firm PrivCo says it grew 100 percent in 2013, to $410 million.
The delay spells trouble because consumer device makers often rely on the holidays for a sales bump, especially when their products align with milestones such as New Year's resolutions to get in shape.
"It's always important for a product to make the holiday season, especially for things like fitness trackers that tend to fall into the gift category," says J.P. Gownder, an analyst at Forrester Research.
A Jawbone spokesman said the company wasn't able to make the holiday deadline because it has been "fine tuning" its mass production process. Jawbone has offered $40 off to customers who pre-ordered the UP3, which cuts deeply into the company's profit margin on each unit. As an alternative, it also offered disappointed customers a free Up Move, a low-end $50 device.
The UP3, which should ship early next year, isn't Jawbone's only problem. Even if the new device is a hit, Up products can't always be relied upon to drive the company's growth. Canalys research analyst Chris Jones said in a recent report that Fitbit and Jawbone would maintain a price advantage over products from Apple and Samsung for the near future. (Fitbit is the top selling health-band maker, controlling about 50 percent of the market. Jawbone is No. 2.) But sales growth for health bands made by Jawbone and Fitbit will slow as prices fall for devices like smart watches.
The company's two other product lines -- the Jambox speaker and the Bluetooth headset -– also compete in increasingly low-margin markets. Before the Up took off, Jawbone's revenue grew only 15 percent to 22 percent a year between 2009 and 2012, according to PrivCo.
The company has quietly discontinued its original Jambox speaker. It continues to sell the Big and Mini versions, but they face stiff price competition from competitors such as Sol Republic and JBL.
Given this outlook, Jawbone redoubled efforts this year to create software and data-analytics products that could be part of a big, higher-margin business. The company has created apps that analyze sleep patterns, offer nutrition information, and don't require users to own Jawbone hardware. Forrester's Gownder says he is optimistic the software platform will someday be more substantive. Nonetheless, Jawbone will have to rely on hardware sales for many quarters to come.  
Darkening the picture is the worry that investor appetite for Jawbone stock could wane as the company makes the pivot to software. There's evidence to suggest this has started to happen. An amended certificate of incorporation filed last February shows the company issued $270 million in stock for a funding round that was supposed to value it at around $3.3 billion. (Almost 24 million new preferred shares were issued at $11.27 a share.)
Forbes reported in September that the company had only managed to sell $147 million of the offering. Three people with knowledge of the discussions said little has changed since then. Companies often need time to fully close their funding rounds, but 10 months is considered longer than average, according to Amanda Akin, an analyst at the private company research firm VC Experts.
There's a chance that Jawbone won't need to raise more money. It has cobbled together more than $500 million in equity and debt, and it generates revenue. But should it need to appeal to the private markets again, it could be in for a surprise.
The company has raised four seed funding rounds and 11 debt and equity rounds, by PrivCo's count. Each with more elaborate payout structures than its predecessor. (The certificate amended in February, for example, shows that earlier investors will get extra shares to prevent dilution.)
These sorts of complicated preferred shareholder structures have been popular among companies that, like Jawbone, have stayed private for a long time. These arrangements often guarantee that later investors get certain payouts and that they receive their cash before earlier shareholders get their cut. Such structures put pressure on companies to achieve big exits so that there's enough money earned in a sale to pay all investors, not just those that came in late and got preferential treatment. When no big exits are in sight, investors eventually have to decide how long they are willing or able to prop up the company's valuation.
To contact the author on this story:
Katie Benner at
To contact the editor on this story:
Max Berley at mberley@bloomberg.net