view
Hidden Costs of Solar Tariffs
The Obama administration's decision to put tariffs on Chinese and Taiwanese solar panels may be bad for U.S. jobs.
By
Hidden Costs of Solar Tariffs
The Obama administration's decision to put tariffs on Chinese and Taiwanese solar panels may be bad for U.S. jobs.
By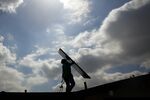 The Barack Obama administration's decision to put tariffs on Chinese and Taiwanese solar panels is almost certainly bad for the planet. It may also be bad for U.S. jobs.
The tariffs, announced yesterday, could increase the price of solar products from China and Taiwan by more than 200 percent. The move was prompted by SolarWorld AG, a German maker of solar panels that has a factory in Oregon. The U.S. claims that the imports benefited from unfair subsidies.
That may be true. But the broader context here is that despite impressive gains, the U.S. is failing to expand its renewable energy sector quickly enough to meet the challenge of climate change. 
U.S. solar-generating capacity grew more than five-fold from 2011 to 2014. This summer, the country had the capacity to produce 6.5 gigawatts of power from solar photovoltaic cells, according to the U.S. Energy Information Administration. That's about twice as much power as the country's largest coal-fired power plant.
However, 6.5 gigawatts is still less than one percent of total U.S. generating capacity. The Environmental Protection Agency projects that by 2030, the U.S. will get just 9 percent of its electricity from renewable sources, not including hydroelectric power.
Progress on renewables isn't nearly quick enough and increasing the price of solar panels will only impede it. What about the other goal of U.S. energy policy: more jobs? "The tariffs and scope set the stage for companies to create new jobs and build or expand factories on U.S. soil," the U.S. president of SolarWorld said.
The accuracy of that statement appears to turn on what kind of jobs you're talking about. Imposing tariffs to keep out cheap imports of solar panels may help the domestic manufacturing industry (by saddling consumers with higher prices).
But just about one in five U.S. jobs in the solar-power sector are in manufacturing according to the Solar Foundation, a research group with ties to the industry. Almost half those employed in the sector install panels, while another 22 percent are in sales or project development.
If those job figures are even roughly accurate, they undercut the argument that tariffs on cut-price imported solar panels help U.S. workers. Cheaper solar panels mean more demand; more demand means more retail sales, installation and maintenance.
Compare that with the worst possible outcome of higher tariffs: Less U.S. job growth in the solar industry, higher prices for consumers, slower uptake for renewable energy -- and no corresponding increase in U.S. manufacturing jobs, as other low-cost manufacturers rush to take China and Taiwan's place. As the New York Times reported:
The main beneficiary of the ruling is likely to be Malaysia, a Southeast Asian nation that is already the second-largest exporter of solar panels to the United States, after China and narrowly ahead of Taiwan. Western, Japanese and Korean companies are pouring investment into extensive operations there, seeing it as a stable country with a fairly low cost yet highly skilled labor force, and without China's persistent trade frictions with the West.
Somebody usually wins from tariffs. It's just not always who you think.
To contact the author on this story:
Christopher Flavelle at cflavelle@bloomberg.net
To contact the editor on this story:
Zara Kessler at zkessler@bloomberg.net