view
Good News: Communists Are Back in Germany
For the first time in 25 years, a member of the party that ran East Germany has become prime minister of a German state. Could that mean the wounds of a divided Germany have almost healed?
By
Good News: Communists Are Back in Germany
For the first time in 25 years, a member of the party that ran East Germany has become prime minister of a German state. Could that mean the wounds of a divided Germany have almost healed?
By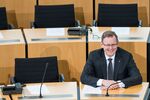 It took 25 years for the successors to the party that ran Communist East Germany, Die Linke, to win a state prime minister office in united Germany. Many Germans believe it's still too soon, but the elevation of Bodo Ramelow in Thuringia is probably a better reminder of the country's break with its divided past than the recent festivities commemorating the fall of the Berlin Wall. 
Starting today, Ramelow heads a "red-red-green" coalition government in the eastern Germany state. It includes Die Linke, the Social Democrats and the environmentalist Greens. Die Linke has won regional offices, but this is its highest achievement. If the Thuringian government works, it might convince the Social Democrats, now part of Germany's governing left-right coalition, that they should not shun alliances with the ex-Communist Party. That could undermine Chancellor Angela Merkel's dominance of German politics. For the moment, the Social Democrats would rather work with her Christian Democrats than with the radical left and the Greens, but if that changed, the center-right chancellor and her allies could find it more difficult to hold on to power.
Die Linke is descended from the East Germany's only party, SED, in an unbroken line. In the first parliamentary elections after  reunification, in 1990, it won 2.4 percent of the vote. It is is easy to understand why it was so  unpopular: Although all the hard-line Communists had been removed from the leadership, it was the political force responsible for more than three decades of repression and economic misery. 
Germany has a good memory, because of its troubled 20th century history. And the Nazis don't have a monopoly when it comes to atrocities: Stasi, the East German secret police, probably had a more pervasive surveillance and repression system than even the Soviet KGB. After reunification, it seemed unimaginable that a party associated with those horrors could rise again. In fact, it still does to some people -- because Die Linke includes former Stasi officials. Hundreds of people gathered today in Erfurt, Thuringia's main city, to protest against the red-red-green coalition, chanting "Stasi out!"
Establishment politicians did their best to stop Ramelow and his party. Merkel, who spent her early life in East Germany, warned Thuringians not to "drag Karl Marx back into state government." Even President Joachim Gauck, who is expected to stay neutral in political matters, expressed doubt that Die Linke had severed its repressive roots. "What does this party really stand for now?" he asked.
According to a recent poll, 57 percent of Germans say it's too early for Die Linke to get a shot at governing, and two-thirds say the party is only good for "calling things by their proper names," not solving problems. In eastern Germany, however, 52 percent of respondents said it was time for Die Linke to govern. This may give the impression that Germany is still a divided country, not just economically (the east is poorer) but politically, too.
There may be another way to look at it: 25 years after the fall of the Berlin Wall, east Germans are finally willing to forgive their compatriots who kept the country in the Soviet orbit.
Die Linke includes some firebrands whose speeches often provide fuel for Russian President Vladimir Putin's propaganda machine. They back Russia's actions in Ukraine, and they are fervently anti-Israel. Ramelow, however, is not one of those. He was a labor union functionary from western Germany, with no Stasi or SED history, providing proof that Die Linke has incorporated democratic leftist politicians. In addition, he is pragmatic and compromise-oriented. "Our election program was 80 percent identical to the Social Democrats' and the Greens'," he said in a recent interview. "Why should I insist on the 20 percent that was different?" 
Ramelow won't be dragging Marx into the Thuringian government. He prefers to talk about practical matters such as fixing Erfurt's transport system and renovating the city stadium. Centrists in the German state see him as a comfortable ally. 
Germany has managed to transform itself thoroughly since the end of World War II, and again since 1989. It's probably safe for any of the political forces that survived the changes to take part in government: They are all part of this new country that knows its history.
To contact the author on this story:
Leonid Bershidsky at lbershidsky@bloomberg.net
To contact the editor on this story:
Max Berley at mberley@bloomberg.net