view
Want to Secede? Follow the Flemish
Flemish nationalists headed by Antwerp mayor Bart De Wever may me the most effective secessionist force in the EU thanks to their gradual approach to change.
By
Want to Secede? Follow the Flemish
Flemish nationalists headed by Antwerp mayor Bart De Wever may me the most effective secessionist force in the EU thanks to their gradual approach to change.
By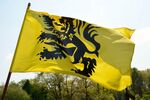 Who are the most successful separatists in the European Union? Well, it's clearly not the Scots, and it's probably not going to be the plucky Catalans. No, it's the quietly stubborn Flemish.
On Wednesday, Belgium formed a federal coalition government, which for the first time will include the Flemish nationalist party, N-VA. Bart De Wever, the party's leader and the mayor of Antwerp (and a man who once denied the existence of Belgium as a country) has agreed to take a step-by-step approach to dissolution. For now, his goal is a loose confederation of Belgium's three regions: prosperous Dutch-speaking Flanders, less prosperous francophone Wallonia and the bureaucrat-filled capital, Brussels.
Belgium has been on the devolution path since the 1970's, when the economic disparity between Flanders and Wallonia grew. Flanders, with its oil refineries and chemical plants, fared much better during the global oil crisis than Wallonia, with its steel mills and coal mines. As fiscal transfers from Flanders to Wallonia increased, the regions' economic policies diverged: the French-speaking part of the country blamed its problems on market failures and grew more socialist, while Flanders pursued a more liberal, market-driven line.
The gap has never closed. Flanders and Wallonia now vote for their own set of political parties, which makes it hard to form governments. After the 2010 election, in which N-VA became the biggest party in Flanders and the socialists won in Wallonia, it took 18 months to form a federal government, and a Walloon socialist became the prime minister.
This time around, coalition-building took less time: though the prime minister, Charles Michel, is from Wallonia, he's a liberal, and the new government has a Flemish majority. Free-spending socialists are out of the coalition. De Wever likes this. The arrangement brings Belgium a step closer to his goals of balancing the budget, phasing out fiscal transfers and breaking up welfare and retirement systems. A softer tone has been a key to Flemish success. In 2010, De Wever claimed in an interview with the German magazine Der Spiegel: "Belgium isn't working anymore! Belgium is a failed nation." Now De Wever is careful to say that he would like Belgium to become a country without a federal government, but with a president who serves as an intermediary between Flanders and Wallonia.
"The comparison with Europe makes sense," the nationalist leader said in a recent interview with the Dutch-language Brussels newspaper Het Laatste Nieuws. "Europe is a confederation with a president at the head."
Like the Catalan and Scottish secessionists, De Wever likes Europe. He points out that even if Belgium dissolves, its laws will be shaped in large measure by the European Union. "I used to think that if we got rid of the Belgian franc, it would lead to economic disaster," he said in the Spiegel interview. "Today both parts of Belgium simply continue to use the euro."
From that perspective, it's not hard to imagine a borderless Europe that uses a single currency, has a unified economic system and where nation states occasionally fade away or slim down. After all, who needs the extra layer of government? De Wever knows, however, that you can't say this stuff aloud. It doesn't play well with European voters, who are sceptical of revolutions and who fear chaos and disruption to basic services. Dramatic referendums may be great entertainment, but the gradual erosion of fiscal ties is a more realistic and potentially successful approach. Plus, no one has to deal with the problem of re-joining the EU after splitting from a member state, and there are no divorce-like negotiations about property and old debts. As the Flemish showed this week, the EU works slowly, and if a member state is moving toward a break-up, it makes sense not to march but to tiptoe.
To contact the author on this story:
Leonid Bershidsky at lbershidsky@bloomberg.net
To contact the editor on this story:
David Shipley at davidshipley@bloomberg.net