view
Wimpy Sanctions Will Embolden Putin
The U.S. has announced another round of Russia sanctions, carefully designed not to hurt.
By
Wimpy Sanctions Will Embolden Putin
The U.S. has announced another round of Russia sanctions, carefully designed not to hurt.
By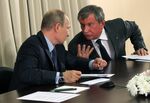 The U.S. government has unveiled a new set of sanctionsallegedly aimed at punishing Russian President Vladimir Putin for his country's actions in Ukraine. In contrast to the West's tough-sounding rhetoric, the sanctions -- which include such targets as a mineral water company -- seem carefully designed to have little impact.
New entries on the sanctions list include Putin's close friend Igor Sechin and Vyacheslav Volodin, Putin's deputy chief of staff for domestic politics. Mainly, the list focuses on companies linked to friends of Putin who have already been targeted. SMP Bank, ranked 36 by assets in Russia, and Investkapitalbank, at 197, are connected to Putin's judo friends, the brothers Arkady and Boris Rotenberg. Sobinbank, No. 90, is linked to Yuri Kovalchuk, Putin's neighbor in an exclusive housing development near St. Petersburg. Non-financial companies include long-time Putin acquaintance Gennady Timchenko's Volga Group, Kovalchuk's Abros holding and assorted other firms owned by Timchenko and the Rotenbergs, including Stroytransgaz and Stroigazmontazh, both large contractors for Russia's state-controlled natural gas giant, Gazprom.

The banks are too small to matter: At worst, the holders of almost $2 billion in private deposits at SMP Bank will have to find a new bank if they plan to use their debit and credit cards overseas. Some significant omissions suggest that the list's drafters intentionally avoided Putin's friends' major possessions. Volga Group, for example, holds a 23 percent stake in Novatek, Russia's biggest independent natural gas producer, and a 32.3 percent stake in Sibur, a major petrochemical producer. Kovalchuk's Abros holds stakes in a large pro-Putin media holding as well as one of Russia's biggest insurance companies, Sogaz. Sechin runs state-owned Rosneft, Russia's biggest oil company. And though Washington officials earlier suggested Gazprom chief Alexei Miller would be mentioned, he is conspicuously absent. So is his company, long used to make Ukraine toe Russia's line.
Instead, the mineral water company Aquanika is exhaustively covered. It is sanctioned even under a previous corporate name, Russkoye Vremya. Avia group, which built a business terminal at Moscow's Sheremetyevo airport, is also sanctioned.
A White House statement mentions that the Departments of Commerce and State will deny export licenses for "any high-technology items that could contribute to Russia's military capabilities." In fact, Russia has never been able to buy such technology. Even France's Mistral helicopter carriers, which Russia is still on track to receive despite the Ukraine crisis, contain no sensitive U.S. technology. If they did, Moscow wouldn't have been able to order them.
President Barack Obama said the idea was to change Putin's "calculus with respect to how the current actions that he's engaging in could have an adverse impact on the Russian economy over the long haul." Actually, Putin's worst-case calculus has just gotten more attractive: If this is the best the U.S. can do even though it stands to lose much less than Europe does, what does he have to fear?

To contact the writer of this article: Leonid Bershidsky at lbershidsky@bloomberg.net.

To contact the editor responsible for this article: Mark Whitehouse at mwhitehouse1@bloomberg.net.
To contact the author on this story:
Leonid Bershidsky at lbershidsky@bloomberg.net
To contact the editor on this story:
Mark Whitehouse at mwhitehouse1@bloomberg.net