view
Are Google and Facebook All About Money?
The weird thing about the alleged hiring cartels in Silicon Valley is how little money they appear to have saved.
By
Are Google and Facebook All About Money?
The weird thing about the alleged hiring cartels in Silicon Valley is how little money they appear to have saved.
By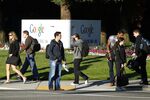 Some of the biggest names in the tech industry -- Google, Apple, Intel, Adobe and Intuit -- face a $3 billion class action suit alleging that they colluded to avoid bidding wars for talented employees. What's most striking in the case is that all the secret dealing doesn't appear to have saved them much money.
E-mails and other exhibits releasedon the website Pando.com suggest that the trial, due to start May 27, could be embarrassing, according to the Wall Street Journal. The documents offer evidence that tech executives' friendships and board seats at each others' companies resulted in unofficial non-aggression pacts of varying strictness. Google, for example, had "Do Not Cold Call" and "Sensitive" lists that Executive Chairman Eric Schmidt warned should leave "no paper trail," according to the documents. They identify Apple co-founder Steve Jobs as the one who started the collusion back in 2005 when he called Google co-founder Sergei Brin to threaten "war" if Google hired a number of Apple's key employees. Google asked for help from Intuit Chairman Bill Campbell, an Apple director, who brokered a sort of non-aggression pact -- which a Google recruiter was later firedfor violating, according to the documents.
The motivation to enter such patently unfair deals might be understandable if they actually helped companies bring down labor costs. Such costs are a big burden in Silicon Valley: Between 2005 and 2009, the time period in question, the average salary of tech professionals in that part of California increased 13 percent, from $69,700 to $78,845, according to the tech career site Dice. Even with all the alleged collusion, Google's engineers ended up being the highest paid at publicly traded U.S. companies in 2009, earning an average $149,425 a year, according to Glassdoor.com. If the no-poaching arrangements resulted in depressing salaries at Google, it is frightening to think how much its employees would have otherwise made.
And then there was Facebook, which apparently refused to cooperate with the other tech companies. The correspondence between Facebook Chief Operating Officer Sheryl Sandberg and Jonathan Rosenberg, then in charge of products at Google, makes interesting reading. Sandberg obstinately refuses to recognize any form of corporate serfdom, possibly because she is a former Google employee herself. It is also clear from Rosenberg's persistent e-mails that losing people to Facebook was a major headache for Google. Almost a year prior to the correspondence Brin voiced the same sentiment, writing to Google managers that "the Facebook phenomenon creates a real retention problem."
Facebook has never paid as much on average as Google. In 2013, Google was the fourth highest-paying company for software engineers, after Juniper Networks, LinkedIn and Yahoo!, whereas Facebook was only No. 9, accordingto Glassdoor.com. Facebook paid its programmers less than Twitter, Apple, Oracle or even Walmart. Apparently, the work it provided was interesting enough to draw talent both fresh out of school and from other tech companies.
It is only human for corporate executives to resent competitors' efforts to hire away key employees. They should, however, give more credit to their employees, for whom money isn't the biggest motivator. Even if half of the employees are unhappy with their pay, according to Dice.com, there are always others willing to step into their shoes if the job provides enough of a creative challenge. Cartel-style deals may be more pointless in the tech industry than in any other, simply because of the intrinsic creativity of the business.
To contact the author on this story:
Leonid Bershidsky at lbershidsky@bloomberg.net
To contact the editor on this story:
Mark Whitehouse at mwhitehouse1@bloomberg.net