view
Pension Funds' Risky Business
Faced with low interest rates, banks didn't chase after yield. But pension funds did.
By
Pension Funds' Risky Business
Faced with low interest rates, banks didn't chase after yield. But pension funds did.
By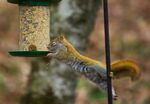 It's the semi-annual Brookings Papers on Economic Activity conference, and I'm afraid I can't be there. But since I'm pining for two days of super-smart economists debating one another, I'm going to blog the papers anyway, starting with Gabriel Chodorow-Reich's paper on the effects of the Federal Reserve's low interest rates on financial firms.
Over the last five or six years, you've heard a lot about those firms "reaching for yield": moving their portfolios into riskier investments in order to make up for the Fed's ultra-low interest rate policy. Reich looks at four major categories of institutional investor -- banks, pension funds, life insurers and money markets -- and examines which of them reached for yield, and when.
Here, courtesy of the Brookings Institution, is a nifty infographic illustrating his findings:

This is probably a bit of a surprise to most of us: Banks, for all the talk of moral hazard, didn't significantly reach for yield. Pension funds did, which isn't surprising at all -- but they seem to have stopped, which does contradict what I've been hearing anecdotally.
One conclusion that you can draw from this is that where regulators were extremely focused on keeping firms from reaching for yield, they didn't. In areas where they weren't so focused, notably pensions, you saw investors sexing up their portfolios to try to make up for the losses of 2008 and miserly interest rates on safer investments. That suggests that pension regulators should be paying a lot more attention to pension fund portfolios in times of market stress.
Megan McArdle writes about economics, business and public policy for Bloomberg View. Follow her on Twitter at @asymmetricinfo.
To contact the author on this story:
Megan McArdle at mmcardle3@bloomberg.net
To contact the editor on this story:
James Gibney at jgibney5@bloomberg.net