view
Tesla Is a Car, Not a Revolution
From the very beginning, there have been signs that Elon Musk's ambitions for Tesla Motors exceeded his grasp on reality -- or at least the realities of the car business.
By
Tesla Is a Car, Not a Revolution
From the very beginning, there have been signs that Elon Musk's ambitions for Tesla Motors exceeded his grasp on reality -- or at least the realities of the car business.
By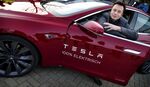 From the very beginning, there have been signs that Elon Musk's ambitions for Tesla Motors exceeded his grasp on reality -- or at least the realities of the car business.
Starting with his Moores Law-like product strategy (halving costs and doubling volume with each new car), and continuing through the Hyperloop and now the electric-battery "Gigafactory"proposal, Musk has dumbfounded the entire auto industry. Not because of the proposals themselves -- most car industry executives expect overblown hype from Silicon Valley types. Rather, they are shocked that Wall Street is buying that hype and pouring money into Musk's dream factory.

Tesla's market capitalization is hovering around $30 billion, about half that of General Motors and Ford. Tesla has sold agrand totalof 25,000 Model S sedans around the world over three years. GM and Ford deliver upwards of 200,000 vehicles in the U.S. alone each month. When you extend the comparison to financial performance, with $2 billion in sales last year, Tesla's relative market valuation appears even more overblown.
"But wait," cry the market and financial press with one voice, "Tesla now has the potential to disrupt both the auto industry and the power utilities." Which is true enough, in the sense that I have the potential to disrupt world curling rankings. What gets lost are the huge improbabilities that this potential will ever be realized.
In the case of the Gigafactory, Tesla's ability to disrupt lithium-ion battery production is severely limited to two major factors: first, Tesla itself has no experience manufacturing battery cells; second, Tesla depends on the very companies Musk wants to "disrupt." Panasonic, Tesla's main battery supplier and Musk's "default assumption" for his Gigafactory partner, has (for fairly obvious reasons) not committed to Musk's vision of a plant designed to lower the market price of its product by 30 percent.
Which brings us to Tesla's ability to disrupt the car market. If Panasonic believed sales of electricified vehicles held the sort of growth promise Musk anticipates, it would far more likely pursue that opportunity with Toyota, its electric-battery partner since 1996. Toyota, the world's most valuable automaker and the industry leader in hybrid electrification, announced last year that it would increase joint lithium-ion battery production with Panasonic to 200,000 units per year. Having also owned a stake in Tesla since 2010, Toyota could easily have offered to cut Tesla into that deal. The fact that it didn't supports the long-standing perception among Toyota-watchers that chief executive officer Akiyo Toyoda invested in an exciting car and brand four years ago, not a potential industry disruptor.
Toyota is no stranger to disruption, having overturned the global car business over the course of decades. But rather than high-concept, visionary technology and hype, it was Toyota's mastery of the culture of manufacturing that drove it from bit player to industry titan. Toyota emphasizes kaizen, or continuous improvement, not Musk's mercurial style. And based on a scan of quality complaints at various Tesla owner forums, it seems Musk could learn more from Toyota's automotive disruptions than the other way around. Auto industry success is a marathon, not a sprint ... and at current volumes, Tesla is barely walking.
Indeed, Musk's major announcements seem to increasingly reflect basic problems with Tesla's business more than any penetrating insight into the future. The laughably "cost-estimated," supposedly earthquake-proof "Hyperloop" was Musk's attempt to address near-impossibilityof going from Los Angeles to San Francisco in a single day in a Tesla. Similarly, the Gigafactory proposal reflects Tesla Motors' dependence on Panasonic for battery cells. If Toyota and Panasonic decide it's not in their interest to spend billions to flood the lithium-ion market on Elon Musk's behalf, the Gigafactory has as much chance of being built as the Hyperloop.
For the moment, however, Musk's market-moving magic continues to defy reality. The recent revelationof a months-old, totally inconsequential meeting between Tesla and Apple is the kind of news that moves Tesla's buoyant share price, not economic reality. Morgan Stanley is now hyping Tesla's (undemonstrated) autonomous car technology as the key to a "utopian society," but we know that Wall Street's bubbles are not immune to conflicts with reality.
If Tesla remains focused on building the first electric luxury brand, a kind of Silicon Valley Porsche or Jaguar, it can easily earn a sustainable niche in a profitable market. If the Gigafactory is just a negotiating tactic with battery suppliers, and all the rest of Musk's performance is just brand-building, perhaps someday Tesla will live up to its current valuation. But if Musk really believes the Wall Street-Silicon Valley line that Tesla position to seriously "disrupt" decades-old relationships like Toyota-Panasonic, let alone the auto industry more broadly, he's headed for a stunning fall.
(Edward Niedermeyer, an auto-industry consultant and former editor of the blog The Truth About Cars, is a contributor to the Ticker. Follow him on Twitter @Tweetermeyer.)
To contact the author on this story:
Edward Niedermeyer at edward.niedermeyer@gmail.com
To contact the editor on this story:
Toby Harshaw at tharshaw@bloomberg.net