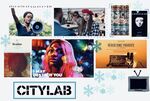 For many people in the Northern Hemisphere, this winter is marked by canceled holiday celebrations, smaller (if any) family gatherings and sub-freezing temperatures. In response, streaming services have been pumping out shows and movies to keep up with the demand from people who just want to curl up on the couch and binge-watch a movie or a TV series (the more seasons the better).
The Bloomberg CityLab team is no exception to the inclination to Netflix-and-hibernate. We've compiled a selection of documentaries, films and television shows from 2020 that showcase some of our favorite coverage topics, including social justice, local government, the environment and of course, cities.
What are we missing? Email us your recommendations at citylab@bloomberg.net with the subject line "pandemic TV."
All In: The Fight for Democracy
Amazon Prime Video
With the Georgia Senate runoff fast approaching, the Stacey Abrams documentary All In serves as a reminder of the many ways federal and state laws have made voting more difficult, especially for minorities, young people and the poor, and especially in the South. While much of the documentary focuses on Abrams and her narrow loss to now Georgia Governor Brian Kemp in 2018, the film recalls the history of U.S. voter suppression going back to the election of George Washington, when just 6% of Americans were eligible voters. For a more modern take, you can also read CityLab's October explainer on voter intimidation and this prescient Businessweek story on Georgia's blue tilt from August. —Jennifer Sondag
City Hall
PBS
What is a city? This 4.5-hour documentary about the sprawling, flawed, yet ever-striving apparatus that is Boston's city government delivers a remarkably clear and compelling answer. Shot over 10 weeks in 2018 and 2019, Frederick Wiseman, the 90-year-old filmmaker famed for chronicling U.S. institutions, makes the implicit argument that the day-after-day, year-after-year cyclical minutiae of budget planning, task force reports, school board meetings, public comment periods, housing inspections, marriage ceremonies and 311 calls are the purer form of patriotic love in an age of vengeful national partisanship.
At the center of action is Democrat Mayor Marty Walsh, who is portrayed as genuinely trying to make Boston a safer, healthier, more socially equitable place to live, especially as the Trump administration delivers various affronts to democratic norms and progressive urban politics. Walsh, who is reportedly a contender for Labor Secretary under President-elect Joe Biden, is frequently heard urging his staff to build public awareness about their work, almost giving voice to Wiseman's related goals as documentarian. City workers, it seems, are people who care about other people's problems, and City Hall is where they try to solve them — with slow, imperfect humanity. —Laura Bliss
City So Real
National Geographic, Hulu
Steve James' five-episode docuseries is a powerful ode to a complicated city as much as it is a crash course for outsiders struggling to grasp Chicago's current state. There's no obvious star in this production that spans Lori Lightfoot's underdog campaign for mayor in 2018 up until this year's coronavirus lockdown. Instead, James centers on the issues pulling at the city's fabric, mainly police brutality through the murder of Laquan McDonald, a rare murder conviction against the cop who killed him and a series of plans to spur growth into Chicago's stagnant economy.
City So Real is about every source of tension working in tandem with one another, pitting citizens into their respective camps of race, class and status. Chicago is a window into the nation that, as Lightfoot described herself to a voter, is "famous or infamous." Viewers will come away with the understanding that this city of big shoulders has carried one too many unchecked burdens — it's now at risk of crumbling under the pressure to stand tall on its path to glory. —Gerald Porter Jr.
Coded Bias
7th Empire Media
Shalini Kantayya's documentary highlights the inherent bias in facial recognition and machine learning algorithms as experienced by MIT computer scientist and researcher Joy Buolamwini (and others). The computer vision software that Buolamwini, who is Black, was using for a school project was unable to "see" her, and distinguish her face, unless she put on a white mask. This, the documentary explains, is due to a lack of diversity within the ranks of those who develop and design the tools. Also featured are researcher Cathy O'Neil, author of the must-read book Weapons of Math Destruction, and activist Silkie Carlo, director of the nonprofit civil liberties group Big Brother Watch, which has challenged police use of facial recognition surveillance. —Marie Patino
Crash Landing on You
Studio Dragon, Netflix
A South Korean heiress (played by Son Ye-jin) accidentally paraglides into North Korea and lands on possibly the tallest North Korean man to ever exist (Hyun Bin). Having a North Korean defector on the show's writing team helped give a nuanced picture of ordinary life in the secretive communist state, which becomes the site of a highly improbable and yet binge-worthy love story. —Kristine Servando
Emily in Paris
Netflix
The series Emily in Paris generated so much media discussion this year that at times it felt like the show was single-handedly keeping the hot-take industry alive. The story of a Chicagoan wannabe influencer beginning a charmed life in a photoshopped version of France's capital, it has been critiqued as an artifact of contemporary dystopia, a muddled Boomer's idea of Millennial aspiration, a whitewashed view of a diverse city, a super-basic look at contemporary social media culture and evidence of the American Dream's last gasp. It's all these things, but also just another cultural product in a more-than-a-century-old tradition: portrayals of Paris as a mirror for American self-realization.
For it is the city itself that is the show's real star. Like a huge urban version of Marie Antoinette's Versailles play village, Paris forms a bucolic backdrop against which rambunctious Emily can pose, where the cynical but stylish locals take on a picturesque role akin to the French queen's beribboned sheep. It's not a city that makes a whole lot of sense. In Emily's Paris, the sole local industries seem to be fashion and cheesemaking, but it's nonetheless so rich and affordable that Emily's maid's room is not the usual drafty cupboard under the eaves, but a roomy loft with panoramic views. This collective vision is exasperating and probably past its sell-by date. It is also, to be honest, quite fun. —Feargus O'Sullivan
Fargo (Season 4)
FX, Hulu
The fourth and best season of the TV series Fargo, based on the 1996 cult-favorite Coen Brothers movie, shifts its primary location from the Upper Midwest down to Kansas City, and its plot gravity from whiteness to Blackness. It's the 1950s, and Loy Cannon, played by Chris Rock in a rare dramatic turn, is the head of a Black crime family — the latest organized crime syndicate on the scene after a succession of Irish and Italian mob rule in the city. Like the other seasons of Fargo, this series claims to be a "true story," though it is not actually derived from any real historical account. Cannon loosely resembles the real-life gangster James "Doc" Dearborn, who ran Kansas City's Black Mafia (or "Purple Capsule Gang") during that time, after the Great Migration had distributed Black families across the Midwest. When they found the promise of jobs and prosperity in cities outside the South to be a lie, they made their own way in illegal commerce — the same path of upward mobility that many European immigrants took upon entering the U.S.
Except unlike those other families, Black people would not be granted the same ability to convert their illicit undertakings into legal enterprises. The European immigrants who came before them had the benefit of whiteness. The Fargo legend of Loy Cannon is that Black citizens have been prohibited from achieving The American Dream no matter through legal or illegal tender. The show uses the cinematic tropes of classic movies like The Wizard of Oz and The Godfather, interspersed with details from true historical events like the Tulsa Massacre of 1921, to drive its point through. And while mostly fiction, it is perhaps one of the truest stories of America ever told on television. —Brentin Mock
I May Destroy You
HBO, BBC One
Set on the streets — and in the apartments — of gritty East London, this series expertly cuts across issues of race, inequality, gender, identity, privilege and sexual orientation. Almost interactive in feel, I May Destroy You draws you into a conversation about "consent" you didn't know you were already having — in the workplace, at school, in the bedroom, even at the grocery store. And for a show about sexual assault, it's not as heavy as you might think. Based on her own experiences, Michaela Coel (lead actor, creator, writer, co-director and executive producer) delivers a stunningly nuanced, and often wickedly funny, exploration of trauma and finding a sense of self again. This is a show that will rattle you, but in a bright, clever and utterly watchable kind of way.  —Sybilla Gross
Rebuilding Paradise
National Geographic, Amazon Prime, Hulu
Ron Howard's documentary is a sympathetic, tearful portrait of community resilience in Paradise, the Northern California town that was all but obliterated by the 2018 Camp Fire, the deadliest in 100 years of U.S. history. Opening footage of its monster-sized flames, filmed by residents during harrowing escapes from their burning neighborhoods, launches the viewer into the event that sears a massive scar onto the close-knit town, literally and figuratively. Trauma's long tail is the focus of most of the film, which pays tribute to the individuals persevering to keep Paradise intact while glossing over broader questions about climate change and the mega-disasters to come. —Laura Bliss
Residue
Netflix
This year's must-watch film about gentrification might be Residue. In this drama set in Washington, D.C., you won't find any exploration of the policy and history behind neighborhood change. Instead, follow main character Jay through the visceral, jarring experience of returning to a neighborhood that's been transformed. Based loosely on the experiences of filmmaker Merawi Gerima, the film explores themes of home and identity as Jay visits his childhood neighborhood of Eckington and seeks out old friends, some of whom have been ensnared in the criminal justice system or suffered other dark fates.
The white people who have become a greater presence in the neighborhood are out of focus, depicted as legs, arms and voices in the background — people who drink mimosas while joking about crack houses, or who walk their dogs on someone else's lawn. Although the camera averts their gaze, there's no escaping the thesis of what their presence there means: "These white folks gonna paint over the city like we never existed," Jay tells his friend. "Pave right over us." —Nicole Flatow
Small Axe
BBC, Amazon Prime Video
Samuel Jackson once complained that too many African-American character roles were going to Black British actors, and suggested that they didn't know enough about the Black U.S. experience for authentic portrayals. Director Steve McQueen's five-film series Small Axe renders that idea ridiculous. It's a collection of stories about London's West Indian community from the late 1960s to the 1980s. This time period mostly belongs to the children of the Windrush Generation, the massive wave of Black people brought from Caribbean countries to the U.K. in the 1940s and '50s to rebuild its healthcare system after World War II.
In Small Axe, McQueen shows how the hyper-policing of Black people and spaces have long been a defining feature of their experience in England, just as it has been for Black people in the U.S. The first film, Mangrove, tells the real-life story of Frank Crichlow, whose Notting Hill restaurant is regularly raided by police for little reason other than Black people congregating there. Lovers Rock takes viewers deep into the interior of Black social life via a house party where it seems all of the joy, magic and terror of being Black in London is absorbed into this one night of dancehall escapism. Red, White, and Blue is the true story of Leroy Logan, a Black scientist who abandons his field to become a police officer in hope of reforming the department from within. Alex Wheatle is the autobiographical story of the Black British novelist as he navigates Britain's foster care and criminal justice system, and Education shows how young West Indian students were treated based of a belief that they were naturally IQ-inferior.  —Brentin Mock
Tehran
Apple TV
An Israeli political thriller, Tehran follows Tamar Rabinyan, a young woman born in Iran but raised in Israel. As an undercover Mossad agent, she's tasked with hacking a military mainframe in Tehran in order to facilitate an air strike against a nuclear installation. Predictably, things go haywire. Critics have praised the show's humanizing portrayals of people on both sides of the Israel–Iran conflict; refreshingly, for an American audience, there's no hint of a CIA mastermind. While the inaugural season was shot in Athens, the showrunners go to lengths to evoke Tehran's vibrant youth culture, especially when Tamar holes up with a group of professional ravers. —Kriston Capps
The Trial of the Chicago 7
Netflix
Is it a criminal trial or a political one? That's one of the key questions in writer/director Aaron Sorkin's feature film on the protesters accused of inciting a riot outside the 1968 Democratic National Convention. Brought to life through the stand-up comedy of one of the star defendants, this dramatized version of events is as funny as it is defeating. Come for the staggering courtroom injustice and all-star cast; stay for the backdrop of city and police policy in 1968 Chicago. —Nicole Flatow
The Undoing
HBO
This six-episode series from David Kelley borrows heavily from his previous hit HBO show, Big Little Lies, even using a school charity event as its focal point for murder. From there, The Undoing tackles similar issues of privilege and inequality in the most urban of settings — Manhattan — and makes full use of Central Park, crosswalks and a grand piano as symbolic dividers and connectors that fuel the narrative. Nicole Kidman yet again plays the role of the unhappy woman who has it all (or does she?), this time trading her muted Monterrey knits for sophisticated New York coats. The show has been maligned for serious reasons and silly ones, but Kidman's and Hugh Grant's performances — along with plenty of red herrings — will keep you watching. —Jennifer Sondag