Tour the Vineyard Behind Some of Australia's Best Wines
The Henschke family's vintages can cost more than $500 a bottle. Photography by Carla Gottgens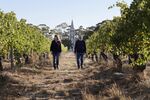 The release of Henschke Hill of Grace 2013 this week marks a significant anniversary for the Henschke family. They and their forbears have been growing vines on the Hill of Grace in the Eden Valley region of South Australia for 150 years and their shiraz wines have acquired the status of collectibles with prices to match, with the 2013 currently selling for A$825 ($591).
The wines come from a four-hectare (10-acre) single vineyard around the village of Parrot Hill and were conceived by fourth-generation winemaker Cyril Henschke back in 1958. Back then, Henschke was doing something radical and unusual, according to Elin McCoy, regular wine columnist for Bloomberg and an international wine judge. The wines were rarities in an era when multi-vineyard, and even multi-regional red blends — like Australia's other icon, Penfold's Grange — reigned. 


Hill of Grace was an immediate, spectacular success and remains the rival of Grange for price, quality, and demand, especially in the auction market. The cool nights of the Eden Valley ensure that the wine is no bold monster red. McCoy describes it as "completely different from Grange, with a hallmark five spice fragrance that's utterly compelling, plus purity, elegance and an opulent fruitiness laced with minty, peppery notes. And it lasts for decades." No wonder the vineyard is the most significant wine site in Australia. The better value, though, is Henschke's Mount Edelstone, which sells for about a quarter to a third of the price. It tastes of lush, ripe fruit with notes of minerals and dark chocolate. In McCoy's view, both wines have only gotten better now that the vineyards are farmed biodynamically, and the 2013s are stunning. 
Below, see how this standout Australian shiraz, harvested in April under a full moon, is produced and meet the team behind it.












The September release of Henschke Hill of Grace 2013 coincides with the Henschke family's 150th anniversary  and also headlines the release of two new wines to the Henschke collection, The Wheelwright 2015 and the 2017 sparkling Johanne Ida Selma Blanc de Noir MD.   The book, Hill of Grace: 150 Years of Henschke Under Southern Skies, is available from September 3.
(
Updates to add the price of the 2013 vintage. 
)