The Gun-Law Loophole That Entices Tycoons and Criminals to Play Cop
An accused drug smuggler, Elon Musk bodyguards, hedge fund magnate Robert Mercer and hundreds of others got privileges meant for the police.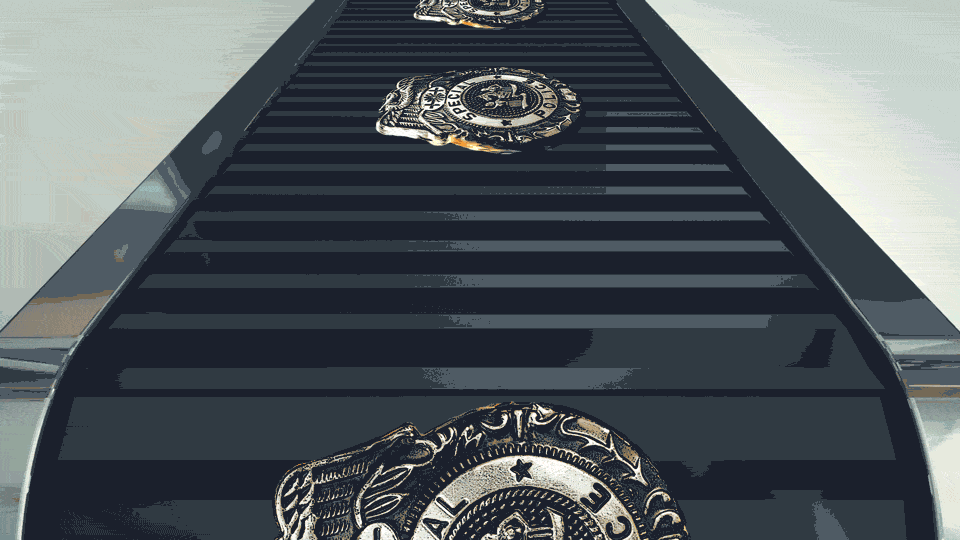 James "J.D." Smith is a former Navy SEAL who worked as a CIA trainer and bodyguard for billionaire Charles Koch. But when he got pulled over in Arkansas a few years ago with what drug agents say was a vehicle full of marijuana, another credential helped him out of the jam: a police badge from the tiny town of Lake Arthur, New Mexico.
Among his colleagues on the all-volunteer force: a Florida weapons instructor busted for paying a 16-year-old for sex; a North Carolina gun expert who accidentally shot his brother-in-law in the leg; and Robert Mercer, a 71-year-old New York hedge fund tycoon. Security guards for billionaires Elon Musk, Steve Wynn and the Koch brothers all carried Lake Arthur shields.
The bizarre roster of this ersatz police department illustrates the unintended consequences of a 2004 federal law that granted nationwide concealed-carry privileges to cops, trumping local gun restrictions. Because full-time officers and unpaid volunteers get the same privileges, hundreds of high-end bodyguards, gun-industry honchos, politically connected donors and celebrities are joining the rolls of police departments and sheriff's offices, sometimes in exchange for cash. These so-called badge factories are fueling a booming gray market.
That's not what Randy "Duke" Cunningham had in mind when he stood in the Roosevelt Room of the White House and watched President George W. Bush sign the Law Enforcement Officers Safety Act. The Republican congressman from San Diego had been pushing for nationwide concealed-carry rights for cops since the early 1990s, arguing it would help them protect themselves and the public. Cunningham said in an interview that he never realized the bill he sponsored would apply to volunteers who didn't go through regular police training.
"These are pretty serious benefits that you get, and they're to support the public," said Cunningham, who resigned from Congress in 2005 after admitting to taking bribes and served time in prison. "You don't just hand these things out like candy."
But that's pretty much what happened in Lake Arthur, a town of 433 in southeast New Mexico that appointed Smith and more than 300 men from across the country as volunteer reserve officers. The department was disbanded last month after Bloomberg Businessweek reported on its practices and a local TV station made inquiries. State and federal authorities are investigating.

Similar scenarios have played out in Oakley, Michigan, and Hudspeth County in West Texas. In Oakley, a village of about 300, the police department charged $1,200 to become a cop. It tried to keep the names of some 150 volunteers confidential by saying they could be targeted by Islamic State jihadis. When a list of applicants became public a few years ago, it included out-of-town lawyers and businessmen, a pro football player and the musician Kid Rock.
Action-movie star Steven Seagal got a badge from Hudspeth County Sheriff Arvin West. So did at least five people linked to a civilian Navy unit in Virginia that became the focus of an unrelated corruption investigation, the Washington Post reported. According to 2016 testimony in the case, members of the Navy unit helped direct $14,000 worth of radio equipment to the sheriff's office and used their shields to travel the country armed, including on commercial airlines. 
Neither West nor the former Oakley police chief responded to requests for comment.
To qualify for the concealed-carry perk, known as H.R. 218 after the House version of the bill, officers must be authorized to make arrests and carry a gun on duty. An unarmed dispatcher or records clerk doesn't meet that standard. But in some states, volunteers can carry weapons and make arrests without completing the rigorous certification process required of most full-time cops. In these states, police chiefs and sheriffs can award the privileges to pretty much anyone they want.
That's partly why nobody knows how big the badge market is. There's little state or federal oversight, and some localities keep their volunteer rosters secret. 
"This is widespread and widely abused," said David LaMontaine, a retired deputy sheriff and union official who pushed for state oversight of volunteers in Michigan. Now federal lawmakers, he said, should "close that loophole."
The risks of policing with volunteers became national news in 2015, when a 73-year-old reservist and donor to the Tulsa, Oklahoma, sheriff's office accidentally shot and killed an unarmed suspect during an arrest. The reservist was convicted of manslaughter, and the sheriff later pleaded no contest to a misdemeanor for covering up an internal report alleging preferential treatment for the donor.
Lake Arthur points to a different problem: men with badges who aren't doing much police work at all. 

In the mid-2000s, William Norwood, a full-time patrolman in a neighboring town, got himself appointed head of Lake Arthur's police department for $1 a year and started recruiting a volunteer force. It looked like a good deal for the town, which got a police department for free. And Norwood, a gung-ho officer with a fondness for big guns and flashing lights, got to hear people call him chief. 
Many of the volunteers were veterans coping with battlefield trauma and adjusting to the civilian job market, according to Mitchell Grobeson, a former Los Angeles cop who helped administer the program for several years. Norwood, he said, saw a way to help: award them concealed-carry rights so they could find work as bodyguards or security consultants.
 
"He just had a really hard time saying no to people coming out of Afghanistan and Iraq and needing help," Grobeson said. "The bottom line on it was H.R. 218." 
In an interview in February, Norwood said volunteer officers were prohibited from using H.R. 218 for outside jobs and that he didn't think anyone signed up for that reason. He hasn't responded to requests for comment since the department was shut.
It wasn't just veterans. Norwood handed out at least 323 badges all over the country, according to a review of police personnel records, lists of reservists' email addresses and phone numbers, and interviews with former officers. They went to a Manhattan diamond dealer, a future National Rifle Association board member, a couple of former pro football players, a few parachute instructors and Hollywood stuntmen, and dozens of martial-arts experts, gun dealers and bodyguards. 
More than 50 former SEALs signed on, including the guy who claims to have shot Osama bin Laden. Badges also went to Come Chantrel, who won fame for sneaker ads starring porn actresses; actor Patrick Kilpatrick, who battled a killer whale in "Free Willy 3"; and Richard Schulze, an herbal-remedy pitchman who recommends cayenne pepper for brain ailments. Mercer, the hedge fund manager, donated to the department through a foundation and got badges for himself, his son-in-law and a family aide. Kilpatrick acknowledged being a Lake Arthur reservist. The others all declined to comment or didn't respond to inquiries.
In theory, these officers were supposed to patrol six days a year in Lake Arthur, and some did. But almost all lived hundreds of miles away. Some former officers say they visited once, passed a shooting test, paid a $400 membership fee and took home a police photo ID with no expiration date.

Grobeson said one of his first trips to Lake Arthur, in October 2013, was troubling. A crew of about a dozen martial-arts enthusiasts showed up looking for badges, wearing identical black shirts and pistols holstered outside their clothes.
Photos posted online by Grobeson and others show that one of the visitors was Justin Garcia, a New York martial-arts instructor who went on to become an alt-right media personality known as "Master Chim." Garcia's podcasts feature leading white-nationalist figures such as Richard Spencer and Jared Taylor. On one 2016 recording, he complained that Jews have too much power and said the Holocaust was a "fabricated event."
Grobeson doesn't recall Garcia, but he said some members of the group claimed to be part of a militia and declared that police shouldn't enforce gun laws. After one of them almost came to blows with a black man in a supermarket, Grobeson said he urged the chief to reject their applications. But a list of email addresses of current and former officers contained Garcia's and those of several other members of the group. Garcia didn't respond to emails or phone calls seeking comment.
Reservists who put in their hours in Lake Arthur say Norwood oversaw a style of policing that wouldn't have been out of place in Fallujah or Kandahar. 
"He was definitely over the top," said Dan Bilzerian, a millionaire Nevada poker player whose cavorting with bikini-clad models and machine guns earned him the moniker "the King of Instagram." "He got a call one time — someone stole a candy bar from the dollar store. He showed up with a full plate carrier and an M4. This is like something you'd wear in Iraq." 
Bilzerian kept his badge when he was jailed in 2014 on a felony explosives charge for blowing up a truck near Las Vegas. He calls the case "B.S." but pleaded no contest to a misdemeanor.
A couple years later Norwood popped up on Bilzerian's Instagram account, posing in civilian clothes with the internet star and a pair of female models in a room littered with high-tech weaponry. In the chief's tattooed arms is an assault-style rifle pointed at the ceiling. 
Bilzerian still had his Lake Arthur badge last year, when a gunman opened fire on concertgoers in Las Vegas, killing 58. In video from the scene, he can be heard saying he's a cop and asking an officer for a spare gun. The officer tells him to get lost. After that, Norwood finally asked him to hand in his badge. "I don't think he wanted that much heat," Bilzerian said.
Bilzerian wasn't the only Lake Arthur officer to lose a badge. When Bradley Stegmeier, the Florida weapons instructor charged with sexually assaulting a teenager, was arrested in 2016, police seized his badge. He pleaded guilty to contributing to the delinquency of a minor, a misdemeanor. Charles Pressburg, the man who shot his brother-in-law last year after a night of drinking, also pleaded guilty to a misdemeanor and lost his credentials.
Even Grobeson, who tried to professionalize the department, had to leave after he was arrested at his West Hollywood, California, home two years ago on charges of threatening his husband with a gun. Grobeson, who said he never threatened anyone, pleaded no contest to making a criminal threat.
Among those who benefited from Norwood's largesse were billionaires who employed badge-toting bodyguards. Wynn, until recently the chairman of Wynn Resorts Inc., relied for security on at least four men who had Lake Arthur badges. So did two men who protected Tesla Inc. founder Musk. A spokesman for Musk said the agents got the badges on their own; Wynn Resorts said some third-party contractors have used them, but its own employees aren't allowed to.
The billionaire Koch family, which runs a Wichita industrial empire and is a force in conservative politics, employed at least 13 bodyguards with Lake Arthur badges, according to records reviewed by Bloomberg. A spokesman for Koch Industries Inc. declined to comment.
One such Koch bodyguard was Smith, the accused marijuana trafficker. After leaving the CIA, he picked up jobs working for Charles Koch and other clients. 
For several years, according to testimony in a South Carolina federal court hearing last year, Smith had no fixed address as he toggled between guarding rich people and allegedly hauling loads of marijuana on a private plane. A U.S. Drug Enforcement Agency officer testified that the badge got him out of trouble the time he was stopped driving a vehicle full of weed.
Last June, DEA agents arrested Smith at an airport in North Carolina and searched a hangar in Alabama, where they found 15 guns and a flight suit bearing the name of the Lake Arthur Police Department. (The department didn't have an aviation wing.) Smith has pleaded not guilty. At the hearing in July, prosecutors cited Smith's use of police credentials to argue successfully that he should be held without bail. He was later released pending trial. Gregory Harris, a lawyer for Smith, declined to comment.
When badge schemes come to light, the consequences can be severe. In Oakley, the police chief lost his job, federal agents raided his house, the department was shut down and a new Michigan law put reserve programs under state oversight. The accidental Tulsa shooting led to an overhaul of the program there, and most reservists lost their positions. In New Mexico, Norwood faces an inquiry by the state agency that certifies officers. 
But the demand for badges didn't diminish. And, with 18,000 law-enforcement agencies in the country, neither did the supply. By the time Mercer, the hedge fund manager, gave up his Lake Arthur badge last year, he and his associates already had new ones from Yuma County, Colorado. His foundation bought the sheriff there a $64,000 pickup truck. The sheriff says donations don't determine who gets a badge.