America's Last-Ditch Climate Strategy of Retreat Isn't Going So Well
After two vicious floods, Sidney, N.Y., decided to pull back from the river. Seven years later, things haven't turned out as planned.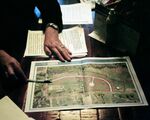 Corrine Spry had no way of knowing, on the day Tropical Storm Lee ruined her house seven years ago, that she was about to become part of a radical experiment to transform how the U.S. protects itself against climate change. All she knew was that it had been raining for days, so she'd better get some cash.
Spry set out in her car through Sidney, N.Y., a fading village of roughly 4,000 along the Susquehanna River, swollen from the storm and rising fast. On the way home from the bank, she saw firefighters huddled in front of their station. They'd already taken out Sidney's rescue boat. Spry, who'd lived down the street for 30 years, knew most by name. She pulled over to ask how much time she had. Get your stuff, the firefighters told her, and get out now.
A small woman who moves and speaks in quick bursts, Spry rushed home and called in some favors. Pickup trucks soon arrived. She and her husband, Lynn, moved what they could and drove to higher ground. Six feet of water filled her neighborhood, swallowing front porches and flowing into living rooms.
More than 400 homes and businesses ended up underwater in Sidney, affecting more than 2,000 people. It was months before Spry and her neighbors could move back in. It was also the second time in five years that the Susquehanna had wrecked half the village. People had just finished rebuilding. When Spry walked back into her soggy house, the street outside reeking with the rancid smell of garbage and fuel, she was hit first, she remembers, by the sight of her brand-new hardwood floor, completely buckled.
Spry didn't want to rebuild again, and neither did local officials; everyone knew the river would keep flooding homes and businesses. So Sidney decided to try something else: It would use federal and state money to demolish Spry's neighborhood while creating a new one away from the flood plain for displaced residents. Sidney would be on the forefront of U.S. disaster policy, a case study in what's known as managed retreat—and the many ways it can go wrong.
Until recently, the guiding philosophy behind attempts to protect U.S. homes and cities against the effects of climate change was to build more defenses. Houses can be perched on stilts, surrounded by barriers, buttressed with stormproof windows and roofs. Neighborhoods can be buffered by seawalls for storm surges, levees for floods, firebreaks for wildfires. Defenses are an instinctive response for a species that's evolved by taming the natural world.
But sometimes the natural world won't be tamed. Or, more precisely, sometimes engineered solutions can no longer withstand the unrelenting force of more water, more rain, more fires, more wind. Within 20 years, says the Union of Concerned Scientists, 170 cities and towns along the U.S. coast will be "chronically inundated," which the group defines as flooding of at least 10 percent of a land area, on average, twice a month. By the end of the century, that category will grow to include more than half of the communities along the Eastern Seaboard and Gulf Coast—and that's if the rate of climate change doesn't accelerate. In their less guarded moments, officials in charge of this country's disaster programs have begun to acknowledge the previously unthinkable: Sometimes the only effective way to protect people from climate change is to give up. Let nature reclaim the land and move a neighborhood out of harm's way while it still is one.
But even when all the most obvious ingredients are in place—from federal money and local buy-in to cheap, dry land right next door—moving is hard. Sidney has yet to remove more than a few dozen homes from the flood plain or break ground on land away from the river. Its failure so far illustrates how unprepared the U.S. is politically, financially, and emotionally to re-create even a single community away from rising waters in an organized way, preserving some semblance of its character and history. The alternative, though, is towns and cities morphing haphazardly, with people staying in ever more dangerous and decaying neighborhoods as long as possible. And if pulling back is hard in Sidney, imagine it in Miami or Boston or New York.
"Every time the river starts to rise, I panic," says Spry, now 67, who still lives in the same house where she'd found her curtains rotted three feet up from the floor. "Why not buy us out and be done?"

On a frigid morning in December, John Redente drives around the former future of Sidney. Perched on a cliff, Riverlea Farm was going to be the site of 165 single-family homes, a civic center, housing for seniors, a fire and police station, stores, a hotel with a conference center, and village offices. And all of it would be safely nestled 90 feet above the Susquehanna. Today, the area still consists of cornfields ringed by trees. Redente, 69, became the village's grant administrator eight weeks after the 2011 flood. His responsibility is to ensure that Sidney's grand plans go somewhere. All these years later, there's a hint of anger beneath his small-town charm as he talks about the urgency of rebuilding Sidney away from the river. "If we don't, it's going to die," he says.
Sidney's fate wasn't always so tenuous. The conditions that threaten to erase it are what first brought settlers here: flat plains, their soil fed by the intersection of the Susquehanna, which starts in Cooperstown, N.Y., and flows 450 miles south to the Chesapeake Bay, and the smaller Unadilla River. Those waterways formed natural highways for a village nestled among the hills at the northeastern tip of Appalachia.
But the toll of flooding has been worsened by decisions about where and how to build. As the cresting Susquehanna rushed past Sidney in 2011, it hit a concrete bridge that became an accidental dam, pushing the water back onto the banks of the village and into homes. Residents blame bad planning for their predicament as much as they blame increased precipitation.

That skepticism colored residents' initial reaction to Mayor Andrew Matviak's plans. With his mustache and steady stare, Matviak has the look of a kind but stern uncle, and the flat cadence of his voice evokes somebody accustomed to delivering bad news. When he was elected mayor in the spring of 2011, he expected to spend his time worrying about the things small towns usually struggle with, such as its mix of Victorian and postwar homes falling into disrepair and an aging, shrinking population. Six months later, when his village flooded for the second time in five years, he realized he had a far greater problem. Matviak began to worry there was no practical way to protect almost 200 homes from the next inundation. But doing nothing, he decided, would mean slow decay as people drifted away from endangered houses. So he settled on a fix. Sidney would pursue federal funds for sweeping buyouts along the river, erasing more than a tenth of its housing stock to make a "green plain" to better absorb future floods. The village would also try to replace those homes by acquiring the farm.
Right away, the notion of uprooting a neighborhood generated confusion. When town officials first described the proposal, some residents assumed their houses would be transported up the hill by helicopter. Others believed they were being asked to choose which lot they wanted on the farm. "Residents took it upon themselves to go to the property and wander around, much to the displeasure of the property owners," says Shelly Johnson-Bennett, planning director for Delaware County, which includes Sidney.
But retreating to the farm initially had the support of the people who mattered most: the state officials everyone hoped would pay for it. "When the government first came down and looked at that land, they were so impressed," Matviak says. "And everybody was gung-ho."

Killing and simultaneously resurrecting entire neighborhoods is almost unheard of in U.S. climate policy. The greatest obstacles to managed retreat, disaster policy experts say, are inertia and moral hazard. Local officials often oppose buyouts because it will reduce their tax base, and they know that after a town floods, the federal government will pay to rebuild. National programs remain designed for this, even though $1 spent reducing exposure to disasters (for example, buying homes in the flood plain) saves $6 later, according to a federally funded report released in January. Congress spent $350 billion on disaster recovery in the past decade; February's budget deal alone included more than $80 billion in relief for last year's hurricanes. Most of that will go toward temporary housing, as well as repairing or reconstructing homes and infrastructure—almost always in the exact same place as before the storm.
Of the 30,000 homes across the country that flooded multiple times from 1978 to 2015, fewer than 9 percent were bought out, according to the Natural Resources Defense Council. Those buyouts have typically focused on small numbers of the most vulnerable homes. Demand from homeowners has often exceeded the number that have actually received buyouts. For example, Harris County, Texas, which includes Houston, has 3,000 homeowners seeking money to leave their houses, according to Ed Emmett, the county's chief executive officer. "We won't get enough money to buy them all out, so we'll have to prioritize," he says. Sidney's 2006 flooding inundated hundreds of houses, but officials bought and tore down only nine.
After the second flooding, "we realized that we can't operate the way we've operated before and say it's not going to happen again," Matviak says. Far from Sidney, two things made his proposal suddenly seem within reach. In the summer of 2012, President Obama signed a bill phasing out subsidies for federal flood insurance. In Sidney, according to Johnson-Bennett, that could mean $7,500 a year in premiums, often more than people's mortgages. The insurance subsidies would disappear entirely when homes changed owners, making sales all but impossible.
A few months later, Superstorm Sandy smashed into the Northeast. The federal government sent $60 billion in emergency aid, and New York state was suddenly awash in disaster money, along with federal pressure to seek solutions for flood-prone areas. Governor Andrew Cuomo made rebuilding a signature issue: In the summer of 2013, he created the Governor's Office of Storm Recovery, which announced $750 million in grants for towns that pursued "innovative rebuilding plans," including Sidney. It wasn't the first time Cuomo had gotten involved in the town's recovery. Less than three months after the 2011 floods, the governor announced $20 million to help Amphenol Aerospace, a major military contractor and Sidney's largest employer, relocate its flooded factory away from the river. Amphenol broke ground on a new plant 18 months later.
Sidney was promised $3 million—enough, local officials hoped, to purchase the farmland and entice a developer to build homes. Meanwhile, the village needed to get the federal government to buy up its soggiest neighborhood before people started to abandon their homes and the town.
Federal buyouts are never fast. But what happened in Sidney made the usual programs seem downright zippy. After a flood, it usually takes six to eight months before the Federal Emergency Management Agency announces a buyout program, says Johnson-Bennett, who is shepherding Sidney through the labyrinth of federal and state disaster programs and who comes across as an almost bewilderingly upbeat force, considering that her job is to manage the aftermath of disasters. Another five or six months usually pass before FEMA approves an application from local authorities. Then the real work starts: contracts, land surveys, house appraisals. Somebody in Johnson-Bennett's office has to find out if the homes that applied for buyouts have liens against them or foreclosure notices or any other complications before money changes hands. "Two to three years," she says of how long a typical FEMA-funded buyout takes after a disaster. "Shortest."
Sure enough, almost three years passed after the 2011 floods before Delaware County was able to buy and demolish a single home with FEMA money. But Sidney's main problem was that only 32 families initially applied for buyouts, not nearly enough for Matviak's plans to work.
The reason came down to money, Johnson-Bennett says. FEMA pays only 75 percent of the cost of buying out a home. In Sidney, with housing values already heavily diminished because of the 2006 floods, FEMA's offers would neither pay off a mortgage nor cover the price of a new home somewhere else. So the state decided to mix disaster programs, adding grants from the U.S. Department of Housing and Urban Development that require no local contribution.
On one level, it worked: An additional 127 families applied for buyouts, enough to turn big chunks of Sidney's most vulnerable neighborhood into the green plain. But it also meant residents would remain in danger for years while FEMA, HUD, and the state figured out the rules for mixing the two funding streams. It took until 2017 for the federal agencies to agree on rules for what happens if a homeowner appeals the amount of money offered for her house, Johnson-Bennett says. Six years had passed since the floods.

The federal government knows it's not doing enough to move people away from risky areas. Two years ago, Sean Becketti, chief economist at Freddie Mac, the government-backed mortgage investor, warned that the "economic losses and social disruption" caused by flooding and sea-level rise were likely to exceed the turmoil of the Great Recession.
The Obama administration took notice, but too late. One of its final climate initiatives was asking 11 agencies to set up a working group to "coordinate federal assistance for managed retreat and relocation," according to an internal memo. A few weeks later, Donald Trump, who's called climate change a hoax, became president. The group never held a single meeting.
As federal agencies argued over details, the local decay that Matviak was trying to prevent had already started. Families slipped away, and the tax base shrank. Today, the part of Sidney that was underwater in 2011 retains an eerie sense of emptiness. Some homes are dilapidated, others in pristine condition. Most look somewhere in between.
Residents who could neither sell nor afford to make their homes livable a second time abandoned them. Spry says squatters occupied the house across from hers, selling what was left inside. For a time, she thought it was being used by drug dealers.
Living in a neighborhood that's not supposed to exist anymore creates quotidian concerns as well: How much is the right amount to put into a house that will get torn down? "You have to keep it looking respectable," says Spry, who, with her husband, paints the trim regularly and maintains the garden. "But you don't want to spend any more than you have to."

Some of her neighbors bought homes elsewhere in Sidney after the state announced the large-scale buyouts funded by HUD. James and Shareen Bonner found a house a mile and a half up the hill, one of the few available on dry ground. But they continue to own their former home, a yellow brick house in the flood plain. "We were told that within one to two years, that house would be torn down," James says. "That was three and a half years ago." They're stuck paying property taxes and insurance on two houses, wondering how long they can keep it up.
Others tried to find buyers but couldn't. Not far from the Bonners' empty house, Bridget and Steve Bargher tried selling their single-story home in 2012. Potential buyers backed out when they heard about the floods. By 2013, the Barghers gave up. Now, like most of their neighbors, they're left waiting for the buyouts that were supposed to come years ago. And when that happens—if it happens—they've had enough of Sidney.
"If they had moved faster, then probably we would have stayed," Bridget says. And anyway, she adds, where in Sidney are they supposed to move? "All the houses are garbage," she says.
Nongarbage houses were supposed to be going up at Riverlea Farm, dry and safe from floodwaters. Sidney reached an agreement with the family who owned the farm for an option to buy the land for $1.3 million. A developer drew up plans. The village paid an engineering firm for infrastructure estimates.
Then, in 2015, everything fell apart. The engineers determined it would cost $4 million to extend water and sewer service to the farm, more than the state wanted to pay. The developer gave up. The owners put the property back on the market. Four years after the flood, Sidney was back to square one. State officials blame high costs, but Redente thinks the problem ran deeper. "Anything you do with a state person that's out of the ordinary, they get very nervous," he says.
Matviak and Redente decided to pursue a second, smaller plot of land closer to the village—one that wouldn't hold as many new homes but also wouldn't cost as much to connect to Sidney's sewer and water systems. This dry land, however, came with neighbors.
Under the rules that govern the HUD grants, low- and moderate-income families must benefit. In Sidney, that distinction is mostly a formality: The cutoff is about $37,000 for a household of four, Johnson-Bennett says, which includes many of the families in the village. But when Brenda Philpott found out that the homes Sidney planned to erect behind her house would go to low- and moderate-income families, she got worried. "We do not want more low income housing that will create a future 'SKID ROW' effect in the Village of Sidney," read a petition that she circulated. By last summer, Philpott had garnered some 300 signatures.
The petition has served to slow things down further, according to Johnson-Bennett, but she doesn't think it will stop the new housing from getting built. The greater problem is that the warnings about skid row soured the views about the new development among Sidney's residents—including some of the same residents who were supposed to move there.
"If they put all welfare people in there, we don't want to do that," explains Shareen Bonner.
"I do believe that it's going to be a welfare situation," Corrine Spry says.
"I don't want to live in a housing project," says Steve Bargher.
Both Redente and Matviak maintain that Sidney's struggles ought to concern people across the country in areas that can no longer be protected from climate change. "John and I talk all the time about Houston, Texas, or about Puerto Rico," Matviak says. "When you have hundreds or thousands of homes, how are they going to make this happen?"
Homeowners, Redente adds, are led to believe that the creation of a federally funded buyout program means "bing-bang-boom, you're all set to go, let's high-five it, everything's taken care of. Five years later, they're still waiting."

FEMA didn't respond to requests for comment on the Sidney project. HUD referred questions about Sidney to state officials. When asked about the pace of the buyouts, Catie Marshall, a spokeswoman for the Governor's Office of Storm Recovery, notes it was just created in 2013. "It's disheartening to hear that people think that GOSR's efforts are less than adequate," she says. "Nobody likes that it takes time."
Johnson-Bennett remains optimistic, saying the county has made offers to two homeowners near the river, with more to come. "It moves ever so slow, but we are finally making real progress," she says. Still, nearly seven years have passed since the 2011 floods, and the HUD money hasn't finalized a single buyout. And Johnson-Bennett doesn't expect to begin building new houses until next year at the earliest.
As Sidney keeps missing its twin goals of emptying a neighborhood that can no longer be protected and building a new one on dry land, the risk increases that more people will drift away, taking Sidney's future with them. The delays also tarnish the model this village was supposed to provide the rest of the country. Instead, Sidney underscores how hard it is to overcome the U.S. disaster policy's emphasis on rebuilding in place. "I was hopeful that a project like this could show something could change," Johnson-Bennett says. Does she think it worked? "No," she replies after a pause. She's been sitting for more than an hour at the McDonald's up the hill from the village, talking about an unlikely effort to prove the government didn't have to keep repeating the same mistakes. For the first time, she sounds defeated.