Putin's Enemies Exploit Growing Rural Anger With the Kremlin
The presidential election is a lost cause for opponents, but poverty and corruption may be turning once-reliable supporters against him.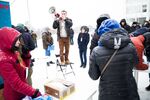 In Russia, Alexey Navalny has been blacklisted by state-controlled television, prosecuted for fraud and, most recently, disqualified from running for president. Over the years, the 41-year-old has organized protests against Vladimir Putin that resulted in hundreds of arrests, and this weekend's nationwide demonstrations against the fairness of the coming March 18 election will likely be no different.

Navalny wants to de-legitimize what's seen as Putin's inevitable victory. His organization, which claims 84 regional offices and 200,000 volunteers, will spend the next seven weeks urging Russians to stay home instead of casting ballots. But no matter what happens on election day, it's the future that matters more. With Russia's semi-stagnant economy, international sanctions and small-scale wars in Ukraine and Syria, liberal opposition that once existed only in big urban centers has begun to spread to smaller cities and towns that are considered government strongholds. With the prospect of Putin, 65, entering his last term as president, Navalny's followers foresee—perhaps a little optimistically—a Russian spring.

"We have imposed our agenda on the government," says Vladimir Milov, 45, a veteran politician and close ally of Navalny. "We want to deepen that process." Polls invariably state that Putin has an 80 percent approval rating, albeit in a country where the Kremlin controls most news media. However, a recent survey of 4,000 people from all regions by the Institute of Sociology of the Russian Academy of Sciences found that, for the first time since 2003, a majority favor change over "stability," a key word in Russian political discourse and Putin's primary argument for his extended reign. Corruption and poverty, it seems, may be bigger concerns to the electorate.
"Russians," Milov says, "feel the government messaging has clearly diverged from the reality they face." 
Of course, the opposition also predicted a Russian Spring back in 2012, when protests swept Moscow in the wake of allegations of vote rigging in parliamentary elections. That wave faded, and Putin was re-elected in a landslide. And to be sure, corruption and poverty aren't exactly new facets of Russian life.
The government, meanwhile, has warned that Navalny's appeals for a "voter strike" may actually be illegal, while other Kremlin opponents worry that the result will simply be a bigger win for Putin. As for the planned demonstrations, Moscow hasn't been sitting on its hands. Authorities have raided at least a dozen opposition offices, and a court sought to outlaw the foundation that funds Navalny's campaign. More directly, this weekend's protests have been banned in the bigger cities altogether.

But Navalny's followers aren't looking to Moscow and St. Petersburg for their next act. Instead, they're focused on places where the opposition has been poorly received in the past—places such as Izhevsk. An industrial center 746 miles (1,200 kilometers) east of Moscow, it's located in the picturesque foothills of the Urals, with 646,000 residents and the world famous Kalashnikov gun factory. Of the 20 cities selected by Navalny's organizers to hold election nomination events on Dec. 24—the day before he was banned from the election—Izhevsk was the smallest.
Local campaign coordinator Sergey Urban was nervous that day. Only 492 people signed up on the event's website, while the law required 500 for the nomination to succeed. Meanwhile, a fake event page emerged to lure people to the wrong place. Urban blamed local officials, but Leonid Kondakov, an adviser to the regional governor, denies the accusation. He dismisses the nominating events, calling them "street actions trying to gain cheap popularity with university and secondary school students." He emphasizes that the local government isn't interested in blocking Navalny supporters from protesting (though he opposes demonstrations), as long as they comply with the law. "We are entirely open to dialogue," Kondakov says.

Eventually, several hundred people gathered in the city's snow-covered square, lining up at registration desks to receive red ballots. The nomination procedure took only minutes, and the result exceeded Urban's expectations. With all ballots counted, 662 people voted for Navalny. The same thing happened in the 19 other cities where events were held. Urban knew it was almost inevitable that the Kremlin would disqualify Navalny, but he says it won't divert him from his mission.
Urban, 31, commutes daily between Izhevsk and his hometown of Sarapul, 65 km (40 miles) to the southeast. Born into a policeman's family, he spent a lot of time as a child at the local station house while his father worked the night shift, killing time by playing with confiscated, unloaded guns. Russia's rampant corruption in the aftermath of the Soviet Union's collapse was a frequent topic of family conversation, he says.
"My dad saw it all," Urban says. "Officials he knew flew private planes when they wanted to go fishing, while policemen had no gasoline to fill their cars."
In 2006, Urban signed up for a U.S. work program, spending five months as a valet at a Los Angeles casino. The contrast with Sarapul, where backyard outhouses were common, was striking. Urban says he was amazed that he could afford decent food and clothes while making minimum wage, and he was even more impressed by local police and their relative professionalism compared with back home.
Upon returning to Russia, he dropped the idea of becoming a cop and instead decided to run his own business. The idea was to transport a popular semi-sweet wine from southern Russia to Udmurtia, the district of which Izhevsk is capital. What he failed to anticipate was that police would demand payment and threaten violence at each roadblock along the way, a culture of graft that he says extended to sanitation and fire safety inspectors. Barely able to turn a profit, his venture was eventually finished off by the arrival of liquor store chains and recession.

Bitter about how institutional criminality deprived him of his dream, Urban turned to Navalny, who has long made fighting corruption his biggest campaign issue. This path to the opposition is a common refrain among his supporters in the impoverished heartland. Urban says he sometimes regrets having left America and losing his business, but he adds that he's proud to be "at the epicenter of a coming storm in Russia."
Last summer, he tried to run for a seat in the regional parliament on a platform favoring independent courts and media. He was unable to gather enough signatures, but that just made him more determined, he says. He knows the opposition will focus on local and regional elections in the coming years, but for him, the goal is getting rid of Putin. "The fish rots from its head," Urban says.
Kondakov, the local official, says he tried to persuade Urban not to join Navalny's cause. "I wanted to warn him—he shouldn't plunge into this meat grinder because it will end badly" Kondakov says, explaining that he knew Urban's father. "But he wouldn't listen."

Dotted with 19th century merchant houses and wooden cottages, Sarapul sits on the west bank of the Kama River. With only 100,000 people, it's much smaller than Izhevsk—the type of town urbanites quickly dismiss as either loyal to Putin or apathetic.

That conventional wisdom may be growing stale. Vladimir Chernitsyn used to own a popular local restaurant, but when he decided to run for the regional parliament back in 1999, police searched his house four times and even questioned his sister and elderly mother. Local prosecutors tried to imprison him, he says. The experience changed his life. "When my mother reached out for heart medicine and started to weep," Chernitsyn recalls, "I thought, 'bloody bastards, I will never forgive you.'"
He eventually lost his restaurant and now runs a small garage. When he heard Navalny was being put on trial for fraud, he organized a group trip to Kirov to show his support. Chernitsyn, 55, says he even got to shake Navalny's hand. "I totally identify myself with Navalny after the ordeal he's gone through," he says. "With his parents, his brother and children intimidated in the same way as mine."

Every day at 2 p.m., Chernitsyn's childhood friend Aleksandr Bazhin comes by the garage for a drink. A retired policeman, Bazhin has a low opinion of his friend's opposition activities. "He's got nothing else to do, no clients, so he gets all these crazy ideas and starts running around, calling for revolution," Bazhin says.
Bazhin, also 55, boasts of a monthly pension of 14,000 rubles ($248) which "covers absolutely everything, except beer." Before Putin, he says, "the country lay broken in pieces, the army was nonexistent, everything was stolen. Today, the army is alive and kicking, and Russia has earned at least some respect around the world." Bazhin says that after the Soviet Union fell, people were selling their belongings to survive. But now his pension is rising, there's cooking gas in every house, and some families can afford two or even three cars. "Putin has done a lot, and he needs another term to complete all he has envisaged," Bazhin says. "Life is only getting better."
His recitation over, the man's ears perk up when Chernitsyn points out Navalny's pledge to raise the official minimum income to 25,000 rubles ($442). "If he does so," Bazhin proclaims, "I'll go vote for him."

On the other side of town, Urban's uncle Andrey Lyapusov works as a security guard at an apartment building boiler station. His monthly salary is just a little better than what Bazhin makes. "It means I can only afford poor quality food," Lyapusov says. "If I buy a pair of shoes, I am out of cash."

Lyapusov spends his free time writing for an underground Communist newspaper, the Red October. The latest issue featured a eulogy to Fidel Castro and samples of Josef Stalin's poetry. Lyapusov's views reflect the eclecticism of modern left-wing thinking in Russia. "I will never vote for a bourgeois candidate," he says, referring to Navalny, whom he nevertheless admires for his anti-corruption stance. No fan of Putin either, Lyapusov's choice for the presidency is the official Communist Party nominee, an agricultural tycoon named Pavel Grudinin. The irony is entirely lost on him.
Lyapusov, 46, likes to warn of a "fifth column" bent on sabotaging the country—only, as he sees it, "the real fifth column is in the Kremlin." In the past, Russians who considered themselves communists, particularly in regions like Udmurtia, marched in lockstep with Putin (as the Communist Party still does). But now, many self-described communists want Putin gone.
Especially the young ones. Mikhail Sokolov, a 23-year-old human rights activist from Votkinsk, a town 50 km (31 miles) northeast of Izhevsk, still brandishes a Youth Communist League badge and a red tie. A Navalny supporter, he called the Soviet Union a "red dictatorship" and names countries like Sweden and Norway as closest to his ideal. Sokolov's Nordic models of socialist democracy are indeed near what Navalny has in mind. His proposals include increased spending on health and education, positions which put him to the left of the more fiscally conservative opposition elements in the big cities.  

Back in Izhevsk, people are dropping by Navalny's brightly painted local office to register or to complain. Vladimir, a 56-year-old dentist who declined to give his last name, says he lost his job at a state-run clinic 18 months ago. He came on the insistence of his son, who lives in Moscow. Vladimir echoed other older Russians who favored Putin's aggressiveness abroad while criticizing his performance at home. "His foreign policy has been brilliant," Vladimir says. "We needed to prevent Syria from becoming a bridgehead [for NATO]—it's too close to our borders." Nevertheless, he concludes, the economy and corruption are more important. "He's been around for too long," he says of Putin. "Time to get his ass out of here."
Most volunteers at the Izhevsk office are too young to remember a Russia without Putin, and it is these younger Russians whom Navalny is counting on to drive the opposition forward. A culinary school graduate, Artyom Agafonov had to get a job as a low-skilled worker at the Kalashnikov factory. "We are heading into a deadlock, and prospects are dire," the 23-year-old warns, adding a play on Putin's motto: "Only poverty is stable here."
Another volunteer, Marina Merzlyakova, 22, studies internet security at a local technical university. She says headhunters for Russia's Federal Security Service, the successor to the KGB, are frequent visitors on campus. "All the brightest people end up working there," she says, though not because they like the current government, she's quick to add. They just need a job. "I am ready to give the next five or six years of my life to political struggle," Merzlyakova says. "What we do is very important in the context of this country's history—people who gather around Navalny represent hope."
And then there's Igor Shumilov, an 18-year-old vocational student who was born the year Putin came to power. He learned about Navalny from Kamikaze D, a popular video blogger, and brags that he has more fines for holding unauthorized rallies than anyone in the Izhevsk office. Russia, he says, should stop intervening in the affairs of other countries, be they Syria, Ukraine or the U.S., and instead mend its own economy and political system.
"The whole world hates us now," he says.