Goodbye to Shared Plates and Communal Tables: Fine Dining Is Back
Hot spots like Le Coucou, the Office, the Grill, and Del Mar are heralding a return to formality that diners have hungered for.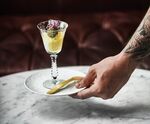 In December 2008, then-New York Times restaurant critic Frank Bruni dropped a culinary bombshell. He bestowed three stars on Momofuku Ssäm Bar, an East Village dining room with no tablecloths, no elegant glassware, and no coffee service. There, inside a shoebox-size space stocked with benches and paper napkins, diners used tongs to yank at a communal roasted pork butt and, with their hands, wrapped the drippy tendrils in lettuce cups. No restaurant so casual had received such a distinction, and the news spread. "Chefs from around the world would show up at Ssäm," Momofuku chef-owner David Chang later said, citing the likes of René Redzepi from Copenhagen's Noma and Ferran Adrià from Spain. "That review took everything to a different stratosphere."
Bruni's take on Ssäm came just after the 2008 stock market crash. In New York City, Wall Street plays no small role in the restaurant economy, and the effect was on display. "If there was a single, most pronounced narrative toward the end of my time as restaurant critic, it was the migration of extremely ambitious cooking into humble and casual settings," says Bruni, whose tenure as a critic at the Times ran from 2004 to 2009. "Ssäm Bar was the harbinger."
Will Guidara, co-owner of Eleven Madison Park (which topped the World's 50 Best Restaurants list in 2017), puts a finer point on it: "Fine dining was under attack."
A casual-dining revolution followed, armed with flea market décor, foraged ingredients, and a phalanx of food trucks. Fancy, ambitious restaurants with jackets and elaborate silverware began to shutter, including Charlie Trotter's in Chicago (2012), Alain Ducasse's Adour in New York (2012), and Fleur de Lys in San Francisco (2014). Chefs who didn't already have a fast-casual concept in their portfolio raced to find one. The ones who stayed high-end locked patrons into tasting menus.
And then in June 2016, at the start of a record-breaking 18-month run for the Dow Jones industrial average, a restaurant called Le Coucou made its debut in New York. Its open kitchen showed off gleaming copper pots and chefs sporting tall, white toques. In the front of the house, a battery of captains in fitted uniforms attended to customers at candlelit, cloth-topped tables. The menu from French-trained chef Daniel Rose smartly tweaked the classics, with dishes such as warm oysters with seaweed butter and crispy skinned duck with foie gras and figs. The prices were likewise elevated: Dover sole with grapes cost $48; a veal tongue starter with sturgeon caviar went for $38. The place was an immediate success, hosting everyone from Kanye West to Henry Kissinger.
Just as resoundingly as Ssäm Bar led a swing toward the hypercasual, Le Coucou heralded a return to finer dining—but an evolved model. Rather than a library-still environment replete with beige, like New York's remaining formal icons Per Se and Jean-Georges, Le Coucou offered a colorful sense of theater, with arresting lighting and friendly service. It turned out the public was hungry for a restaurant experience that felt not quirkily humble, but like an event. One with real chairs instead of stools, where you could make reservations that would be honored, and where the playlist wasn't crushingly loud—but everyone was having fun.
A number of similarly minded restaurants, such as Bellota in San Francisco, La Table in Houston, and Del Mar in Washington, have sprouted up since the beginning of 2016. Common to each dining experience—call it Luxe Redux—are these items:
1. Reimagined classic dishes, often evoking France, the country that invented fine dining. French cuisine was set aside for its fussiness in the Brooklyn era.
2. An a la carte menu, with familiar plate sizes. (Remember appetizers, entrees, and desserts?) This class of chefs views the tasting menu format as too formal and restrictive and the jumble of shared plates as confusing.
3. No burgers. You might see a stray one on a lunch menu but generally not for dinner. Gone are the days when a restaurant wasn't allowed to open without a headline-making, Instagram-ready patty smothered in cheese and bacon jam.
4. Table seating, with chairs. Many Luxe Redux restaurants also have counters, but you'll fret no more about having your awkward first-date conversations overheard along the benches at a communal table.
5. Waiters in pressed shirts and, yes, suits. A rock band T-shirt is no longer work-appropriate attire. Tattoos, however, are allowed.
6. A new class of stylish sommeliers, as comfortable with inexpensive, unorthodox bottles as the big-ticket ones. "Traditional sommeliers wanted to sell you a $175 bottle of wine. Anything less, and you were dead to them," says Kevin Boehm, of Chicago'sBellemore. "This new group came up after the markets crashed, when restaurants couldn't afford $80,000-a-year sommeliers" and wine captains became creative by taking on other roles.
7. Expensive options. If this style of dining has a signature dish, it's duck, comforting but more ambitious than roast chicken. Oh, and caviar. Lots of caviar.

Look at the Office, the classically minded bar and restaurant at New York's Mandarin Oriental from Nick Kokonas and chef Grant Achatz, the duo behind the avant-garde Alinea in Chicago. Retro cocktails have been reimagined (the Old-Fashioned is made with bananas and miso), and dishes such as prime rib-eye tartare ($45) are decorated with tiny herbs and flowers. Kokonas characterizes the Office, which serves oysters in a giant silver conch shell, as an "intentional throwback to that sort of dark mahogany-walled place from long ago."
Or take Midtown Manhattan's tired Four Seasons, which vacated its space in the Seagram Building in July 2016. In its place came two fancy-but-lively dining rooms in 2017: the Grill and the Pool. At the former, chef Mario Carbone uses a salvaged duck press to make a roasted vegetable sauce, tableside, for his pastas. Co-owner Jeff Zalaznick notes that the most popular dishes tend to be the most expensive, including the $67 prime rib and a $92 Dover sole served with crab and shrimp. Both are prepared in front of diners by captains clad in Tom Ford tuxedos. Power lunch still reigns in this room, which hums at midday with patrons poking at $36 chopped salads. Adjoining the restaurant is the Pool, where chef Rich Torrisi transforms foie gras terrine into ribbons presented in an ice bowl, with crispy orange chips arrayed on the linen alongside.
It's not just a New York thing. Chicago's steakhouse-heavy Boka Restaurant Group recently opened Bellemore, where chef Jimmy Papadopoulos serves an anachronistic-seeming oyster pie in a room with spacious tables and an art deco décor. The savory pastry is filled with rich oyster custard, topped with osetra caviar, and presented with a glass of Champagne, all for $65.
"I thought we'd sell three of those oyster pies a night. We sell 15," says Boehm, Boka's co-founder. "There's a demand for this kind of dining. People are sick of sitting in uncomfortable spaces and sharing their food." Boehm also points to the plateware as a key element of this style of dining. "The china is not the mishmash that you see in hipster restaurants," he says. "But it's also not the bright-white Bernardaud. That got so boring."
And at the light-filled Del Mar in Washington, chef-owner Fabio Trabocchi makes Spanish cuisine an event. He has his servers, clad in seersucker suits in coordinated colors, individually plate paella rather than serve it in the traditional family style.
In Bethesda, Md., Peter Chang, who has a reputation for spicy Sichuan food in low-price settings, has opened a flagship called Q by Peter Chang, where he's serving scallops with XO sauce ($30) and braised pork belly with Chinese biscuit ($26).

At DaDong, the 400-seat Beijing transplant in Manhattan, elegantly clad sommeliers offer a range of glasses, from Champagne to orange wine from California, all underneath ceilings playing black-and-white video art. The signature Peking duck is $96; director of operations Celso Moriera says almost half of guests ordering a la carte also get the $42 caviar supplement. DaDong's showstopper is steamed king crab in egg-white flan: A whole one goes for $560; on average, the restaurant sells five a night.
"There's absolutely an appetite on diners' parts to be dazzled, and restaurants like Le Coucou and the Grill are answering the call," says Caroline Potter, chief dining officer at OpenTable Inc. "However, they're dialing back the fussiness when it comes to service and ambiance."
Those two restaurants are among the hardest tables to find in New York, and in early December, when DaDong opened its reservation line, its bookings filled through February. Hedonism has returned, and these restaurants are politely holding the door. Even Ssäm Bar has evolved—gone are the benches and chopstick dispensers, replaced by banquettes and real napkins.
"Our goal isn't to be the young kid anymore," David Chang says. "We decided it was OK to grow up a little bit."