A Thriving British Industry Confronts the Price of Brexit
Aerospace might be more integrated with continental Europe than any British sector. Not for long.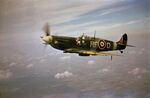 As monuments to Britain's past glories go, it's hard to beat the Royal Air Force Club.
Housed in a handsome stone building in London's tony Mayfair district, the facility for current and former RAF personnel is stuffed with oil paintings of great moments in British aviation, busts of accomplished pilots and historic treasures like the first flight-test report for the legendary Spitfire fighter.
Keep exploring the sprawling complex, though, and the image of a pluckily independent Britain fades. Newer displays depict jets such as the Tornado, Jaguar, and Typhoon, all products of pan-European defense co-operation. These days few aircraft are actually built in the U.K. What does fuel 120,000 British aerospace jobs: supplying components and systems for planes assembled elsewhere.
Those relationships are on the mind of Colin Terry. The chairman of Boxarr Ltd., a maker of software for managing complex engineering projects, understands better than most the value of continental connections to the U.K.'s vibrant aerospace and defense sectors. That chain risks being upended by the British decision to leave the European Union and the trade arrangements that the bloc makes possible, which have helped companies from tiny Boxarr to continental corporate giants like Airbus SE.

"There are a huge number of planes flying around all over the world with lots of British kit in them, and that's the product of these very integrated networks," Terry said over a breakfast of fried eggs and toast, served on plates featuring an RAF eagle soaring beneath the British crown. "We need to not take our eye off the ball."
The uncertainty of Brexit is being felt at Boxarr, where revenue growth is lagging behind goals as customers hesitate about committing to long-term spending in a volatile economic environment. Revenue is likely to reach about 700,000 pounds ($927,000) for 2017, well behind the 1 million pounds the company had targeted, according to Chief Executive Officer Alasdair Pettigrew. 

A former RAF Air Marshal and ex-chairman of defense group Meggitt Plc, Terry signed on at Boxarr earlier this year, impressed by the ability of the company's software to model complicated processes of the kind he oversaw in the military. The Bristol-based startup, which supplies customers including Airbus, Rolls-Royce Plc and Safran SA, is one of four businesses Bloomberg is following throughout the Brexit process.
Almost 18 months after the U.K. voted to leave the EU, few of the dozens of associated questions have been resolved. How much will Britain have to pay to cover EU employee pensions and future budget costs? How freely will EU citizens be able to live and work in the newly separate country? What will become of dozens of joint defense arrangements that include efforts in intelligence, space launches and military procurement? 
Airbus, which has a site in Bristol about six miles from Boxarr's office, is an example of the potential effects of a rupture with the EU. Planes manufactured by the maker of the A380 superjumbo wouldn't fly without British efforts—literally, since wings for its jets are assembled in Wales. Other key components and R&D ideas come from the 4,000-employee Bristol plant.
The company told the British parliament in an Oct. 30 written statement that its operations are based on a four-country model that "relies on the seamless flow of goods, people, and intellectual property across France, Germany, the U.K. and Spain." If Britain became costlier, Airbus might decide to move wing production to China, U.K. Senior Vice President Katherine Bennett told lawmakers on Nov. 22.
Any hopes harbored by aerospace executives that the country would retain most of its European ties have evaporated. Prime Minister Theresa May has made it clear that the U.K. will leave the integrated European marketplace, which allows companies to trade freely across borders. Manufacturers are contemplating the potential costs. ADS, the main trade body for the British aerospace industry, has warned that the imposition of border controls could add 1.5 billion pounds of annual expense for U.K. exporters.
There's also no way to yet quantify the toll from restrictions that may curtail British companies' supply of skilled immigrants, particularly in technical fields. Of Boxarr's 14 employees, about half are from overseas, including from Spain, France, and Greece. 
At the RAF Club, Terry,  a 74-year-old who wears a blue pinstriped suit over an open-collared white shirt and a poppy to mark Armistice Day,  is emphatic in his conviction that for all the potential disruption, the uncertainty of Brexit represents an opportunity for Boxarr. A more complex trading landscape, his argument goes, should make its software more compelling to businesses trying to model the impact of separation.
"I don't think a lot of companies have gotten their minds around what the effects are going to be," he said. "You can't afford hiccups, and we want to try to help avoid them."
To expand sales, Boxarr is trying to make inroads into the automotive industry by pitching its software as an aid to car manufacturers' processes, which as in aerospace depend heavily on trans-European networks. In a particularly vivid illustration of that complexity, Honda Motor Co. said last month that its factory in Swindon, southwest England, relies on 350 trucks arriving from the continent every single day, with only one hour of stock held in reserve.
But even for a company proposing solutions to the uncertainties of Brexit, the political environment makes for tough going.  "I remain convinced that the global uncertainty, Brexit included, has contributed to our slower-than-planned revenue growth," said CEO Pettigrew. "We just have to crack on as best we can under the circumstances."

Boxarr is nearing the end of a venture-capital fundraising effort that, if successful, should allow it to expand sales in new markets. Among the industries its targeting: power generation, another sector in which the management of complicated projects with lots of variables is a key challenge. It's also pursuing new deals in Australia, Canada, and the U.S., places where the loss of European economic integration isn't an issue.
At the end of the day, though, there's little getting around the importance of the U.K.'s integration with its European partners, the economic fruit of a strategic relationship that goes back 70 years. In the RAF Club's dining room, pride of place belongs to an oil painting of the 1948-1949 airlift of supplies to Berlin by U.K. and U.S. forces, depicting a British propeller plane being unloaded by grateful Germans.
"British pilots were bringing food and coal to people they were bombing a few years before,"  Terry marvels. "That's where it all started."