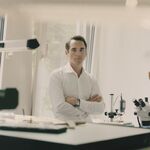 Photographer: Mark Peckmezian for Bloomberg Businessweek
Meet the Swiss CEO Who Made a Watch Out of Cheese
In Switzerland's risk-averse watchmaking industry, keeping young buyers interested is essential to survival. For Edouard Meylan of H. Moser & Cie, that means trying everything but playing it safe.
"Even if you're small, you have a voice," says Edouard Meylan, the chief executive officer of Swiss luxury watchmaker H. Moser & Cie.
For Meylan, "small" means running a family-owned company that makes about 1,500 watches a year with an average price of about 33,500 Swiss francs ($34,327). An analyst at Bank Vontobel AG puts the company's 2016 revenue at 14 million francs—a tidy business but a mere drop in the Swiss milk bucket compared with the estimated 4.7 billion francs Rolex SA raked in during the same year.
Yet the 40-year-old has played an outsize role in a heated debate over the Swiss watchmaking industry, a fusty métier that's been upended in recent years by currency fluctuations, changing tastes, and competition from Apple, Google, Garmin, Fitbit, and other smart device makers. "He is applying a very disruptive and intriguing communication—­and social media—­presence, which is quite unusual for such a small artisan," says Jean-Claude Biver, president of LVMH's watch division and CEO of megabrand TAG Heuer. "He attracts much more attention than his turnover and dimension would suggest."
In a reserved society such as Switz­erland, sometimes just speaking up is enough to get yourself heard. And with stunts like making a watch out of Swiss cheese and selling a mechanical version of Apple's smartwatch, Meylan has earned himself a reputation as the prankster in the jewelry shop.
In January 2015, the Swiss National Bank roiled international financial markets when it abolished the three-year currency cap that had prevented the franc from appreciating beyond 1.20 per euro. Immediately upon its release, the franc soared as much as 41 percent, reaching its strongest level on record. The Swiss stock market plummeted, and luxury goods exporters saw prices for their wares unintentionally increase around the world. It was a serious blow to the watch industry, already dealing with the second year of a slowdown caused by a strict crackdown on political gifting in China. Swiss watch exports slipped for the first time since the U.S. financial crisis in 2008 curbed global consumption. (They are just now showing signs of recovery.)

At the time, Moser was on the way to profitability, and the news sent Meylan racing back to Zurich from a ski trip in the Valais Mountains. Unlike most of his competitors, who were part of larger watch groups such as Richemont and LVMH, Meylan would have to withstand these ill winds alone. It would be devastating. He pulled over alongside Lake Lucerne and typed an open letter to the president of the Swiss National Bank.
"Over 95 percent of our watches are sold to people outside of Switzerland, and the first retailers called the same day to cancel orders," he wrote, warning that small businesses like his would be encouraged to leave the country. "Why not just move 2 kilometers into Germany and continue business as usual in the EU?"

Meylan smiles proudly as he retells the story at Moser's headquarters in Neuhausen am Rheinfall, a five-­minute drive from Europe's largest waterfall. Clean-shaven and elegantly dressed, he wears a prototype watch called Endeavour that goes on sale in November. The watch features a tour­billon, a hard-to-produce watch complication the brand makes in-house. As with all Mosers, the watch has a distinctive, slightly audacious, colorful look. Like Meylan, the timepieces tend to make a statement.
Moser was founded in St. Petersburg, Russia, in 1828 by Swiss native Heinrich Moser. It quickly grew to be the dominant force in Russia's watch trade but moved to Switzerland after the October Revolution in 1917. The company traded hands a few times during the 20th century, and the Meylans bought it in 2012 from dental-­implant billionaire Thomas Straumann.
The brand's tag line is "Very rare," a nod to its small production numbers and its practice of finishing every timepiece by hand. A Moser hallmark is a fumé dial, with a bright center and darker outer edges, that often lacks numerals. It's a simple, striking visual effect. The brand's 54,000-franc Endeavour Perpetual Calendar won the Geneva Watchmaking Grand Prix in 2006. Moser has sold timepieces for 1 million francs, but its core collection ranges from 11,900 francs to 100,000 francs.

Seeing the attention his letter to Swiss National Bank President Thomas Jordan drew within the industry, Meylan decided to address another threat, the smartwatch, with a stunt. In early 2016, Moser unveiled a spoof of the Apple Watch, which had made its debut months before. The 24,900-franc Swiss Alp Watch Zzzz was a mechanical replica of Apple's device without any functionality other than telling time. (It was also a creative way to use some leftover rectangular cases Meylan was trying to get rid of.) In the low-budget video that promotes the timepiece, Meylan encourages people to "get a life and upgrade to a mechanical watch." Because it can't make phone calls or send messages, he argues, the Alp reconnects people face-to-face. How's that for functionality? Moser sold about 200.
Meylan says his love of timepieces and his sharp tongue were both inherited. Raised in Le Brassus, a little town that's home to watchmakers Blancpain and Audemars Piguet, he spent his teenage summer holidays working at the latter, where his father, Georges-Henri, was CEO for almost a decade. "Being born into watchmaking gives me more legitimacy to criticize. It's like self-criticism," Meylan says. "I got that from my father: to be direct and provoke a discussion."
That contrarian attitude at first led Meylan away from watchmaking. After obtaining a degree in micro engineering from the Swiss Federal Institute of Technology in Lausanne and dabbling a bit at PwC, he returned to the industry in 2003 to manage distribution of high-end independent watch brands in Asia. His travels there led him to understand its swiftly growing market. After getting a master's degree at the Wharton School of the University of Pennsylvania, he co-founded in 2008 Celsius X VI II SA, a pioneering company in the luxury mobile phone sector. In 2012 he returned to help his family at Moser and took the helm the following year.
The warmth of a family-led company can be felt in the Neuhausen am Rheinfall office where Moser employs 55 workers. When Meylan walks in, he switches among French, German, and English in an instant, and his talking-with-his-hands style means his elegant Moser watch is never far from view. He says he considers the brand to be a startup and expects everyone to pitch in and come up with creative ideas. Twice a year he summons a group of employees and friends to ­brainstorm—and it's out of these sessions that his ­marketing ideas are born.

Earlier in 2017, Meylan took on another issue: For the past decade, for a watch to be sold with a "Swiss Made" label, at least half the value of its movement had to come from and be assembled in Switzerland. Starting this year, the percentage was increased to 60 percent of the value of the entire watch to encourage more companies to bring production to the small country. The Swiss government made much fuss about this—but critics such as Meylan see it as mumbo jumbo thatencourages brands to deceive customers. With so many watch parts sourced globally, it's almost impossible to call a given watch truly Swiss Made, he says.
In protest, Meylan had his watchmakers create a truly 100 percent Swiss timepiece—out of Swiss cheese. He named it the Swiss Mad watch, and it came with another video, in which Meylan appears as William Tell and throws punches at various products that have Swiss Made labels, like chocolate. (Have you met any cocoa growers from the Alps?) Throughout, he wears a familiar red cap that proclaims, in white lettering, "Make Swiss Made Great Again."
Moser also removed the Swiss Made label from its timepieces. The Swiss Mad and a prototype of the Swiss Alp went under the hammer for 125,000 francs in a May Christie's auction, with proceeds donated to the Foundation of Swiss Watchmaking Culture.
Since the Meylans took over Moser, the business has almost doubled the number of watches it builds per year. There are plans to open boutiques in Zurich and Hong Kong in the next 24 months. Meanwhile, in the past two years, the average age of the buyer has dropped precipitously: It now ranges from about 25 to 45, compared with a previous range of 55 to 65, Meylan says. Part of the reason for the change was the introduction of a lower-priced entry-level timepiece at 11,900 francs, down from 15,000 francs; another part is Meylan's panache. Youth is key to longevity in the watchmaking world. Loyalty is high; a person who owns one watch from a brand is much more likely to buy another.

"Moser is still a small brand in the Swiss watch industry, but it has found its niche and is getting more attention thanks to the marketing stunts like the Swiss Alp Watch," says Rene Weber, an analyst at Bank Vontobel AG. "Edouard is fully aware of this and takes brilliant advantage of it," adds LVMH's Biver.
"We need to be different," Meylan says. "We need to ask ourselves, What are the others not doing? And with our marketing campaigns, edgy, sexy, provocative have become our trademark." Things have changed over the past five years, he says. "When I started here, friends would say, 'Moser who?'  Now we're on the map."