Silicon Valley's Next Target for Disruption Is Socks
Stance makes the go-to hosiery for skateboarders, motocrossers, and Rihanna. The startup has also earned support from venture capitalists, who helped contribute more than $100 million in funding.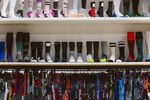 A single image from the United Nations General Assembly drew almost as much buzz as discussions about North Korea and climate change: It involved a pair of Chewbacca socks. Justin Trudeau, Canada's boyish prime minister, donned the Star Wars-themed attire on-stage at various events in New York last month during the UN festivities. The sight of a Wookiee lurking about a world leader's ankles went viral.
Chalk it up as the latest high-profile endorsement for a premium-sock startup that has managed to carve out a small place in popular culture. Stance has become the go-to hosiery of Hollywood actors, hip-hop stars, pro athletes, skateboarders, motocrossers and now at least one global leader. The San Clemente, California, startup accomplished this by making socks that promise durability, arch support and clever designs—and by cultivating a roster of celebrity investors, who promote the brand to fans. One backer, Jay Z, name-dropped the brand in his 2013 single "F.U.T.W."
Venture capitalists like the company, too. Pedigreed investors, including Kleiner Perkins Caufield & Byers, August Capital, Shasta Ventures and others from Silicon Valley, have put $110 million in the sock business. "No one had thought about this category," says Tod Francis, co-founder of Shasta Ventures. Trudeau, who attracted attention in May for a different pair of Star Wars socks made by Stance, is a fan but not an investor.
Sales should exceed $100 million this year, and it's looking to turn a profit next year, according to two people with knowledge of the finances, who asked not to be identified because the information is private. Stance says it has spent more than half of the money it raised from investors. The company may need to tap more capital as it expands beyond men's socks and underwear. Women's lingerie debuts this month, and subscriptions for regular shipments of its products are also in the works.
The business, which is the subject of this week's episode of the Decrypted podcast, was never really about socks, according to Jeff Kearl, Stance's 45-year-old chief executive officer. "We saw socks as a Trojan horse to build a brand," he explains, in a black tank top, shorts and, naturally, knee-high socks after a game on the company basketball court. "A well-built brand could have the same sort of value, in terms of returns to investors, as an internet or software company."
VCs say the real bet is on Kearl. He's a business and marketing guru who had a tour in venture capital as the dot-com industry came tumbling down in 2000. Kearl served on the board of Skullcandy Inc. for more than a decade, where he observed that a strong brand with celebrity endorsements can turn a commodity product into a luxury item. The Park City, Utah, company started out targeting skateboarders and other athletes with a line of active headphones. As Beats by Dre became a best-seller, Skullcandy assembled its own roster of pop icons. Kearl got to know Jay Z when the rapper designed some Skullcandy headphones.

Kearl says he became convinced the sock industry was similarly ripe for disruption, to use a favorite VC term. Socks is a commodity market dominated by low-margin products, but there's really no such thing as a technological edge. Sales of adult socks in the U.S. total $4.8 billion annually, according to research firm NPD. That's tiny compared with the $56 billion Americans spend on shoes or the even larger markets VCs are accustomed to going after.
Few people shared Kearl's confidence early on. He floated the idea to Josh James, an old college buddy and tech entrepreneur who runs a corporate-software maker called Domo Inc. James stared at him quizzically for a while and then agreed to give him $200,000. Either James would make money, he says, or he'd get to tease Kearl relentlessly for blowing so much cash on socks. It's looking like the former: James's stake is now worth $4 million.
When Kearl started the business in 2009, he targeted surf and skate shops to give the brand street cred. The timing proved impeccable, catching the wave of skater fashion moving to rolled-up pants. Stance's socks can hold up to the beating skaters give them, thanks to a tight-knit weave and extra cushioning. Despite the high prices of $10 to $30 a pair, retailers say the socks sell briskly. Image-conscious buyers appreciate the brand's avant-garde style of clashing patterns and colors, says Natalie Gamette, a sales supervisor at Hobie Surf Shop, located a short drive from Stance headquarters.
Once Stance got a foothold on the half-pipe, it turned to celebrity backers to promote the merchandise on social media and at high-profile events. Stance tapped hip-hop stars (Nas), actors (Will Smith) and basketball champs (Dwyane Wade). A temporary victory came two years ago, when Stance inked a licensing deal with the National Basketball Association to have players wear its socks during games. Stance signed Major League Baseball last year, making it the only sock brand on the diamond.
Now established sports-apparel brands are beginning to take notice. Nike Inc. won the rights to the NBA for the season starting Oct. 17. Even with VC backing, Stance won't be able to outspend Nike and could struggle to hold on to the customers it has. "Stance is, for the most part, a millennial brand," says Sucharita Kodali, an analyst at Forrester Research. "And millennials are really fickle."

The closest thing Stance has to a tech visionary is Avi Cohen. He grew up on a kibbutz in Israel, where his father ran a sock factory and taught him how to use knitting machines. Kearl hired Cohen in 2014 from Delta-Galil Industries Ltd., an Israeli contractor that makes socks for Nike and other well-known brands. Cohen has three knitting patents to his name. As chief technology officer at Stance, Cohen worked on the company's signature touches, such as a sock with a flat seam across the toe to avoid chafing.
Cohen's staff toils away in a lab dubbed Sock Hosiery Research Engineering and Development, or SHRED. Posters of Ludwig van Beethoven and Nikola Tesla overlook fantastical machines. One device stretches socks three times their normal size. Another bounces them around against corkboard to see if they'll produce unwanted balls of fiber. A third machine takes thermal pictures of heat dissipating to make sure Stance's socks cool faster than competitors'. "Our worst nightmare is for you to have a hole in your sock prematurely," says Randy Sheckler, a former McDonnell Douglas engineer who oversees quality control.
A couple rooms away, a row of specialized knitting machines can turn out socks with simple patterns at a rate of about one every minute and a half. A more complicated sock, such as one with a high-resolution image of a basketball pro leaping for a dunk, takes six minutes. The bulk of manufacturing gets done by contractors in China, where Stance is looking to open a larger facility next year.
Some investors want Stance to get more aggressive in pursuit of growth. Mood Rowghani, a general partner at Kleiner Perkins and a Stance board observer, says the company should spend more on advertising, rather than relying so heavily on word of mouth and celebrity evangelists. Stance says it does advertise online and in more traditional formats on occasion. It cited a Salt Lake City, Utah, billboard it bought when the company opened its own store there, one of a handful it operates around the country. Establishing its own retail channels is an important initiative for Stance right now, after a longstanding emphasis on skate shops and department stores such as Nordstrom. With the decline of shopping malls, Stance is focused on the company's own website sales.
Kearl isn't persuaded of the need to advertise more just yet. In August, rapper Drake posted a photo of himself in a pair of socks designed by, and featuring the likeness of, his ex-girlfriend and Stance investor, Rihanna. Stance spokeswoman Noelle Bates estimates that the resulting publicity, including mentions on the websites of Vogue and People, was worth $6 million. She arrived at that number by adding up the cost of buying ads that would reach the same number of people online, she says.
One area where Stance spends freely is employee perks. A chef at its offices in the San Clemente hills makes lunch for staff. An onsite masseuse kneads tired backs. Employees—and the CEO—take breaks on the in-house basketball court or practice their swings on a golf simulator. Workers made full use of the skate bowl, which is currently undergoing renovation. All those distractions create a pretty lax work environment. According to a former employee, the job was fun, but many colleagues didn't work very hard. This person left to join a bigger company but asked not to be identified to avoid damaging relationships. On a recent visit, the offices were all but deserted by 3:30 p.m.
Kearl says Stance has high standards for its staff and that taking breaks leads to higher performance. The work gets done, he says, regardless of how much time is spent shooting hoops or skating. "We have a phenomenal culture here," he says. "It's possibly one of the greatest collections of good-natured, smart people that has ever existed."