U.S. Steel Upgrades to Cut Costs and Benefit From the Alloy's Rising Price
The move comes as President Trump vows to pass import restrictions to boost American production.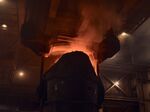 U.S. Steel Corp., founded 116 years ago, is spending about $1.2 billion to upgrade several factories, including the Edgar Thomson plant in Braddock, Pa., and the Irvin plant in West Mifflin, Pa.
The improvements will increase the reliability of aging machinery and lower expenses, U.S. Steel says. Equipment fixes such as a new cooling tower installed at the Edgar Thomson plant will reduce energy costs. At the Irvin plant, replacing bearings and rolls used to mash slabs of steel into millimeter-thin sheets will add many years of life to the equipment. The changes come with steel prices near a three-year high and President Trump promising import restrictions to boost U.S. production.