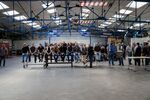 Ghosts of France's Industrial Past Haunt Macron
Fighting for industry is part of the French spirit—but is it holding back the president's vision?
Barely two weeks into his presidency, Emmanuel Macron was confronted by an angry factory worker on the streets of Bellac in central France.
The man was demanding the government save his job at the GM&S auto components plant in the nearby town of La Souterraine. Such encounters are fast becoming a leitmotif of the Macron era: The worried worker could have come from the Whirlpool plant in Amiens, the STX shipyard in Saint-Nazaire or the Dunkirk-based maker of construction machinery, Tim SA.

While the president has insisted all along that he has no magic solution to France's industrial woes, he promised "concrete measures" to help the workers in La Souterraine. Now it's crunch time. Government aid has kept the plant open and workers paid through the end of August. A court will rule next week on whether to allow the only bidder to take over the factory.
For all the 39-year-old president's appeals to entrepreneurs and technologists to come and invent the future in France, it's his ability to deal with the past that may shape his legacy. Even as he promotes France as a "start-up nation," echoes of the past reverberate across the country, in factories like GM&S where aging workers operate dusty, antiquated machinery, frozen in time by a labor code that was first drawn up over a century ago.
"We are damaged goods," said 54-year-old Alain Dubois, who's worked at GM&S since he was a teenager. "Look at us: men over 50 with families, mortgages, and few skills beyond what we've learned here, in a small region with few possibilities."

It's people in Dubois's position who encapsulate the dilemma at the heart of Macron's sometimes contradictory vision for France: the former investment banker wants market forces to drive the euro zone's second-largest economy up to the same level as Germany; but his government is shielding some workers from the market's logic, wary of the populist anger that he faced during the presidential election.
While Macron won more than 66 percent against the nationalist Marine Le Pen in the final round, many voters abstained or spoiled their ballots in protest at the choice they were offered, a warning of just how many people might line up against the president if he fails to deliver.
With business confidence at a six-year high yet his poll numbers in decline, the youngest French leader since Napoleon is betting he'd lose more from letting plants like GM&S die than by sending mixed signals to investors.
"He knows there is a symbolic dimension to fighting for industries and workers," Jerome Fourquet, the head of pollster Ifop, said by phone. "It's part of the French spirit, of its patriotic mythology."

GM&S Industry was once a buoyant, family-owned metal stamping plant making front bumpers, oil pans and tractor cabins in the hills of central France, where cows outnumber people. With 600 employees in the 1990s, it was the biggest employer in the region of La Creuse and is still the second biggest, though it has less than half the workers. After two decades of revolving door management and little training or machine upgrades, the company is threatened with closure.
"We are not the problem," says Dubois's colleague, 50-year-old Fifi Lester. "It's the failure to anticipate changes that were inevitable for people like us and for industries like ours."
Macron's effort to revamp the French economy begins with the labor market. He's aiming to unveil a plan this week to ease restrictions on working hours, put limits on severance pay and simplify labor relations. At the same time, his 2018 budget will cut public spending by 20 billion euros ($23.6 billion) even as he lowers taxes on business. And for next year he's slated an overhaul of professional training.
But none of that will help Dubois and his friends. Unemployment across France is above 9 percent and in La Creuse nearly half of job seekers have been out of work for at least a year.
"We are late, so late to put France on the right path," says Jean-Baptiste Moreau, a lawmaker from Macron's party who represents the region of 120,000 people in the National Assembly. "Until now we've been firefighting, with no overall plan."
Germany introduced programs to help factory workers upgrade their technological know-how in 2010, bolstering its position as Europe's leading industrial force as France stagnated. French industry's share of gross domestic product has dropped to 13 percent from 20 percent in 1980, according to the industry employers group, and the sector has lost more than 330,000 jobs since 2008 alone.

To be sure, French investment in machinery is accelerating, driven by the automotive industry, which now has just over nine robots for every 100 workers—the second-highest ratio in the European Union, according to the International Federation of Robotics. But in Germany there are almost 12, and across manufacturing industry as a whole, France lags its European competitors. Small companies like GM&S don't have the resources to invest like auto giants PSA and Renault.

There is another side to life in La Creuse that epitomizes the hopes that Macron and Moreau have for the region. From the middle of a cattle field, 37-year-old Caroline Barthelemy runs Nataquashop, an online professional swimwear retailer that she started in 2009. She now has 15 employees and 2 million euros a year in sales, shipping bathing suits around the world.
"It's not a problem of money in France, but of organization—it's too complex, too regulated," said Barthelemy, a mother of twin boys. "What matters more than any reform right now is a change of mindset."
Macron's risk is that the shuttering of GM&S, and plants like it, could tear up the social fabric of small towns across France before his economic reforms have a chance to spur more businesses like Barthelemy's.

The only bidder to emerge for the plant, rival auto-parts maker GMD, is proposing to keep on just 120 of the 277 workers employed there currently, though it has pledged to spend millions refitting the factory. The workers say it needs to diversify beyond the auto industry to prosper.
The Whirlpool plant in Amiens, where Macron faced the acid test of his campaign, offers an encouraging precedent. After the previous owner shifted production of washing machines and dryers to cheaper facilities in Poland, the factory was bought by private investor Nicolas Decayeux, who plans to use it as a testing center for a new wave of domestic products such as Internet-connected fridges. Of the 290 permanent workers in Amiens, 277 will keep their jobs.
"It's going to be tough," says Lester, who's worked alongside Dubois at GM&S since 1987. "Are we really going to reinvent ourselves now? I feel ready to take on a challenge, to learn, though maybe not to move away. But if I can be honest, I am afraid."
— With assistance by Zoe Schneeweiss