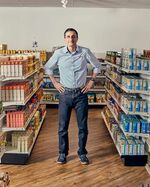 Photographer: Christopher Gregory for Bloomberg Businessweek
Why the Hatchet Men of 3G Spent $10 Million on a Better Oscar Mayer Wiener
Turns out it isn't good business to be known only for ruthless cost-cutting.
A year ago, Kraft Heinz Co. had a hot dog problem. Not only was it selling fewer Oscar Mayer wieners, not only was it losing sales to rivals, but the U.S. market was conspicuously contracting. Jokes about mystery meat are a given in the hot dog business, but this was different. Americans had actually grown uneasy about eating hot dogs and giving them to their kids.
This was unacceptable to Bernardo Hees, the boisterous Brazilian who had been chief executive of Kraft Heinz for barely a year, since ketchup king H.J. Heinz Co. and mac-and-cheese icon Kraft Foods Inc. merged in a $55 billion deal in July 2015. So Hees (pronounced "hess") ordered a recast of Oscar Mayer's signature product. The company would pour millions of dollars into getting the reformulated dogs ready for Memorial Day 2017, the unofficial summer kickoff.
It wasn't quite Tim Cook demanding an overnight redo of the iPhone; more like Ford Motor Co. pushing a revival of the Taurus sedan. But Kraft Heinz is controlled by the private equity firm 3G Capital, which is known less for nurturing growth at the companies it buys than for firing people, shutting factories, and taking cost-cutting to exceptional lengths. Typically, 3G's strategy for expansion when it buys a company is to purchase another and start in again with cost cuts.
This reputation for brutal efficiency has become a problem. Early this year, Unilever NV rebuffed a bid by 3G and Warren Buffett's Berkshire Hathaway Inc. to have Kraft Heinz acquire Unilever for $143 billion. The Anglo-Dutch consumer-goods company objected publicly to the offer price and privately to the threat of 3G's budget axes, working behind the scenes to make clear to Buffett and 3G co-founder Jorge Paulo Lemann that Unilever wouldn't go quietly. 3G retreated. Since then, the usually secretive company has sought to portray itself as a different sort of operator, with Kraft Heinz as the showpiece.
That might be why Hees opened his door recently to talk about the hot dog crisis. Does a company that can execute a whirlwind wiener turnaround sound like one that knows only how to slash and burn? Hees, a trim 47-year-old who calls Kraft Heinz "my life project," is determined to change the storyline. A 3G partner himself, he previously ran a Brazilian railroad and the Burger King chain. "The whole proposition here is profitable growth, innovation on big bets, and spending more behind the brands," he says. "The view here is very, very long-term. That's not typical for private equity."
3G could have picked an easier place to prove its company-­building mettle than the $375 billion U.S. packaged-food industry. Over the past three years, Kraft Heinz, General Mills, Mondelēz, Campbell Soup, and the rest of the 10 largest packaged-food companies have seen about $16 billion in revenue evaporate. Consumers are seeking more natural and organic food, and they're shifting away from the staples that have dominated supermarket shelves for decades. Euromonitor International projects that North American packaged-food sales will grow by only 1.3 percent annually through 2021. While Americans still buy almost all of their groceries in brick-and-mortar stores, they're gravitating toward private-label brands and upstart gluten-free and organic offerings. And they're going out to eat—in 2015, for the first time, Americans spent more money at restaurants than at traditional grocery stores.
All of which means that unless 3G finds another merger partner for Kraft Heinz, its future in food depends on processed cheese, cheap coffee, and old brands such as Kool-Aid, Cool Whip, Jell-O, and A.1. That's no small challenge, as Lemann acknowledged in April at a conference at Harvard Business School. Sitting on a dais alongside Buffett, he was asked about 3G's buy-slash-buy approach. "If you're doing what we have been doing," the silver-haired 77-year-old billionaire said, "you're obviously not quite as good as you should be in marketing or developing new products. So we're catching up there, but we're going to get good at it."
Or, as RBC Capital Markets analyst David Palmer says, "They're trying to say: 'We're not just pillaging here.' "
Hees talks fast and loud with a Brazilian accent and uses the word "big" a lot, as in one of his favorite sayings: "To think big or to think small takes the same amount of energy, so let's always think big." In Kraft Heinz's Chicago headquarters, he works at a white 5-by-2 ½-foot desk inside a glass-walled rectangle that holds the identical desks of six of his top underlings. To his left is a view of Lake Michigan, 75 stories below. Behind his desk is a chart listing his 2017 MBOs—the management-by-­objective goals that are sacred tenets of 3G's business bible. Hees's report card shows him doing well at boosting market share and innovation, signified by a check mark framed in green. He's recently improved his grade in this area, primarily by putting hundreds of millions of dollars into some of Kraft Heinz's existing brands, which are literally household names—the company's products are in 98 percent of American homes.
Kraft Heinz has introduced a line of Heinz barbecue sauces, a millennial-friendly MAX line of Maxwell House coffees with three caffeine calibrations, and Philadelphia Cheesecake Cups. (Buffett made a show of eating several onstage at Berkshire's annual meeting in May.) The company has added $100 million to U.S. TV and print advertising over the past two years, budgeted more than $1 billion to build two plants and refurbish more than 10 others (while shutting down six), and put $3 million into its suburban Chicago research and development center, including a mini-factory that can make new-­product prototypes in a day or so. The R&D investment has helped Kraft Heinz shorten the time to take an idea to market from one to two years to as little as six months.
Which brings us to the hot dog overhaul. The executive overseeing the project is Oscar Mayer marketing chief Greg Guidotti, a Kraft holdover. He directed an earlier redo of Kraft macaroni and cheese, but at the moment he's all in on hot dogs—he sports an Oscar Mayer Wienermobile belt buckle, bought on EBay. Guidotti has lived for five years in the Chicago area, where Vienna Beef franks are popular and ketchup on dogs—Heinz or otherwise—isn't. He had ample incentive to succeed at remaking the Oscar Mayer wiener: More than 40 percent of his most recent bonus was riding on it.
Hees turned to Guidotti in the summer of 2016. Yearly declines in overall hot dog sales had turned sharper after the World Health Organization issued a report in October 2015 saying that eating processed meats such as bacon and hot dogs increases the risk of contracting colon cancer. Hees was dismayed to see that Oscar Mayer was faring even worse than competitors. Most worrisome, hot dogs seemed to be losing status as a staple in American households with children.
At least Kraft Heinz wasn't sweating a surfeit of gourmet or organic competition. Research shows a lot of Americans still like hot dogs—they just don't always feel good about eating them. So if Kraft Heinz could address the health issues without screwing up the taste, maybe it could turn things around. Hees told Guidotti his healthier dog couldn't cost consumers more than what it was replacing—and that it had to be in supermarkets in 10 months. "If you don't have it by Memorial Day, you lose the season again," Hees said.
One of the first things Guidotti and his team did was collect consumer data—"data" being another of Hees's favorite words. They hired Nielsen Co. to find out how consumers might like a healthier dog that met their taste expectations. The results said Oscar Mayer could expect a 6 percent lift in sales. That was encouraging, because similar research had correctly predicted that the redone, healthier mac and cheese would enjoy a 2 percent sales increase.
Kraft Heinz, which was selling about $450 million in wieners annually, allocated $10 million to reformulate the dogs and create packaging. By the fall, the R&D center had concocted the recipes for 17 varieties. Out with the nitrates, nitrites, and preservatives; in with the cultured celery juice and cherry powder. The packaging reemphasized the wide yellow bands that previously set Oscar Mayer products apart in supermarket cases. Testing showed consumers could find the products in the store two seconds faster than before. Tasters in five locations said the wieners were as good as or better than the old ones. Kraft Heinz set aside twice the previous year's spending for ads.
The campaign began with one of Oscar Mayer's six 27-foot-long Wienermobiles delivering the dogs in remote Whittier, Alaska, a May 1 video of which garnered more than 7 million online views. Reuters, USA Today, Advertising Age, and Fortune published articles about the campaign launch. Through June, sales were up 3.4 percent, according to the company, and Oscar Mayer was regaining market share, creeping up on No. 1 Ball Park franks. The cloud in this picture is that Wal-Mart Stores Inc., which sells more food in the U.S. than any other store and handles about 20 percent of Kraft Heinz's overall business, has yet to fully embrace the wieners, favoring instead its own private-­label brand and Ball Park. Still, Hees says, the episode is less about the hot dog itself than about elevating old brands. "When you believe it's a big idea, then you have a big bet and pour in lots of money," he says, sounding like executives at lots of companies that aren't owned by 3G.
Even if selling more hot dogs demonstrates that 3G is developing a new skill set, the question remains: Is mass-­appeal packaged food still a business worth getting into? Because if it isn't, 3G's historic model might be the only way to get bigger.
3G was created in 2004 by three Brazilian businessmen. It wasn't much noticed in the U.S. until 2008, when Lemann and other 3G partners helped orchestrate Belgian brewer InBev's $52 billion hostile takeover of Anheuser-Busch Cos. (3G itself wasn't involved.) More than 1,000 workers lost jobs, many in Anheuser's ancestral home of St. Louis. Budweiser fans accused the owners of watering down the beer to save money. Profitability climbed. Last year, Anheuser-Busch InBev acquired SABMiller Plc for $103 billion, creating the world's largest brewer. Casualties included free-beer-for-life privileges for some Canadian retirees.
Hees was running a Brazilian railroad when 3G acquired control of Burger King in 2010 and made him CEO. There were no factories to close, but Hees sold almost all the company-­owned restaurants to franchisees. That shifted costs away from the company and allowed him to cut corporate head count by 90 percent, according to a 2015 study published by the Richard Ivey School of Business Foundation in Canada. Hees pumped up sales by pushing inexpensive ­calorie-packed burgers while McDonald's and others were chasing healthy eaters. Profit margins increased, and Burger King's market capitalization more than doubled. It's now part of Restaurant Brands International Inc., which is backed by 3G and also runs the Canadian doughnut chain Tim Hortons Inc. and fried chicken purveyor Popeyes Louisiana Kitchen.
Over the past year, Restaurant Brands shares have gained more than 30 percent. But frictions have emerged at Tim Hortons with franchisees, who say efforts to wring money out of them are hurting the chain's image and forcing operators to reduce spending on community programs such as youth hockey. (That's a big deal in Canada; Tim Horton himself was a legendary Toronto Maple Leaf.) Store owners have taken to buying bags of sugar at Costco because it's cheaper than buying from the corporate parent. In June a group of franchisees filed a class-action lawsuit charging Restaurant Brands executives with breaching their obligations to the operators. Patrick McGrade, a spokesman for Restaurant Brands, says, "We vehemently disagree with and deny all the allegations that have been made about our business and the brand."
In 2013, 3G joined with Buffett to buy Heinz for $23 billion and take it private. The company had survived an earlier proxy fight with activist investor Nelson Peltz by slimming down and pushing its core brands harder. Whatever Heinz did wasn't enough for 3G. In Heinz, it saw a platform for a global packaged-­food empire akin to what the firm's partners had assembled in beer. Packaged food, naturally fragmented by regional regulations and tastes, seemed ripe for consolidation. Hees was named CEO.
The ritual 3G cost-cutting—what Hees refers to as "common-­sense actions"—commenced. More than 7,000 people were fired, factories were closed, corporate jets were grounded, and energy-sucking minifridges were yanked from offices. Employees were limited to printing 200 pages a month. After just 18 months, margins on Heinz's earnings before interest, taxes, depreciation, and amortization, or Ebitda, leapt to an industry-leading 26 percent, from 18 percent before the change of owners. Still, 3G wasn't satisfied.
"With Heinz, we didn't have the scale to be an A player in the U.S. and Canada," Hees says. In early 2015, 3G CEO Alex Behring started discussing a transaction with Kraft CEO John Cahill. That March, Kraft agreed to be acquired by Heinz, with 3G and Berkshire holding stakes that effectively gave 3G control. Between then and the closing of the deal in July, Hees sat for one-on-one chats with more than 300 Kraft managers. He then leaned on longtime Kraft executive George Zoghbi to help him determine who worked "really hard" and who was "surfing the wave," Hees says. Surfers lost jobs.
Kraft Heinz said it planned to cut $1.5 billion in costs, then later raised it to $1.7 billion. (Oddly, the company continues to maintain two headquarters, in Chicago and Pittsburgh; a spokesman says Kraft Heinz is "proud of its rich history" in both cities.) The stock price rose, along with margins. Competitors started wielding their own spending scalpels—partly to please investors, partly out of fear of becoming 3G's next quarry. One day in December 2016, Mondelēz International Inc. shares jumped 28 percent in a few minutes after an obscure Swiss magazine resurfaced speculation about 3G buying the snackmaker.
Yet when it came to increasing sales, Kraft Heinz was little different from its peers. In an essentially flat-to-down industry, Kraft Heinz's revenue fell $1 billion in 2016 from the previous year, to $26.5 billion. Robert Moskow, an analyst with Credit Suisse Group, says Kraft Heinz did pretty well considering how difficult the packaged-food market is, but investors aren't trading the company's shares at a premium to competitors' stock because they hope Kraft Heinz will sell more Velveeta. They're paying up because they expect 3G to do what it does best: make another deal. "An inability to find something would be a big problem," Moskow says.

On a recent morning, Hees faces four executives beaming into Chicago on a giant teleconference screen from Shanghai. They're all wearing Kraft Heinz logo shirts, as is their boss. Hees excitedly nods and drums his palms on a table as they discuss how to sell Planters peanuts against the Chinese brand Three Squirrels. They're not sure about how to set prices for Planters, which is barely known in China. Hees, upbeat, says he wants to see lots of data when he visits China in August; he also wants to sell more ketchup and soy sauce there. "To me this is a model for everything that's happening in the company," he says, then ends the meeting as he often does: "What can I do to help?"
Two hours later, he gathers with 40 management trainees whom he helped select over the previous two years. One asks how Kraft Heinz is addressing e-commerce for food. "Everybody is learning this as we speak," Hees says. "There's a lot of, 'What's the model that's going to prevail?' Nobody has the answer." Unlike, say, books and sporting goods, food has long been insulated from e-commerce. That's changing, and the major food companies find themselves in the middle of a brewing online war between Wal-Mart, which last year bought online retailer Jet.com, and Amazon.com Inc., which recently agreed to acquire Whole Foods Market Inc. Kraft Heinz and its rivals would love to sell more of their products on these websites, but they're set up to feed grocery stores and have had trouble retooling their supply chains to service online retailers. Amazon might order a few cases of something, whereas "we like to deal in truckloads and pallet quantities," says Troy Shannan, Kraft Heinz's senior vice president for operations.
The uncertainty about such potentially huge opportunities suggests how tricky the path ahead is for Kraft Heinz and the whole packaged-food industry. Kraft Heinz's portfolio plays mainly in the center of the grocery store, an area hit hard by secular shifts in eating and shopping habits and the one at biggest risk of being disrupted by Amazon. Maybe Hees and Buffett, who's known to drink five Cokes a day and snack on potato sticks and ice cream, are wrong about what Americans want to eat. Or maybe, as Buffett himself has suggested, Kraft Heinz just needs another year to start showing strong organic growth.
Otherwise, another blockbuster 3G acquisition is probably inevitable. Unilever's rebuff has done little to damp deal ­speculation. On the contrary, Kraft Heinz's pursuit of the company, with its wide portfolio of household products, has effectively broadened the list of potential targets beyond food to include makers of household and beauty goods, such as Colgate-Palmolive Co. And there's still plenty of conjecture about a deal involving Campbell, Coca-Cola, General Mills, or Pepsi.
Nor is Unilever off the table. In mid-August, a six-month hiatus required by the U.K. will expire, and Kraft Heinz, via 3G, could take another run at the company—perhaps hostile this time. One serious issue: 3G might well need Berkshire for what could now be a $200 billion purchase, and Buffett is famous for saying he doesn't go where he isn't wanted. (He declined to comment for this story.) Hees won't comment on deal speculation but says, "We are always looking for opportunities where two plus two is more than four." The equation could get a lot more complicated if 3G can't find Kraft Heinz another partner. —With Noah Buhayar 
(
Corrected to fix misspelled name.
)