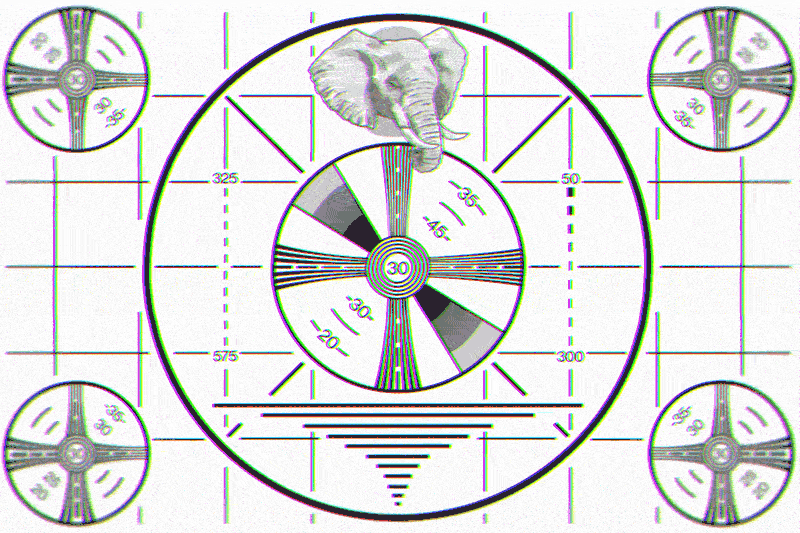 The Sinclair Revolution Will Be Televised. It'll Just Have Low Production Values
Small-time management is getting in the way of big ideas at the conservative broadcaster.
In the menagerie of television talking heads who have come to prominence advocating for Donald Trump, Boris Epshteyn is hardly the most memorable. He lacks Sean Spicer's flair for the absurd, Kellyanne Conway's gift at turning a phrase ("alternative facts"), Corey Lewandowski's smoldering menace, Jeffrey Lord's Zen inertia, or Sebastian Gorka's staunch facial hair. Nobody has parodied Epshteyn on Saturday Night Live. Yet he's perhaps the best surrogate to study if you want to understand where the Trump/TV industrial complex goes next.
Epshteyn, 34, was born in Russia and raised in New Jersey. On TV he exudes the ineffable air of a Trump insider, bolstered by family connection (he went to college with the president's son Eric) and untroubled by an unorthodox résumé, involving law school and business ties to Russia. He talks with a thickly accented swagger that's perfect for the current mode of televised political debate, which is one part pro wrestling match, one part spy novel. If you encountered Epshteyn at the Trump National Golf Club bar in Bedminster, N.J., you might expect him to hard-sell you on a real estate investment in the Urals or, failing that, a delicatessen in Newark.
Epshteyn briefly worked in the White House—the job ended not long after Politico reported that he'd gotten into a "yelling match" with a booker at Fox News—but since April he's been employed as the chief political analyst for the Sinclair Broadcast Group. Located in Hunt Valley, Md., little-known Sinclair is the nation's largest owner of broadcast TV stations. It has 173 of them, mostly in small markets (Sioux City, Iowa; Fresno, Calif.; Little Rock), but with several in larger metropolitan areas as well (Pittsburgh, Salt Lake City, Washington). Whatever a particular station's network affiliation—ABC, CBS, CW, Fox, or NBC—Sinclair viewers get a steady dose of conservative political commentary. Lately, Executive Chairman David Smith has begun assembling a kind of junior varsity squad of commentators and making unspecific murmurings about competing head-to-head with the senior lettermen and women at Fox News. To left-leaning viewers only just becoming aware of the company's reach, Sinclair is positioned to flip a switch and turn those 173 stations' newscasts—currently delivering bulletins on weather, school closings, and local affairs—into a cohesive network that pushes a Fox News-esque worldview of outrage and conflict into individual cities, counties, and towns.

Epshteyn shows how the arrangement might work. Three times a week he records brief video commentaries that are sent to Sinclair's 65 or so newsrooms around the country. Station managers are required to weave them into their otherwise locally produced news shows—part of a larger daily slate of clips known internally as "must-runs." In recent segments, Epshteyn has praised the Trump administration's trade policies, encouraged states to cooperate with his Presidential Advisory Commission on Election Integrity, critiqued Democrats' lack of a "coherent and authentic" message, and knocked other news outlets for their insufficiently admiring coverage of Trump.
The segments look like something you might see on Fox News—but only if you stripped away Fox's high-end graphics, state-of-the-art studios, tailored wardrobes, perfect dental hygiene, and polished scripts. Epshteyn's low-budget shtick, often delivered in front of a graphic image of the White House overladen with the stars and stripes, hasn't wowed critics. One, David Zurawik, wrote in the Baltimore Sun that Epshteyn's "commentary has come as close to classic propaganda as anything I have seen in broadcast television in the last 30 years." But since Trump's surprise victory last fall, liberal and progressive viewers have learned that in the current political-media climate, seemingly slipshod productions can suddenly hit it big.
Sinclair is likely to get larger yet. In May the company announced it was buying Tribune Media Co. for $3.9 billion. Among other assets, Sinclair would add 42 TV stations—including major ones in New York, Los Angeles, and Chicago—if the deal is approved by regulators. The expansion wouldn't have been possible if Trump's pick to lead the Federal Communications Commission, Ajit Pai, hadn't voted a few weeks earlier to ease a major restriction on local media ownership.

While future-of-media gurus have long predicted the death of broadcast TV, roughly 20 million U.S. households don't subscribe to a cable, satellite, or streaming TV package and still rely on local stations for news and entertainment. Many more viewers, whether they know it or not, also consume Sinclair programming via their cable or satellite providers, which pay Sinclair to retransmit their content. The more the company grows, the more leverage it holds over networks, syndicators, advertisers—and politicians, who continue to lean heavily on local TV to get their message out. Last year, Sinclair generated $256 million of net income on $2.7 billion of revenue. (It also has $4 billion in debt.) But the recent growth has sharpened a conflict at the heart of the company, pitting Smith's desire to build a national media powerhouse on par with the likes of Comcast Corp. and Walt Disney Co. against his tendency to penny-pinch and cut corners.
Critics of the Tribune deal, including Free Press, a Washington advocacy group, have accused Sinclair of trading sycophancy for favorable regulation. "It's a scandal," Craig Aaron, president and chief executive officer of Free Press, said in a May statement. "Sure looks like a quid pro quo: friendly coverage and full employment for ex-Trump mouthpieces in exchange for a green light to get as big as Sinclair wants."
Sinclair's CEO, Christopher Ripley, says the company has received no regulatory favoritism. Smith, who hardly ever gives interviews, declined to comment, but 19 current and former Sinclair employees spoke to Bloomberg Businessweek, many requesting anonymity out of concern about retribution. "Sinclair has managed to maintain a relatively low profile compared to other big network owners and consolidators in the media industry," says former FCC Chairman Michael Copps. "David Smith is the most powerful person in American media you've never heard of."
Smith, 66, grew up in the Baltimore area, the second-oldest of four brothers. Early in his career, during the 1970s, he founded Comark Communications, a manufacturer of TV transmitters, and was an active partner, according to an investigation by the Los Angeles Times, in Cine Processors, a bulk reproducer of pornographic films. In 1971 his father, Julian Sinclair Smith, an electrical engineer, launched WBFF, a small Baltimore station with no network affiliation, eventually adding two more independent broadcasters. In the early 1980s, with Julian in declining health, David joined the family business. He became its president and CEO in 1988. By the end of the '90s, Smith had enlarged Sinclair's portfolio to 59 stations. In 1995 he took the company public, wooing investors with an unadulterated management philosophy. "My father was too much of a visionary to care about profits," Smith told Forbes. "What I wanted was purely to make money."
As Sinclair expanded, it earned a reputation for austerity. According to one former employee at WBFF, Sinclair's flagship station in Baltimore, for years workers needed to insert two distinct keys simultaneously—in a manner reminiscent of nuclear launch protocols—to gain access to the supply closet. "Frugality runs through this company's DNA," says Ripley, who succeeded Smith as CEO in January. He hastens to add that "we've invested heavily in the stations that we've bought."
Over time, Sinclair kept running into an FCC rule that prohibits any single company from owning more than one station in a given market. Smith helped pioneer a workaround. In the early '90s, Carolyn Smith, the family matriarch, became the majority owner of a company called Glencairn Ltd. When Smith needed to acquire or divest a station with geographic overlap, Glencairn would buy it, then sign a "local marketing agreement," effectively turning control of the station back to Sinclair. Rivals complained that the arrangement was anti-competitive. In 2001 the FCC ruled that Sinclair had exercised illegal control over Glencairn and fined each company $40,000. But Sinclair continued to set up so-called sidecar stations, through which it owns or controls two or sometimes three outlets in one market. (Last year, Sinclair paid the FCC $9.4 million to settle claims, without admitting liability, that it improperly negotiated with distributors on behalf of same-market stations.)
For years, Sinclair shied from creating original programming. That changed in 2002, when it launched a news operation in Hunt Valley. Executives said "News Central" would create national reports that would be sent to its stations, saving money on duplicative newsgathering efforts. Sinclair executives also saw an opportunity to make local news more provocative. "Fox News Channel has demonstrated that people want a different level of truth," Smith told Adweek. "And if you can do it nationally, why not locally? If we're successful in creating meaningful, relevant controversy, we'll be doing a community service."
Controversies blossomed. In 2004 the Washington Post reported that 62 Sinclair stations planned to air—in prime time, just before the presidential election—a partisan documentary attacking Democratic nominee John Kerry. Protesters boycotted Sinclair's advertisers and the company's shares plummeted, forcing it to air a truncated version.
Eventually, Sinclair shut down News Central. But the company continued to create must-runs and centralized political analysis. Among its regular stable of contributors was the commentator Armstrong Williams, who during George W. Bush's second term provided a series of sunny dispatches on the administration. Problem: Williams was getting paid by the government to promote its education policies, a fact that Sinclair failed to properly disclose to its viewers. The FCC fined it $36,000.

Avoidable missteps and shortsighted management have continued to derail Sinclair's ambitions to be something more than the sum of its parts. Consider its 2013 acquisition of KOMO, the ABC affiliate in Seattle, as part of a $373 million deal for 20 stations. Sinclair was used to operating in smaller markets, making KOMO a new kind of challenge—a big station with an aggressive, accomplished newsroom. Smith flew to Seattle to greet the staff. The meeting immediately went south, according to three people present, when Smith told employees that the most important individuals weren't the reporters or anchors but the salespeople. Everybody at Sinclair, he said, works for sales. He also criticized station leadership and referred to the much-admired general manager as a "little lady," angering many. (Smith didn't respond to a request for comment via a company spokesperson.)
As a kind of peace offering, Sinclair gave the staff a regionally appropriate gift: a set of high-end Keurig coffee makers. The gesture was appreciated, until Sinclair executives informed the KOMO team that they were drinking too much joe. KOMO ignored the warnings, and the machines were removed. Separately, reporters were issued sponsored jackets to wear on the air: blue windbreakers with the prominent logo of L.L. Bean, the Maine-based outfitter, whose family ownership group includes a significant Trump donor. Liberal Seattle viewers complained, and some reporters objected to the commercialization of their wardrobes; if they were going to sell out, they might as well have gone with more local outerwear from REI or Eddie Bauer. "It's like going to Paris and ordering California wine," says a jacket recipient who asked not to be named.
More significantly, KOMO's journalists were frustrated by Sinclair's politically conservative must-runs, as well as its meddling in news coverage. One early flashpoint concerned Hempfest, an annual gathering of pot legalization supporters. According to one person privy to editorial discussions, Sinclair's corporate news team heard that the Seattle police were handing out bags of Doritos with notes explaining local marijuana laws and ordered up a story excoriating the department for wasting taxpayer money. What made the task a misuse of time and resources, says this person, is that there was no authentic local indignation in granola-eating Seattle. (Ripley says the political analysis fed to the stations is "not nearly a preponderance of what we do" and is "clearly labeled as commentary.")
In some ways, Sinclair seemed to be holding itself back. In 2014 it launched the American Sports Network, which would syndicate games from midtier college conferences such as the Colonial Athletic Association and the Patriot League. But some broadcasts weren't in high definition, and play-by-play announcers often wouldn't travel to call the games in person, instead narrating awkwardly from remote studios. ASN initially succeeded at connecting to pockets of underserved fans, particularly around college hockey. But with little brand recognition and no consistent place on TV where fans could find the games, the network struggled to attract regular viewers. Those it did find vented on Twitter about ASN's lighting, sound, graphics, camerawork, halftime shows, and other production values they had come to expect in sports broadcasting. Earlier this year, Sinclair laid off the bulk of ASN's staff and announced it would rebrand the network as Stadium.
Sinclair regularly hypes its larger ambitions when announcing deals, only to act more cautiously later. In 2014 the company jumped into the Washington, D.C., market with a $985 million acquisition of seven stations, including ABC's WJLA and NewsChannel 8, which is distributed via cable and satellite. During a call with analysts, Smith promoted NewsChannel 8 as key to Sinclair's ambitions to take on CNN, MSNBC, and Fox News. "We're going to build a local/national news audience that's going to compete directly with every other cable news channel," he said. After completing the deal, Smith met with WJLA and NewsChannel 8 employees at their offices in Rosslyn, Va. At one point, according to two people who were at the meeting, he gave the assembled staff a blunt message: "Resistance is futile."
The station soon got the usual Sinclair makeover, from standardized on-air graphics to a no-frills employee benefits package. But as the transition progressed, the grand plans for a national news network seemed to take a back seat to more pressing ideas about how to squeeze profit out of local news. The Washington Post soon reported that WJLA's morning news show had begun running segments highlighting the splendor of Myrtle Beach, S.C., as part of a broader tourism promotion deal airing across Sinclair stations.

The apparent blurring of news and advertising was no anomaly. Sinclair newscasts tend to be rife with paid consideration. One morning in 2015, Candace Dold, a reporter for Sinclair's Fox affiliate in Baltimore, tossed a live segment to the station's roving reporter, Jimmy Uhrin, aka "Traffic Jam Jimmy"—who was seemingly caught unprepared as he passed through a McDonald's drive-through and tried to order a fish sandwich. "I didn't know we were coming live, I'm sorry," said Jimmy. "Anyways, don't tell the boss I did this." The clip went viral as an amusing blooper, racking up more than 1.6 million views on YouTube. According to a former employee, however, the whole thing was staged as part of an advertising deal with McDonald's Corp.—something that was never disclosed to viewers. (Traffic Jam Jimmy declined to comment.) In an email to the Baltimore Sun in 2015, the station's general manager denied that the segment had been paid for by McDonald's.
Playing fast and loose with advertising is a matter not just of ethics, but of broadcast regulations. Around January 2016, Sinclair stations across the U.S. began inserting must-runs celebrating the Huntsman Cancer Institute, a research and treatment facility in Salt Lake City, into their regular programming. They were supposed to disclose that the spots were paid promotions, not genuine news. But the ads aired for months on many stations without any such notice, in repeated violation of federal guidelines. Eventually, someone tipped off the FCC. Ripley says the company has since instituted safeguards to prevent anything similar from happening again. "We eliminated the possibility of human error and put the right disclosures in," he says.
At Sinclair's summer 2016 corporate retreat, an "irate" Smith lit into a gathering of about 100 news directors and executives at a Baltimore hotel, according to several people present. The Huntsman screw-up, he said, could cost Sinclair millions in fines. Worse, it further complicated his already fraught relationship with the FCC. He needed the commission's blessing to make Sinclair even larger, which would have been a tough sell had Hillary Clinton won the presidency.
At the start of the 2016 presidential campaign, Sinclair churned out negative must-runs about Clinton and flattering pieces about Republican candidate Ben Carson. Like the Smiths, Carson has deep ties to Baltimore, and his campaign adviser was Armstrong Williams, Sinclair's longtime commentator. Williams says Smith's support for any particular candidate doesn't depend on personal friendship or even party affiliation—he's willing to work with any politician who understands the value of local TV and the burden of overregulation. "He deals with people who have an impact on his business. It wears no labels," says Williams. "What he cares about are people who are friendly to the marketplace."
After Carson dropped out, Sinclair aligned with Trump. In December, according to a report in Politico, Trump's son-in-law, Jared Kushner, revealed to a private gathering of bankers that the campaign had brokered a deal to give Sinclair's reporters additional access to Trump on the condition that interviews would run without interceding commentary. Sinclair executives responded at the time that a similar offer was made to Clinton, who declined the overture.
After Trump won, the FCC voted in April to restore an arcane rule that paved the way for Sinclair to buy Tribune. (The deal is still under government review.) Sinclair's expansion looks breezy compared with another media merger: AT&T Inc.'s pending bid for Time Warner Inc., the parent company of CNN. In July, according to the New York Times, White House officials were privately discussing how they could use the deal to tame CNN's critical coverage of the president.

Trump remains a protected figure on Sinclair airwaves. Even as the company has occasionally furnished its stations with ads made to look like journalism, it's adopted Trump's tactic of hammering its competitors for producing "fake news." In March, Scott Livingston, Sinclair's vice president of news, starred in a must-run warning viewers of the pernicious trend. "Unfortunately, some members of the national media are using their platforms to push their own personal bias and agenda to control exactly what people think," he said. On July 18, Livingston sent out a heated email to station news directors (first reported by Politico) criticizing recent coverage of Sinclair and bemoaning that "so many once trusted news organizations continue to push false narratives with an agenda to destroy our reputation and discredit the great journalism across our company."
Williams says the commentary from pro-Trump pundits such as Epshteyn helps balance the liberal bias of employees at the big-city stations Sinclair has acquired. "When people hear about hiring Boris, they don't understand," he says. "Smith inherits liberal newsrooms, liberal executives."
Apart from politics, Sinclair is pushing the FCC to approve a set of broadcasting standards called Next Gen TV. By combining over-the-air transmission with broadband internet delivery, boosters say, Next Gen would allow broadcasters to deliver TV with better sound and picture, while also freeing up bandwidth to deliver additional services (such as advanced emergency alerts) and more programming. The goal, says Ripley, is for Sinclair stations to deliver a wireless bundle of 25 to 30 channels that consumers can watch on their mobile devices without racking up cellular charges—or on their living room TVs without having to pay for a cable or satellite subscription. In recent years the company has assembled assets that could serve as the foundation of this service. Sinclair now owns the Tennis Channel; Ring of Honor (pro wrestling); Comet TV (sci-fi); Circa (millennial-centric news); and Stadium. It's set to get WGN America, a nationally distributed entertainment channel, in the Tribune deal.
Almost four years after Smith first mentioned the idea publicly, Sinclair has yet to launch its national news network. Ripley says that for now, his executives have determined that national news is an overcrowded field. The plan, he says, is to stick with local news and to branch out into other forms of unscripted programming—such as talk shows, court shows, and game shows. It's a strategy that will likely put Sinclair on a collision course with such tech giants as Google, Comcast, AT&T, and Amazon.com, which are likewise jockeying for dominance among the growing number of video consumers who don't want to pay for a cable or satellite TV package—and which, unlike Sinclair, show no hesitation about spending lavishly on whatever it takes to win.
Meanwhile, the Tribune stations Sinclair is set to absorb are preparing to enter a new corporate culture. In May, the mischievous morning anchors at the Chicago flagship WGN thought it might be entertaining to grill their new bosses. Live on air, they dialed the number for Ripley. "I'm sure he has a good sense of humor," said anchor Larry Potash. "All those corporate guys do." Just in case, they pretended to be other WGN anchors. The call went to Ripley's voicemail. "Hey Chris, this is Steve Sanders—from the midday show," said Potash. "Just wanted to see what our viewers can expect. Is anything going to change? Is the holiday party going to be a bit better this year?" The anchors chuckled.
Robert Feder, a media critic in the city, says that behind the hijinks, WGN employees are worried. "This is a very ethnically diverse, Democratic, union-friendly, progressive city in a blue state," he says. "It's going to be like the occupation of France during World War II. There's going to be an underground movement at WGN to try and salvage their freedom."