A Day at the Races Shows Faith in Brexit
"It was supposed to be the end of the world."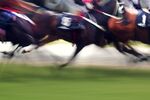 Six weeks after galloping to victory in his first major British horse race, Danielsflyer finished 12th in York earlier this month. For his owner, Brexit campaigner John Elliott, the lesson that setbacks accompany progress applies equally to the U.K.'s efforts to leave the European Union.
"Back to the drawing board," Elliott, 73, mused after debriefing with his trainer, jockey and partner on the grassy race track. "It'll take a little while longer till we figure out where next from here. Or whether he'll get there."

After returning to the lounge for horse owners and trainers, Elliott expressed ambivalence about the uncertainty around Brexit after Prime Minister Theresa May lost her parliamentary majority in June 8 elections. "I can't see any progress. We'll get there in the end, but we're in a bit of a mess now," he said, between cups of milky filter coffee.
His support for Brexit, shared by his fellow owners at the York race meeting, has endured through myriad setbacks for the process: the post-election chaos, a delay in negotiations and, last week, the government's climb-down on the negotiation schedule. The sense of gloom has been compounded by four terror attacks in three months and a lethal fire in a London residential tower.
Elliott is accustomed to long shots: He founded his company, a manufacturer of water coolers, dehumidifiers and washing machines, as a high-school dropout in 1972. He backed Brexit even though it doesn't appear to make economic sense for the firm, named Ebac: 80 percent of its water coolers are sold in EU countries like France, Italy and Greece, so new tariffs are likely to reduce its margins.

While Elliott believes the U.K. will ultimately leave the EU, and move the country one step closer to the small government he envisages, his despondency reflects a national realization that the end point has disappeared from view. The EU treaty allows for two years of exit negotiations, though this can be extended if everyone agrees. One year after Britons voted to leave, Elliott—one of four business executives Bloomberg is following through the divorce process—says there's no turning back.
"A lot of Remainers I know are saying, 'Let's get on with it,'" Elliott said after a traditional English roast dinner of beef, potatoes, Yorkshire pudding and gravy. "People now think it's not going to be as bad as we thought. It was supposed to be the end of the world."
Others in the owners' lounge agreed. Of the 10 others queried there, nine said they supported Brexit. The one who said he voted to stay in the EU said he just wanted to get the whole thing over and done with.
"This is a mess," said Russell Starke, 68, the retired manager of a ladder manufacturer from near Bristol, dressed in a white blazer with navy pinstripes. "I'm a little worried we can't get the certainty we need."

York is a quaint northern cathedral town, an hour and a half south of Elliott's Newton Aycliffe home. Race day is a social highlight for people from that patch of England. Attendees strolled in the sunshine, men in suits and women in bright dresses with hats like feathered satellite dishes, and crowded the bars, a glass of white wine or beer in hand. In the referendum, some of the areas in this region were the most pro-Brexit in the U.K.

Trackside, Elliott and his trainer David Barron, both in grey suits, watched dark-brown Danielsflyer pull against his bridle on his way to the track. Waiting for the three-year-old colt to start his race, the two men were just as preoccupied by May's poor campaign performance. They agreed she lacked the charisma to rally supporters.
"What will we do with her?" Barron asked wistfully. 
The next step for Danielsflyer is a little clearer. Barron thought he didn't do well in York because the course was flat and smooth, not challenging enough for a strong horse. So it's back to Newmarket, where the ground is more uneven and the track ends on an uphill.
It's clear going for Ebac—Elliott says business has never been better even if he is only chairman now and his daughter and son-in-law manage the company. It's due to deliver 5,000 premium water coolers to a major U.S. customer by the end of July. The customer also asked Ebac to quote a price for a mainstream model. A France-based rental and cleaning company, Ebac's biggest customer, also wants a quote for the next generation of water cooler, according to Elliott.
Sales for water coolers, dehumidifiers and the washing machines Ebac started producing late last year are all on target, throwing off close to 500,000 pounds ($636,000) more in profit, he said.
How Brexit will ultimately affect the economy remains subject to speculation. Elliott points out that former Treasurer George Osborne and central bank Governor Mark Carney were off the mark with their warnings of an immediate economic hit. The unemployment rate is seen falling for a sixth consecutive year to 4.7 percent in 2017, according to a Bloomberg survey of 51 economists this June.

While higher inflation has driven up costs, a weakening in the pound has driven up Ebac's revenue from exports in euros and U.S. dollars, he said. Inflation quickened to 2.9 percent in May, compared with 0.3 percent in May 2016. The pound has fallen 15 percent against the dollar since the referendum.
Every half hour, most of the people in the lounge filed onto the balcony to watch the next race. After the hum of the crowd rose to a brief climax, Yorkshire sheep farmer Jeremy Barton said the political "mess" meant Brexit would take five, not two, years. Barton and his wife came to support friends with a horse.
"Brexit won't help farming straight away because we'll lose subsidies, but it's the right thing in the long run," said Barton, dressed in a navy blazer and striped tie and wearing a straw boater hat. "We need to get back control over our own laws."