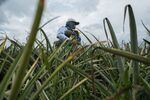 For Hire: 7,000 Former FARC Guerrillas
In Colombia, ex-rebels are preparing to enter the peacetime economy.
There are no guns in sight at a rebel camp in Guaviare, a state in south-central Colombia. Instead, some 500 former members of the Revolutionary Armed Forces of Colombia, or FARC, wear civilian clothes and pass the time playing soccer and volleyball, while they wait to be reintegrated into society. Several women among them—who while fighting were forced to use birth control and have abortions—­are pregnant or nursing newborns. Another first: The ex-­guerrillas are having to think about how they'll earn a living now that they've laid down their weapons. Raul Andrés Ballesteros, 33, who dropped out of junior high to join the FARC, says he plans to study technology and become a systems engineer. Faisuri Mendoza, 29, a 10-year veteran and a member of the Cubeo Indian tribe, dreams of becoming an anthropologist.
When Colombia's government signed a peace treaty with the FARC last fall, it meant more than an end to a 52-year conflict that left an estimated 220,000 people dead and forced more than 5 million civilians from their homes. It also meant 7,000 guerrillas would have a chance to disarm and enter the ­workforce. Whether Ballesteros, Mendoza, and the rest of their comrades find their bearings will go a long way toward determining the fate of Colombia's peace process.
Recruited as teenagers, many of the rebels are illiterate peasants who possess few skills beyond firing Kalashnikovs and patching up the wounded. Should they fail in their efforts to go back to school, find work, and organize a FARC-led political party—goals the Colombian government has pledged to support—they could once again return to the bush. Since the peace treaty was signed in September, more than 300 FARC guerrillas have broken ranks to form a dissident rebel group that's attacking army troops and shaking down business owners.

The dismantling of the FARC's war machine began in January, when its ­fighters moved to about two dozen camps on government-leased land, where they're gradually disarming under the supervision of United Nations monitors. Once that process finishes later this summer, rebels who have cleared police background checks will be free to start their new lives.
But like longtime inmates who view their prison walls as protection from an unsparing outside world, some of the rebels express trepidation about breaking free. For them the FARC has been a surrogate family, providing food, clothing, shelter, protection, companionship, and a sense of purpose. Individual enterprise and ambition—keys to success in the capitalist world—were frowned upon in the FARC. Asked about their postwar plans, several teenage rebels in Guaviare say they will do whatever their comandantes order.
Unlike rebels who turned against the FARC and individually made up their minds to desert—a risky decision since those who were caught were often executed—­these FARC fighters are disarming en masse because they've been told to. Just the thought of striking off on her own brings tears to the eyes of a 37-year-old rebel who goes by the nom de guerre Sofía Nariño. She's spent two decades in the guerrilla army and identifies with the cause to such a degree that she plans to use her FARC name when she's issued a government ID card. But after the peace treaty was signed and she ventured with UN personnel to Bogotá for a medical emergency, she felt odd without her AK-47 and frustrated around civilians who badmouthed the FARC. "Colombian society is not prepared to receive us," she says. "We know that we will be rejected."

The FARC financed its half-­century insurgency through kidnappings, extortion, and drug trafficking. Many Colombians would rather see ex-guerrillas behind bars than behind store counters or classroom desks, which is why voters narrowly rejected the peace treaty in a referendum last October. Congress ratified the accord, with some minor modifications, a month later.
Enrique Lozada enlisted with the FARC at 17 because he was jobless and saw no future for himself, but after 11 years of fighting, he grew disillusioned and decided to flee. He walked four days and nights through the jungle, eluding poisonous snakes and rebel search parties. Lozada (his nom de guerre) insists that breaking out of the FARC was easy compared with breaking back into Colombian society. When he settled down in the eastern Colombian town of Yopal, he was treated like an unrepentant mobster, he says. Employers tossed out his résumé once a background check revealed that he'd been a member of an outlawed organization. Banks blocked his efforts to open an account. Eventually, Lozada, 41, used a loan from his brother to open a small lumberyard. "They are in for a big shock," he says of the FARC fighters today, "because coming out of the jungle is very disorienting."

Still, Colombia has had a lot of practice at turning warriors into civilians. With vast gaps between rich and poor, the country has over several decades given rise to an alphabet soup of guerrilla groups, including the M-19, the ELN, and the EPL. Over the past 30 years, government aid—including housing, education, and jobs programs—has helped thousands of irregulars to disarm. "A lot of people ask, 'What's going to happen to all of these FARC people who are demobilizing?' " Colombian President Juan Manuel Santos said in a March speech. "They forget that we have already demobilized 59,000 fighters."

But not all have turned into productive members of society. Government officials celebrate high-profile figures such as Gustavo Petro, a former M-19 guerrilla who served in the Colombian senate, was elected mayor of Bogotá in 2011, and is now considering a run for president. They are less likely to mention how thousands of paramilitaries who turned in their weapons in the mid-2000s went on to form drug trafficking gangs. "That's why it's the responsibility of all of Colombians to generate opportunities and make this work," says Miguel Suárez, a top official at the Reincorporation and Normalization Agency, or ARN, the government body that receives newly demobilized fighters.
For ex-fighters, the ARN offers counseling, because many suffer from post-traumatic stress disorder. It also runs high school equivalency programs, job training seminars, and shelters that serve as halfway houses; in addition, the agency provides seed money to start small businesses, such as bodegas and ­barbershops. The average demobilization process takes six years and costs about $13,000 per ex-fighter.
Hundreds of Colombian businesses are contributing to the effort—even though they were long ­targeted by the guerrillas, who kidnapped company executives and demanded extortion payments. Coltabaco S.A.S., the country's largest tobacco company, has spent $15 million on ­minimarkets and tobacco plantations that employ former guerrillas as well as members of the paramilitary death squads that were the rebels' archenemies. "We have to cooperate so that these people don't return to a life of crime," says Humberto Mora, Coltabaco's vice president. "We are not doing this simply out of altruism. This is also a form of self-protection."

But managing successful aid programs can be more complicated than waging war, and many projects have floundered. A glaring example is a pineapple farm in eastern Casanare state run for the past six years by former paramilitary and FARC rebels. Because of bureaucratic snafus, land disputes, and a lack of funding, just 1 of the farm's 635 acres is under cultivation.
On a recent afternoon, the ­plantation was desolate except for a few farmhands who trudged into the field with machetes and filled a wheelbarrow with ­pineapples. Among them was Pastor Jereda, who spent 13 years in the FARC before deserting in 2004. Back then, only a dribble of rebels was emerging from the wilderness. But the peace treaty is now producing a flood, and Jereda isn't sure Colombia is ready. "If the government couldn't handle us," he says, "how is it going to handle 7,000 guerrillas?"
Otis is a correspondent based in Bogota.