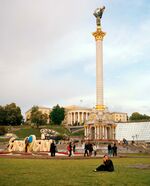 Photographer: Sophie Green for Bloomberg Businessweek
Eurovision Serenades a Continent in Crisis
In the year of Brexit and Russian hacking, the world's weirdest song contest gets geopolitical.
On an icy evening in late February, several hundred Ukrainians, including at least one man in a full-body yeti costume, packed into an auditorium in western Kiev and began to work themselves into a full-on frenzy. Both of Ukraine's major TV networks were on hand broadcasting live to millions across the country. In a land long subdued by war and corruption, this was an occasion for unbridled nationalism: a contest to choose Ukraine's entry in the 2017 Eurovision Song Contest, a continentwide pageant of middlebrow pop music and geopolitical posturing unlike any other tournament in the world.
The first act of the night featured a break-dancing grandmother—a clear attempt at audience pandering in a culture that adores its babushkas—and the competition only got weirder from there. Next up was a teenage singer who came onstage looking like the offspring of Marilyn Manson and Pepé Le Pew: The hair on the right side of his chalky face was pale blond; on the left it was jet-black, and he wore a single iridescent contact lens, giving him the allure of a half-blind canine. As his song reached a punchy electronic climax, a gigantic projection of his face appeared, Wizard of Oz-style, above the stage.
The third act, a rock group called O.Torvald, deployed a gimmick that was provocative even by Eurovision's outré standards. Each member of the band wore a bomblike digital countdown clock strapped to his chest, and when they played the opening riff of their song, Time, the synchronized red numbers began counting down to zero. In the rowdy audience around me, nobody appeared to take the terrorism stunt as anything but great theater.
Going political is a bold strategy at Eurovision, which combines the laser lights of stadium pop with the flag-waving of the Olympics and the partisan voting blocs of the United Nations. Even as the acts often embody wonderfully tacky or surreal elements of European culture, they also reflect the continent's most pressing geopolitical tensions. When the one-named Ukrainian sensation Jamala won last year's tournament with a song about Stalin's 1944 deportation of Crimean Tatars, the victory was widely interpreted as a statement vote against Russia and its annexation of the territory. German singers' poor showing of late has been blamed on resentment over the austerity policies that Chancellor Angela Merkel is forcing on debtor nations.
Eurovision can even predict geopolitical shifts. Take Brexit: Brits have long complained that the competition's voting patterns favor nations on the continent, presaging complaints that led them to wrench "sovereignty" back from Brussels. As early as 2008, the populist Daily Mail tabloid was agitating for the U.K. to withdraw from Eurovision. Turkey's choice to quit in 2013 foreshadowed its turn away from Europe toward autocracy. And Moscow's efforts last summer to disrupt the contest—a psy-ops campaign of disinformation—previewed its tactics in U.S. and European elections.

Lately, Russia has offered the contest its most dramatic political subtext. When Ukraine won last year, it won the right to host this year—so for months, the usual Eurovision fever was intensified by the knowledge that the final would take place in a country at war with a powerful rival. As it approached, the 2017 event seemed sure to reflect anxieties over Brexit, refugees, threats to NATO, a series of ISIS attacks, and other triggers, a collection of crises that has Europe feeling more combustible than at any point since the Berlin Wall fell. I went to Kiev twice this year—in February for the Ukrainian final and in May for the grand finale—to see whether Eurovision would bring the continent closer together or drive it further apart.
As the countdown timers on the chests of O.Torvald approached 00:00, setting off an onstage pyrotechnic explosion, it seemed likely to be the latter. The band's song, a broad takedown of war and misinformation ("Time to find truth/Time against the lies"), sounded like a statement about the Crimean conflict and Ukraine's perilous position in the world. Their countrymen loved it. A panel of judges and the audience, voting by phone, gave O.Torvald the victory.
"The time has come for us to become the face of Ukraine," the band's lead singer, Ievgen Galich, said afterward. "There is a reason this is happening now."
The European Broadcasting Union, or EBU, an association of public media, had two goals when it began what would become the Eurovision Song Contest in 1956: foster continental unity after two world wars and test new broadcasting technology. The first champion was Lys Assia, a Swiss singer in the classic chanson style, who beat out aspiring entrants from six other countries. In the only surviving footage of the evening, she performs an encore on the stage of the Teatro Kursaal in Lugano, Switzerland, next to backup singers in evening wear and a child holding a bouquet.
What began as a sedate affair in a Swiss casino has evolved into a professionally produced extravaganza viewed by hundreds of millions of people. Although Eurovision is little-known in the U.S.—it was broadcast live in the States for the first time last year, on the LGBT-oriented Logo TV network—it's the largest nonsporting TV event in the world, outwatched only by the Olympics and soccer's World Cup. Its organizers incorporated a semifinal stage in 2004, when the number of entrants became too unwieldy for a single evening. This year's initial field of 43 countries, tied for the contest's largest, included nations from outside the traditional boundaries of Europe, such as Azerbaijan, Israel, and even Australia. (The country has a surprisingly rabid Eurovision fan base and has been participating since it was extended a friendly invitation for the contest's 60th anniversary.) Each country holds an internal selection process in the winter. Those acts compete in semifinals in May, with 20 finalists advancing to the championship.

The contest has become one of Europe's foremost symbols of unity. "Eurovision allows Europe to perform itself in a way that is unparalleled," says Karen Fricker, a professor of dramatic arts at Brock University in Canada, who's written extensively on the topic. Despite its competition format, Eurovision aggressively brands itself as a celebration of harmony. In 2013 its slogan was "We Are One"; 2016 was "Come Together"; 2017 was "Celebrate Diversity." "It's become a moment of benign competition," says Fricker, "and hopefully benign nationalism." Certain entitlements remain. In an echo of the UN Security Council, Eurovision has a Big Five—France, Germany, Italy, Spain, and the U.K.—who are guaranteed entry into the final because they have the largest potential audiences and pay a disproportionate amount of the EBU's fees. Although the amounts aren't public, freedom of information disclosures show the BBC transferred £283,190 to the EBU in 2010 (roughly $442,000 at the time), compared with Irish broadcaster RTÉ's €63,000 (about $84,400).
Victory can mean overnight success for the musicians—the 1974 contest launched a little-known Swedish quartet called ABBA—while the winning countries in theory get a tourism boost when they host the following year. They also get a chance to project their values on an international stage. Some hosts want to make a statement that they've arrived, while others seek to demonstrate chilly administrative proficiency. In 2012, first-time victor Azerbaijan built an arena in Baku for about €130 million just for the event and spent an additional €30 million on the broadcast. The next year, Malmö, Sweden, touted a more sustainable €12 million budget.
Winning requires appealing to voters from a huge range of cultures, from Lisbon to Riga to Sydney, which encourages a certain homogeneity. That means a lot of songs about love and happiness, but also performances whose absurdist nonsense cuts across cultural boundaries. The Finnish hard-rock band Lordi won in 2006 by performing in foam-latex monster prosthetics, and Ireland's 2008 entry was a puppet named Dustin the Turkey. Since 1999, when organizers first allowed contestants to sing in English instead of their native language, Eurovision lyrics have been dominated by a literalism that verges on childlike. Latvia's 2014 entry offered a song about baked goods: "I've got a cake to bake—and haven't done that before." Azerbaijan in 2010 had a song about tears: "Drip drop drip drop/Drip drop drip drop."

Contest rules forbid performers from explicitly addressing politics, but current events get mirrored in all kinds of ways. Amid a growing interest in transgender rights, Conchita Wurst, a bearded Austrian drag queen, won in 2014 with a ballad about rebirth. Last year, in Stockholm, organizers recognized the refugee crisis with a six-minute modern dance routine called The Grey People. The EBU occasionally sanctions acts trying to sneak political messages onto the air. Violations can be subtle, such as an Armenian holding a flag of a territory subject to a dispute with Azerbaijan, or more overt. In 2009, when Moscow was set to host just months after its war in Georgia, the latter's entry, a disco boogie satire of Vladimir Putin titled We Don't Wanna Put In, was rejected.
In the months before the 2017 final, everyone I spoke to agreed that this year would be the most fraught Eurovision in recent memory. After O.Torvald won the Ukrainian selection in February, I met with an exhausted Galich at an empty karaoke bar in Kiev. He seemed abundantly aware of the extra scrutiny his act would receive, given Ukraine's conflict with Russia. A slight man with a handsome, delicate face and an "X" tattooed on his neck, he was deadly serious about his song's lyrics and message. "I'm concerned," he said, leaning forward and narrowing his eyes, "that humanity is killing itself." Keeping politics out of Eurovision 2017 was already proving impossible for the contest's organizers.
The EBU isn't a governmental body, but its members are public broadcasters, and the organization hovers over Eurovision like a nebulous European Union bureaucracy, ensuring that dozens of willful nations stay on schedule and abide by the rules. Like many oblique European institutions, the EBU's headquarters are in Geneva, in a sleek two-building complex next to a skating rink and a fondue yurt.
The Eurovision Song Contest is overseen by Jon Ola Sand, who tells me the first time we meet, "I've never been a fan of the Eurovision Song Contest." A stiff Norwegian TV veteran with a clipped accent and short gray hair, Sand has the bearing of a patrician official. His office is sparsely decorated, aside from posters of Jamala and Conchita Wurst. He says the EBU had asked him to apply for the job of executive supervisor, not the other way around. "I'm here," he says, "because I'm a professional who can solve problems and supervise a huge international production."

One of Sand's duties is to gamely beat back the constant tide of suggestion that Eurovision is an outlet for political grievance. "It has nothing to do with EU politics," he says. "I see what's happening around Europe, but this is completely different." A few minutes later, when I ask about how a potential breakup of the EU would affect the contest, he repeats his earlier point somewhat tensely: "This is not connected to the EU," he says. "It has nothing to do with the EU."
Sand's protestations notwithstanding, geopolitics are undeniably evident in the voting patterns of Eurovision viewers. Especially in Eastern Europe, countries have tended to vote for their neighbors or historical allies. In the 2016 contest, Slovenian TV viewers gave their top scores to Serbia, Russia, and Croatia; Lithuania went for Latvia; Denmark for Sweden; Belarus for Russia. This de facto bloc voting has drawn particular ire in the U.K., which after an early run of success has won just once in the past 36 years. The BBC's broadcast of the show over most of that stretch was famously led by comedian Terry Wogan, whose barbed commentary helped shape his country's sometimes hostile relationship to the contest; he once observed that the point of watching it was "to sneer at the foreigners." Despite being one of the world's top producers of pop music, the U.K. regularly sends forgettable acts to Eurovision.
Russia has taken the opposite tack, investing considerable resources into capturing the song contest, which it's won just once, in 2008. Its 2016 entry, featuring a hard-bodied male singer and an elaborate digital stage, was seen as a blatant attempt to replicate the previous year's winning Swedish performance. The unmistakable effort made Russia's eventual loss to Ukraine a slap in the face. "Putin hasn't calmed down," says Brock University's Fricker. "They're still trying to get the Eurovision formula right."

Afterward, in the summer of 2016, reports began circulating in Russian and European newspapers that Kiev's plans for hosting were in such disarray that the festivities would have to be relocated to Moscow. Other Russian media reports claimed that Kiev authorities were shooting stray dogs in advance of the contest, that Eurovision was responsible for a 15 percent energy bill hike for Ukrainians, and that gays were being murdered in city streets. All these stories were false.
"It's clear that this is coming from the Kremlin itself," says Yevhen Fedchenko, the director of Kiev's Mohyla School of Journalism and the co-founder of StopFake.org, an organization dedicated to weeding out fake news in Ukraine. "It seems like there is a conscious attempt to undermine the Eurovision Song Contest." The Kremlin, he says, considers Eurovision a sign of Ukraine's rapprochement with Europe. "They recognize the importance of soft power."
Kiev's planning, though, was indeed chaotic. In mid-February, co-executive producer Oleksandr Kharebin and 20 other TV personnel resigned to protest project infighting. "There are a lot of people interested in getting some political or reputational dividends," Kharebin says. "The Eurovision Song Contest has become a symbol for a lot of people that Ukraine can revive itself. Unfortunately, Ukraine is a complicated, bureaucratic Eastern European country that is in a state of war." He says delays and unsigned contracts had considerably swelled the costs. "Let's not use the word 'corruption,' " he adds carefully. "Let's say 'nontransparency in suppliers.' "
Russia continued messing with its neighbor. In March, Channel One, a Kremlin-controlled TV network, announced that it had selected a performer to represent Russia at the finals: Yuliya Samoylova, a singer in a wheelchair. Russia presumably knew that Samoylova had violated Ukrainian law by performing in Crimea in 2015, after its annexation, and would thus be barred from entering Ukraine to participate in Eurovision. This put Kiev authorities in an uncomfortable position—bend the laws for Samoylova and look weak, or enforce them and look cruel for picking on a woman with a disability. They chose the latter. Kharebin described Russia's chess move as "classical hybrid war." The EBU tried to persuade the Russians to allow Samoylova to compete via video link, but they refused.
On May 13, the day of the 2017 Eurovision final, the area surrounding the International Exhibition Centre in Kiev was a militarized zone. The hulking building, near the shore of the Dnieper River, was patrolled by several hundred police and army personnel, and incoming cars were searched for bombs. The measures made a terrorist strike unlikely, but, as one EBU employee said, organizers were still worried about a possible Russian digital attack. In December hackers had disabled part of the city's power grid.
Inside a security cordon, a miniature Europe had formed. Some 1,300 journalists from across the continent were crammed into the press center, and many had decorated their desks with flags. The artists and country delegations were segregated in a "bubble" on the other side of the building—a complex of dressing rooms and lounges drowned in the giddy chatter of several dozen languages.

Galich, whose dressing room was located between Belgium's and Germany's, was suffering from Eurovision fatigue. His wife had given birth two weeks earlier, and he hadn't seen their baby in six days because of the onslaught of interviews and rehearsals. The international final was a slicker affair than the Ukrainian selection event, and O.Torvald, fearing backlash, had decided against wearing their suicide-bomb props. Despite their status as representatives of the host nation, which allowed them to skip a semifinal round and go directly to a final group of contestants, Ladbrokes had given the band 125 to 1 odds of winning.
The runaway favorite was Italy, whose contestant, Francesco Gabbani, had a disarmingly goofy stage presence, a catchy song about materialism, and a dancing gorilla. The other strong contenders included Portugal, whose singer, Salvador Sobral, had caused a stir when he wore a pro-refugee sweater to a Eurovision news conference. Bulgaria had sent an androgynous 17-year-old singer who seemed calculated for maximum tween appeal. And Sweden, whose hugely successful songwriting industry makes it the closest thing Eurovision has to a powerhouse, had sent a typically polished act: Robin Bengtsson, an eerily handsome, suit-wearing 27-year-old. His pop/R&B number I Can't Go On had the understated coolness of high-end international pop and featured a tightly coordinated dance routine performed on treadmills.
Greece's Dimitra Papadea, 25, who performs as Demy, understood that her country's continuing financial crisis put her in an awkward position. If she won, her heavily indebted country would struggle to raise hosting funds. She'd refused to accept public financing for her trip. "People are crazy for Eurovision," she said. "But this was not a good moment for Greece to spend money on a contest like this."
In the hour before the contest began, the singers warmed up while fans from across Europe streamed into the arena, many covered in flags and face paint. Organizers had given a number of VIP tickets to veterans of the war in Eastern Ukraine. When an announcer told people to take their seats, guards had to part the rowdy crowds for a procession of uniformed men with crutches and wheelchairs.
At 10 p.m. it was Eurovision time. The broadcast kicked off with a well-edited video of wholesome Ukrainians catching and throwing balls across Kiev. To many people's surprise, the show seemed to be living up to the EBU's expectations: technically flawless and expensive-looking.
Part of the fun of Eurovision is seeing to what extent performers reflect their national stereotypes. France's singer wore a high-fashion gown, twirling in front of an image of Paris. Germany's Isabella Levina Lueen, a tall blonde with an up-do, was professional and a touch dull. Israel's Imri Ziv seemed especially proud of his ostentatiously muscular arms.
As usual, Eastern Europe provided the show with its biggest doses of kitsch. Croatia had selected a rotund national celebrity named Jacques Houdek, who sung a blend of opera and pop in Italian and English that culminated in two images of his face appearing ominously above a psychedelic landscape of trees and stars. Romania executed a rap-yodel duet, with a male singer straddling a cannon.

The arena audience seemed to have clear favorites. Greece's Demy aced her performance, a love ballad accompanied by two shirtless, muscular men splashing in a small wading pool. The U.K.'s Lucie Jones was powerful and technically flawless, and Sweden was, as always, a tastefully calibrated showbiz machine. But the real showstopper was Portugal's Sobral, who sang a jazz ballad with mournful elegance—an uncommon piece of genuine, soulful songwriting at Eurovision. Sobral, who suffers from health problems that make traveling difficult, performed with barely any visuals, his eyes almost closed while the crowd raised their phones above their heads and swayed unironically.
When O.Torvald strode onto the stage near the end of the show, the arena took on the atmosphere of a homecoming football game. Fans began kicking their feet against the floor, and the air filled with screams. As the band launched into Time, Galich spread out his arms in a gesture of mock challenge. After 21 pop performances, it was clear that, as the only rock act of the evening, O.Torvald were the underdogs. In lieu of bomb imagery, they placed an enormous head in the center of the stage, whose eyes opened dramatically midsong—a symbol of awakening from a fog of conflict. The crowd sent the group off to lusty cheers.
A complicated points system determines the winner: A jury from each country assigns from 1 to 12 points to its favorite songs, and these scores are combined with the audience's digitally compiled votes. After the final act performed, it took an hour for the delegations to begin appearing to announce their picks. As always, many countries' viewers voted for their neighbors: Montenegro gave its top marks to Croatia; Cyprus gave its to Greece. But within a few minutes, it was clear Portugal had overcome bloc voting to become the act to beat. Once the audience votes were tallied, Sobral had won with the largest point total in Eurovision history. In a rare moment of triumph for genuine artistry, the continent had united behind a sincerely heartfelt performance. Sobral, looking overwhelmed, went onstage for an encore. Later, backstage, he said the EBU had forbidden him from wearing any more pro-refugee clothing. "I thought it was the biggest problem Europe has now," he said. As for O.Torvald, the band finished third to last.
Later that night, the contest's utopian vision of Europe was manifested at a convention center on the other side of the Dnieper. The official Eurovision afterparty, guarded by security guards and metal detectors, brought together the contest's delegates and hard-core fans. Organizers had hired women in bikinis to walk through the audience, but the revelers seemed more interested in other things: While the crowd jumped around to Romania's Yodel It!, a man wrapped in a Moldovan flag made out passionately with a young Spaniard in face paint. A few minutes later, a host led a chant of "We love Europe! We love Europe!" The crowd shouted in agreement.
(
Corrects the name of the European Broadcasting Union in the ninth paragraph.
)