If Mexico's Ruling Party Can't Win Here, It's Probably Doomed
The PRI is fighting to retain a state it's never lost.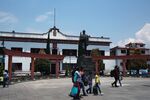 Walk through the town of Atlacomulco and you're quite likely to bump into a relative of a Mexican president or a schoolmate of a state governor, possibly on a street named after one of them.
The hometown of so many big shots from the ruling Institutional Revolutionary Party (PRI) has also been the safest of safe seats—until now. With a regional election days away, some diehard supporters here are wavering. That could spell even bigger trouble for the party in next year's presidential contest. And Mexico has a surging populist movement that's ready to seize on any weakness.
If the whole of Mexico State and the country looked like the center of Atlacomulco, a town of some 20,000 people where neatly trimmed trees line the newly paved sidewalks, you'd think President Enrique Pena Nieto's party would be cruising to victory in both elections—as it usually does. In nine decades, the PRI has never lost control of Mexico State, the country's most populous, which elects a governor on June 4. For the vast majority of that period, it's ruled the rest of Mexico, too, lately along pro-U.S. and market-friendly lines.
But, eroded by a litany of complaints—surging crime, stagnant wages, corruption—Pena Nieto's approval rating has slumped into the teens. Headed in the opposite direction is Andres Manuel Lopez Obrador, popularly known as Amlo. His new, left-wing Morena party promises to halt private investment in the oil industry, put the domestic economy before the interests of foreign capital and stand up to Donald Trump.
Even in Atlacomulco, the shift can be felt.

"We've always been PRI-istas, but we're thinking twice," said Teresa Sanchez, a 37-year-old flower merchant. Asked how she felt about Amlo's party, she said: "Good. Because it's presenting a new vision."
Next month's vote in Mexico State is effectively a two-horse race between the PRI and Morena, according to polls that suggest a close contest. Alfredo del Mazo, the ruling party's candidate, is the son of one former governor of the state and grandson of another—both from Atlacomulco. Morena's Delfina Gomez is a former elementary-school teacher and mayor of Texcoco, a couple of hours' drive east.
Markets are paying close attention. Sergio Luna, chief economist at Citigroup Inc.'s Mexican unit, says he's never fielded so many investor queries about a local vote. Benito Berber, senior economist for Latin America at Nomura, predicts that a Morena victory could push the peso down 6 percent by July, because it would leave Lopez Obrador with a better-than-even chance of taking national power next year.
"If the PRI loses in the state of Mexico, it'll be practically impossible for it to win the presidency," said Aldo Munoz, a political scientist at the Mexico State Autonomous University.
That wouldn't necessarily mean an easy ride next year for the populists: there are other centrist parties that aren't competitive in the statewide vote but might be in the presidential one. The National Action Party, or PAN, the only other party to have held the presidency, is considering running former first lady Margarita Zavala as its candidate this time. She's kept within striking distance of Lopez Obrador in the polls—unlike any potential PRI contender. Pena Nieto can't run for a second term.

This week, PAN announced it'll fight the presidential election in alliance with Lopez Obrador's former party, the PRD. Amlo may have missed an opportunity by failing to make a similar deal in Mexico State, said Juan Carlos Villarreal, a pollster and former electoral official. He predicts that the opposition vote will be split too widely, allowing the PRI to hold onto the state by a margin of 3 or 4 percentage points.
Rogelio Gonzalez, a cantina proprietor in Atlacomulco, says the PRI deserves to win. "We've had a good experience," he said as he poured out hard liquor for daytime drinkers wearing sombreros. Gonzalez, whose daughter won a full state scholarship to study abroad, says he'd vote PRI, "regardless of the candidate."

All over town there are reminders of PRI's past glories. The city hall features a mural of Pena Nieto and other locals who made it to state governor. Outside several homes are plaques announcing which dead politician used to live there. Atlacomulco has five universities and a pink stone theater that hosts stand-up comedy.
Most of the country doesn't receive such largesse, of course. Still, the headline numbers for Mexico's economy suggest the PRI should be doing better. Under Pena Nieto, the economy has avoided recession and grown at about 2.3 percent a year—unspectacular by emerging-market standards, but solid enough by comparison with Latin peers such as Brazil or Argentina, let alone Venezuela. Energy reforms have succeeded in attracting billions of dollars of foreign investment.
"While there are still pending issues, we've advanced in many ways. We have 13 structural reforms that have permitted us to construct the country that we want for this century," the PRI said in response to a request for comment.

But the party's standing in the polls suggests voters are focused elsewhere. On gasoline prices, for example, which triggered nationwide protests when they were raised 20 percent in January. Or on a homicide rate that's on track to make 2017 the deadliest year this century, surpassing even the height of the drug war, with women increasingly prominent among the victims. Meanwhile, corruption scandals have sucked in Pena Nieto and his family—although all parties have had accusations of graft thrown at them during televised debates, just as all deny them.
One Atlamulco resident, who asked that her name not be used for fear of reprisals, said she used to watch Pena Nieto as a young child, skipping across the pavement to his grandmother's house. But she said the people of the town have lost faith in the PRI.
Another, middle-school teacher Jesus Guzman, said that Atlacomulco's lack of medical facilities had forced him to seek treatment out of town. "The people are looking for a change," he said. "We need a health center, not just a pretty town center."
(Updates with comment from the PRI in 15th paragraph.)
(
Updates with comment from the PRI in

15th

paragraph.
)