Why a Giant New Eataly Won't Sell Parmesan Cheese or Parma Ham
'It's like Prada without bags,' Eataly laments.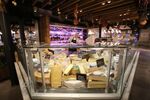 Yuri Tetrov was months away from opening Russia's first Eataly, a giant new market and restaurant hall for what is arguably the world's most ambitious chain of Italian megadelis. 
Then President Vladimir Putin introduced a vast food embargo on European delicacies to retaliate for sanctions against Russia. Put another way: Tetrov was about to open an 80,000 square-foot cathedral to Italian food that couldn't import and stock cuisine basics such as Parmigiano cheese or San Daniele ham from its traditional producers.

That was 2014. After a 2 1/2 year delay, the cavernous spot—about a third larger than a football field—in central Moscow is finally opening for business. Still absent are Italian-made meats and cheeses, although shelves are heaving with authentic San Marzano tomatoes from the foot of Mount Vesuvius, pizza made from Mulino Marino stone-milled flour near Turin and Lavazza coffee.
"I remember, when the food embargo was introduced, we saw the list and said, 'Wow!' We found out that we couldn't import cheese products, most meat products, fish, fruit and vegetables,"  Tetrov said in an interview in Moscow. "We sat down and said: Okay, no panic. Let's make a plan how we move ahead."

What followed was a multi-year quest to find Russian suppliers, or producers of similar foods in countries outside of the trade sanctions. While in other countries Eataly produces soft cheeses like mozzarella in its in-house kitchens, in Russia it had to expand that to other types of cheeses such as Gorgonzola and Asiago. It also sourced cheese from Switzerland and traveled as far as 620 miles from Moscow to get meat, honey, fruit and vegetables from Russian farmers.
Italian cheese producers were repeatedly flown to Russia to check the milk for mozzarella and aged varieties, and kept rejecting samples until an acceptable substitute was found. Also off the menu: original Parmigiano Reggiano, Grana Padano cheeses and San Daniele or Parma hams, according to  Simone Tosato, the company's franchising director. Many Italian cheeses are marketed around Europe as DOP, for the Protected Designation of Origin, to guarantee consumers of the ingredients and processes used in production.
The irony isn't lost on Eataly, which is hoping  to exploit Russia's love of Italian goods, from high fashion to fine food to fast cars.
"It's like Prada without bags," Tosato added.
Eataly's Russian ambition shows in the site's scale. The Moscow location will be the chain's second-largest after Rome, surpassing all others of its roughly 30 sites from Seoul to New York (it's 60 percent bigger than the Flatiron district flagship hall). It can seat 950 diners, more than any other Eataly.
The Moscow Eataly expects to generate about 60 percent of its revenue from restaurants and 40 percent from shops, which would be about the same split as in New York, Tetrov said. The average ticket would be 1,200 rubles ($21) per person in restaurants and 1,500 rubles ($26.50) in stores, according to Tosato.

Eataly in 2012 picked Tetrov, a Soviet-born food entrepreneur whose family left the Soviet Union for Israel in 1972 and who now lives in Spain. He previously ran the Italian Lavazza coffee shop's franchise in Russia, a high-end jewelry business in Belgium, and is a co-owner in several restaurants in Spain. He said his first business breakthrough, in the 1970s, was supplying Swedish water-slides to Israel.
Years behind plan, the doors are opening as Russian consumer data show mixed signals. Households still lack the confidence to reverse a record contraction of retail sales, even after eight months of growth in real wages. The Russian dining-out market fell 3.8 percent to 1.33 trillion rubles in 2016, after falling 6 percent in 2015, according to Federal State Statistics Service.
"I guess the food embargo may be good for Russia as a country because people start to produce food locally," Tetrov said. "Unfortunately, you can't produce very popular European products that have been produced for hundreds of years in Moscow in one day. It's out of the question."