When the Patient Is a Gold Mine: The Trouble With Rare-Disease Drugs
With a flagship treatment that helps fewer than 11,000 people, how is Alexion making so much money?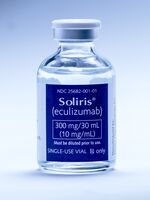 Source: Alexion
Kerry Owens, a doctor in Oklahoma City who specializes in kidney disorders, was stunned by the call to her mobile phone in September 2015. She and a team of specialists were treating a new mother from nearby Enid, whose health had begun to deteriorate after giving birth. The doctors ran countless tests but couldn't pinpoint what was wrong. Briefly they worried it might be an extremely rare and potentially fatal blood disorder called atypical hemolytic-uremic syndrome, or aHUS, which afflicts about 1 in 500,000 people each year. They put the patient on a drug called Soliris, which had recently been approved to treat the condition. But her health continued to decline, so they stopped the Soliris infusions.
Now a sales rep was on the other end of Owens's phone from Alexion Pharmaceuticals Inc., the New Haven-based maker of Soliris—one of the world's most expensive drugs, typically priced from $500,000 to $700,000 a year.
The rep was calling to argue with the treatment plan. She pressured Owens to continue Soliris treatments, ticking off detailed information about the mother's organs that the doctor hadn't shared with the drugmaker. "How did you know that?" Owens remembers thinking. She was monitoring the patient's condition with seven hematologists and wasn't swayed by the Alexion rep. "I was really taken aback by how bold and brash she was," Owens says. "I've never had an experience like that—before or since."
Alexion is a powerhouse in the market for orphan drugs, a fast-growing pocket of the pharmaceutical industry that focuses on rare diseases. In the U.S., an orphan drug is defined as one that treats a disease affecting fewer than 200,000 people in the country. Orphan drugs accounted for a disproportionate share, 41 percent, of all medications brought to market in 2014, according to a study by Johns Hopkins University. Globally, sales of orphan drugs are expected almost to double, to $209 billion, by 2022, based on numbers gathered by Evaluate Ltd., a life-sciences consulting company.
These drugs have helped millions of people. Patients with aHUS, for instance, faced years of kidney dialysis treatments and sometimes succumbed to deadly blood clots before Soliris came to market. "It's the best drug I've seen for changing the outcome of a disease since I graduated in 1985," says Gianluigi Ardissino, a doctor in Milan who's treated more than 70 patients with Soliris.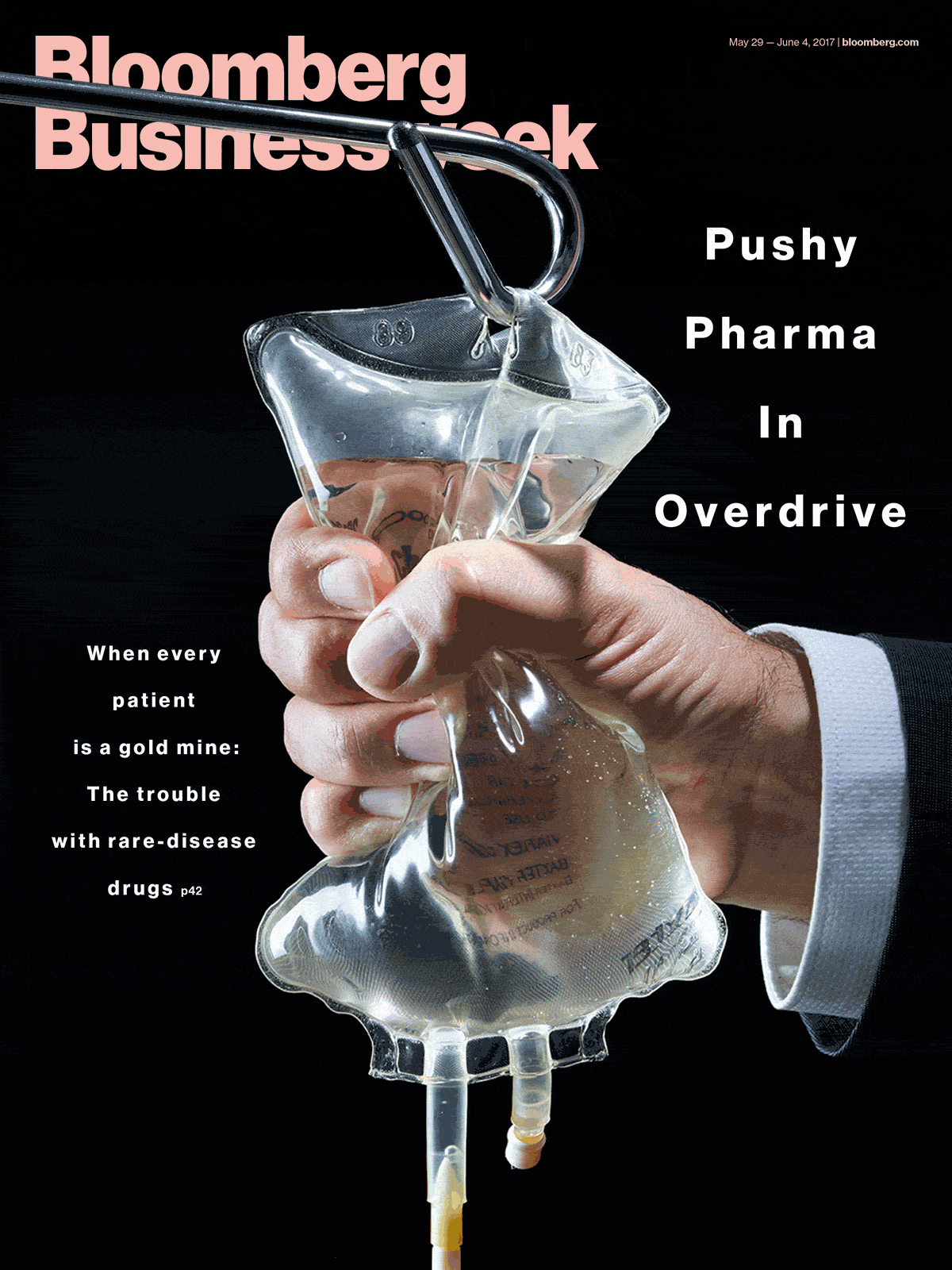 But orphan drugs have also caused a seismic shift in treatment costs. The average U.S. patient on an orphan drug last year relied on a $136,000 therapy, a figure that's climbed 38 percent since 2010. A fraction of a teaspoon of Soliris, administered in a single 35-minute treatment, costs more than $18,000, and patients might need 26 treatments a year for the rest of their lives. With this single drug accounting for almost all its revenue, Alexion has created enormous wealth out of an estimated 11,000 customers. It generated $3 billion in sales in 2016, and its $24 billion market valuation puts it on par with household names such as HP Inc. and Yum! Brands Inc.
Having to rely for profits on a small number of customers who are each potentially worth millions of dollars causes side effects of its own. For years, the sales culture at Alexion was so pressure-packed that aggressive phone calls to doctors were among its milder transgressions. Ethical lines were routinely crossed, troubling many of its workers, according to interviews with more than 20 current and former employees and more than 2,000 pages of internal documents.
Then last November, Alexion announced it was conducting an internal probe into its sales practices. It eventually concluded that management had failed to set the appropriate "tone at the top," according to a news release. Within months the company's chairman and co-founder, Leonard Bell, and its chief executive officer, chief financial officer, and top compliance officer left. In March, Alexion hired as CEO Ludwig Hantson, an industry veteran, who revamped the compliance team and appointed a head of culture "to redefine the culture in the organization with a big emphasis on integrity, trust and compliance," according to a written statement sent to Bloomberg. On May 23, the company announced the departures of the chief commercial officer, head of research, chief human resources officer, and the new CFO.
Hantson declined to be interviewed for this story or to answer specific questions, so it's not clear what exactly prompted the reorganization. But Alexion's past appears to be catching up to it, particularly overseas, where the company gets about 60 percent of its revenue—and where it behaved the most egregiously, former insiders say. On May 8, Brazilian police raided its offices in São Paulo as part of an investigation into its business there.
Public outrage over the soaring prices for life-changing medications has been reverberating around the globe for years. But far less attention is paid to the Glengarry Glen Ross frenzy at companies such as Alexion, whose drug costs more than most new homes and, in some parts of the world, must be delivered by armed guards.
Before the early 1980s, pharmaceutical companies largely ignored the known universe of about 7,000 orphan diseases. It simply didn't make much business sense to address devastating but rare ailments such as Huntington's disease and muscular dystrophy when such widespread, chronic conditions as arthritis, heart disease, and diabetes had a steady supply of patients, as well as insurance companies, ready to foot the bill.
To address neglected research areas, Congress in 1983 passed the Orphan Drug Act, which gave drugmakers federal grants, tax incentives, and seven years of marketing exclusivity for new rare-disease treatments (vs. three to five years of exclusivity for a more common new drug). In the ensuing 34 years, more than 600 orphan drugs have been approved in the U.S., compared with 10 in the decade before the law was passed.
But government-protected monopolies, combined with desperate patients, led to today's prices. Genzyme Corp. started the trend in 1991 by charging $150,000 for a year's supply of a drug for treating Gaucher disease, an ailment that weakens bones and internal organs. In 2016, Biogen Inc. began charging $750,000 for the first year of treatment with a drug called Spinraza, which targets a deadly muscle disease. "Many of these manufacturers have perceived it as essentially a blank check to price the drug where they think it's reasonable," says Rena Conti, associate professor of health policy and economics at the University of Chicago.
Despite the pricing controversies, it's not politically popular to tinker with the Orphan Drug Act. The law has been highly effective in funding and focusing top scientific minds on long-neglected diseases. And everyone expects the drugs to cost more than those for common maladies, because companies have to recoup research and development investment and generate profits from a smaller customer base. This leaves government health programs, groaning under the high cost of drugs, to figure out how to bargain or to limit the availability of these drugs to the neediest patients.
In many ways, Bell is a perfect example of how orphan drug incentives should work. When he started Alexion in 1992, he wasn't in a great position to take a major risk. A 33-year-old cardiologist at the time, he had three children ages 1 to 7 and a tenure-track position at Yale. Bell had become fascinated with a part of the immune response known as the complement cascade, which helps the blood stream get rid of damaged cells and bacteria. Sometimes this protective immune response can cause harm, such as when a body rejects a transplanted organ. If he could figure out how to limit the complement cascade in certain situations, Bell reasoned, he could solve a variety of medical problems.
Funding was tough to find, and Bell struggled to stay afloat. "Like most things in biotech, within six months of leaving Yale, everything had failed miserably," he told Bloomberg in 2015. (Bell, who retired in May amid the management turnover, didn't reply to messages seeking comment for this article.)
Alexion next teamed up with another company to alter organs in pigs so they could be transplanted into humans. Although the effort proved unsuccessful, it helped Alexion raise funds from private investors and government grants to continue probing the relationship between the immune system and blood cells.
Bell took the company public in 1996. Even though it was years from introducing any products, investors were willing to embrace the risk for the prospect of large rewards if Alexion could unlock the complement system, recalls Barry Luke, the company's former vice president for finance and administration.
In 2002, Alexion had a breakthrough. A British researcher showed that one of its therapies actually helped patients suffering from the extremely rare blood disorder called paroxysmal nocturnal hemoglobinuria, or PNH, in which a patient's complement system attacks red blood cells. About 35 percent of patients die within five years of a diagnosis. By the time Soliris was approved by U.S. regulators to treat PNH in 2007, it had taken 15 years and $850 million to bring the drug to market. In 2011, Soliris was approved to treat aHUS as well.
In 2007, Wall Street analysts eagerly awaited a price tag for Soliris. Most expected it would cost more than $100,000. But Alexion factored in other things, such as the savings Soliris offered by cutting down trips to the hospital and blood transfusions. When the company set its initial price of $389,000 per year on a conference call, one analyst from Credit Suisse Group AG was so dumbfounded that when his turn to ask a question came around he said, "Sorry, I'm speechless right now. On that number, can you repeat that again?"
Soliris was a savior for such patients as Michele King. When she was 21, King, a Canadian, had been overcome by fatigue on a 1988 hitchhiking trip across New Zealand. After two years of tests and doctors' visits, she was diagnosed with PNH. She began transfusions to replenish her red blood cells and took steroids to slow her immune system's attacks on her body. The treatments helped a little, but her energy would quickly fade, and the steroids left her irritable and with the swollen facial features known as "moon face." She struggled to work administrative jobs to pay the bills. "I used to have to go home and sleep at noon because I was so tired," she says.
In 2005, King got into a drug trial for Soliris, which doesn't cure PNH but can hold the disease at bay. "From the first dose, it completely changed my health," says King, who's been on it ever since. Her energy returned, her moon face disappeared, and she took up horseback riding. "I call it a miracle drug for me."
The company immediately went into overdrive on its sales efforts. "Back in 2007, the bear story on Alexion was, how do you even make a business in this? Aren't there just a few hundred people in the world living with PNH?" said Alexion's former CEO, David Hallal, in an interview with Bloomberg in 2015. (Hallal, who resigned in December, didn't respond to messages seeking comment for this story.) "We didn't sleep for four, five years."
For new arrivals at the company, the sales culture was intense. Managers drilled into them the need to question doctors, many of whom had never seen patients with these rare diseases, and to "transform no to yes," recalls a sales manager who left in 2016. If doctors didn't think patients were sick enough to warrant a drug with this price tag, the salespeople were instructed to warn the doctor that his patient could die.
The company closely tracked key details, such as the number of tests ordered by physicians in their core markets. And sales staff passed around intricate spreadsheets, with thousands of rows each, on potential patients, including details such as birthdates and information about symptoms, doctor, and hospital. In some cases, patients were identified by their initials.
A team of nurses sat alongside the sales staff. Pharmaceutical companies often employ trained medical personnel to help them manage complicated treatment regimens. But as licensed practitioners, in-house nurses are supposed to hold their patients' interests ahead of their employers' profits. To avoid conflicts, most drug companies keep a firewall between their nurses and their salespeople. At Alexion, the nurses reported directly to sales, and the pressure to lock in and keep customers was often heaped on them because they had the most access.
Several former employees described how, during weekly Friday sales meetings, managers gathered the sales staff and nurses to talk about their customers. If somebody had stopped taking Soliris, the managers would turn to the nurse assigned to that patient: What steps did you take to keep the patient on the drug? Have you told the patient he could get a potentially fatal blood clot if he stops? Did you steer the patient to a different doctor who might resume treatment? "It was your feet to the fire, sweat pouring down your back," says one former longtime company nurse, who requested anonymity because she feared retaliation from the company.
Stacey, a 43-year-old stay-at-home mom in Vancouver, Wash. (she asked that her last name not be used to protect her privacy), was diagnosed with PNH in 2004 and began getting blood transfusions. So when Soliris became available, she was eager to try it. But her blood results showed little improvement. When she told her Alexion nurse that she and her doctor were going to stop treatment, she began receiving calls from the nurse urging her against it.
"I felt like they were scaring me, saying, 'Oh my gosh, you really shouldn't stop. You could get a clot and die,' " Stacey recalls. "I said, 'It's not working for me. I know there's a bottom line here—a dollar line.' "
With two very uncommon diseases, Alexion has long faced a question that vexes most orphan drug companies: How do you find those extremely rare patients and steer doctors to your drug? (One public-relations weapon in the early arsenal of orphan drugmakers: pitching their obscure diseases to the TV medical drama House.) To find those "needles in a haystack," as Alexion's Bell has described such patients, sales reps spend the majority of their time talking to doctors, getting them to look for symptoms and encouraging them to test for the rare diseases. Alexion set out to persuade doctors to test more frequently for PNH and aHUS—and to find a way to glimpse these test results, which traditionally have been shared only among the patient, the doctor ordering the test, and the lab.
Reps were instructed to urge doctors to send the tests to preferred "partner labs," according to several former employees and internal documents. Unbeknown to patients and many of the doctors, several of these preferred labs have agreements with Alexion to provide it with a copy of the test results. These are "blinded" to remove the patient's name, so they don't run afoul of medical privacy laws. But in some cases the lab provides everything else: a patient's age, gender, and ZIP code, the hospital and doctor ordering the test, and a summary of the results. For Alexion sales reps, this gave a map to the doorsteps of otherwise hard-to-find patients.
When a result for PNH or aHUS came in to Alexion, the diagnostics team—about a half-dozen employees—passed the detailed information along to the sales staff, which descended on the doctor listed in the result. "It was like Normandy," says a former account rep who requested anonymity because he doesn't want to harm his career. Drug companies pressured labs for years for access to the testing data, but the labs pushed back, says Adam Tanner, a writer in residence at Harvard's Institute for Quantitative Social Science and author of the book Our Bodies, Our Data. Around 2010, he says, the labs' behavior changed. Seeking a way to fatten thinning profit margins and under the rationale of helping drug companies with research, labs began to sell blinded test results to data aggregators and drug companies.
For Alexion, this arrangement started with a lab in Bangor, Maine, called Dahl-Chase, which helped develop the test to detect PNH. It expanded to other regional labs, including Machaon Diagnostics Inc. in Oakland, Calif., as well as national labs such as Laboratory Corp. of America Holdings, known as LabCorp, and Quest Diagnostics Inc. Even Mayo Medical Laboratories, a division of the not-for-profit Mayo Clinic, provides test information to Alexion.
In April, in response to questions from Bloomberg, Kim Diamond, Alexion's spokeswoman, sent a written statement that read in part, "These lab partnerships are critical since PNH and aHUS are life-threatening, ultra-rare diseases with low awareness … among the medical community." But on May 16, a week after Bloomberg sent further questions about the practice, Diamond said the company was temporarily halting such data gathering as it reviews its lab relationships. She declined to discuss the reason.
Executives at Dahl-Chase and Machaon didn't return multiple phone calls and emails seeking comment. Quest Diagnostics and Mayo said in written statements that their data-sharing contracts are confidential, but that they adhere to privacy laws, while LabCorp wouldn't confirm or deny whether it shared testing data with Alexion.
Around the world, a network of patient advocacy organizations offers much-needed support and helps expedite drug approvals. It also provides the company another tool to zero in on potential customers. In 2015, Alexion funded more than 75 of these groups, according to a listing on its website.
In the U.S., the National Organization for Rare Disorders, which emerged in 1983 during the lobbying effort to enact the Orphan Drug Act, remains one of the most powerful advocates for patients with rare diseases. Through grants from Alexion, NORD hosts several aHUS and PNH meetings each year around the country, where patients and their families meet, offer one another support, and hear from medical experts. "People felt very isolated," says Maria Hardin, NORD's former vice president for patient services who hosted some of the Alexion-funded meetings for PNH patients. "Bringing [the community] together was very beneficial."
Alexion's grants pay for travel, lodging, and meals. Typically the patients and families arrive at the hotel in the evening and gather for dinner with the host from NORD. The next day they attend an information session, usually with a doctor (also paid by Alexion) who gives a talk and answers questions. Alexion and NORD negotiated who could be at this second day, says Hardin and a former Alexion employee. Alexion wanted sales reps to be at the meeting, but NORD resisted. Instead, NORD agreed that Alexion's nurses could be there. "I did not like that decision, but I did not have control over that," Hardin says.
According to two former nurses who attended these meetings, they were instructed to gather sign-in sheets with names and contact information. A few days after the meetings, they would reach out to attendees who weren't taking Soliris to begin a dialogue in the hope of starting them on it. NORD's spokeswoman, Jennifer Huron, says her organization protects patients' privacy and isn't aware of Alexion nurses gathering contact details.
Overseas, Alexion has developed even tighter relationships with patient advocacy organizations. The company's involvement with such groups in Brazil presents a particularly dark picture of the perverse incentives propelling orphan drug sales.
To be reimbursed in Brazil, drugmakers are supposed to negotiate with the government on price. To avoid this step, Alexion dragged its feet on registering Soliris there for years, say five former managers and executives. Under Brazil's constitution, which declares health a "right of all persons and the duty of the State," citizens can sue the government to get access to drugs that haven't yet gained approval by regulators. If the citizen wins, the government pays for the drug without the usual price negotiations.
Most patients don't have the resources to pursue such a lawsuit, which is known as "judicialization," so Alexion started and funded a patient group called the Association of Patients with PNH. The group's primary lawyers, who spearheaded the judicialization suits on behalf of patients, initially came from a law firm owned by the sister of Alexion's local manager, according to a December 2014 confidential analysis conducted by an outside law firm that Alexion had hired to review its business practices in Brazil.
In 2012 the company shifted funding to a bigger group called AFAG. Although AFAG works with other drug companies, Alexion contributed 1.672 million Brazilian reais (about $500,000) to the charity in 2014 and 2015. That was about 30 percent of AFAG's budget, says the group's president, Maria Cecilia Oliveira. For 2016 the donation increased to 2.675 million reais. These contributions afforded special access. Every week, an Alexion manager went to AFAG's office to go through patient files, according to internal documents. The manager told AFAG which cases to pursue and took all the latest patient information back to Alexion, according to a former manager. Few doctors, patients, or government officials realized the extent of Alexion's influence within AFAG, three former company managers say.
Alexion's outside law firm deemed its Brazilian operations to be "unethical," according to the 2014 findings. But they've been quite lucrative. By the end of 2016 the company projected it would have more than 600 Brazilians on Soliris, which would produce revenue of more than $200 million, according to internal documents. Brazil's health system doesn't easily absorb that kind of expense. Soliris—a drug that treats 0.0003 percent of the country's population—accounted for 30 percent of Brazil's judicialization budget in 2013 and 2014.
Now, Brazil's national police are alleging that some of the lawsuits funded by Alexion through its donations to AFAG were fraudulent and used inaccurate diagnoses to generate patients, according to a request for a search warrant, which Bloomberg reviewed. In one case, armed guards regularly delivered far more Soliris than was needed to a woman who was diagnosed—incorrectly, it later turned out—with aHUS. After years of the excessive shipments, she'd stockpiled about 2.2 million reais of the drug in her refrigerator. Growing suspicious, she reported the situation to authorities, according to the search warrant request. Brazil's police also raided the offices of AFAG on May 8. Oliveira confirmed the search of the group's offices in a phone interview and said AFAG is cooperating and has done nothing wrong. Alexion's Diamond says the company has operated "in accordance with local laws" and that it "has not been charged with any criminal or civil misconduct at this time." In a discussion with investors on May 16, CEO Hantson said Alexion was striving to improve how it works with patient groups in Brazil and elsewhere.
Alexion's grants to overseas groups have also caught the attention of U.S. regulators. For the past two years the Securities and Exchange Commission has been investigating grants made by Alexion in Brazil, Colombia, Japan, Russia, and Turkey, with a focus on potential violations of the Foreign Corrupt Practices Act.
Despite the company's problems, Alexion understandably enjoys a fervently loyal fan base. Stacey, the stay-at-home mom from Washington state who faced pressure from an Alexion nurse after stopping Soliris, tried the drug again several years later. For reasons she can't explain, it worked much better that time. The drug "is life for me," she says. "You just can't put money on that."
Of course, you can, and you probably have to. From Canada's drug price review board (it's been warring with Alexion over prices for years) and New Zealand's pharmaceutical agency (in 2013 it declined Alexion's funding application for Soliris because of cost) to President Trump via Twitter (March 7: "I am working on a new system where there will be competition in the Drug Industry. Pricing for the American people will come way down!"), every country is trying to figure out what's reasonable. Trump hasn't provided details on his new system, but in the meantime the biggest looming challenge to orphan drug companies in the U.S. is the GOP plan to repeal Obamacare. The bill that passed the House in May could allow insurers to bring back some lifetime limits, meaning some patients would have to pay out of pocket once they reached their maximum drug reimbursement. That could put more pressure on companies to lower prices.
Investors aren't sure what to think about the investigations into Alexion's business practices or a potential overhaul by the new CEO. Barclays Plc wrote in an April research report: "The investigation into Soliris sales practices and recent executive turnover have wreaked havoc on investor sentiment." Shares are down 18 percent since Alexion announced the 2016 internal probe, while biotech overall is up 2 percent.
Hantson is examining some of the company's most aggressive practices. After receiving detailed questions from Bloomberg, he announced several changes, including that the company's nurses will now report to the medical affairs staff instead of its sales team. Analysts who follow the company, such as Geoffrey Porges of Leerink Partners LLC, wonder whether an orphan drug company with a half-million-dollar product and 11,000 patients can clean up its act while keeping investors happy. "Everyone's fear is that if you lose that culture," Porges says, "you lose the revenue momentum."
—With Mario Sergio Lima