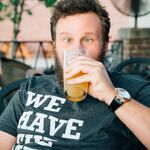 Photographer: Akasha Rabut for Bloomberg Businessweek
It's Good to Be the World's 119th-Ranked Golfer
The life of Beef Johnston.
A bird has just pooped on Andrew Johnston's shoulder. Some people would call this a sign of good luck, but Johnston, a 28-year-old professional golfer better known as Beef, doesn't see it that way. "How is that good luck?" he asks. He's sitting on the patio at the Bulldog, a small pub on Magazine Street in New Orleans, where students from nearby Tulane University mix with tourists and local hipsters. He's come to the Bulldog on this mild Tuesday evening in April to drink a few IPAs and promote Arby's, the fast-food chain that sponsors him. These bar visits, which Arby's calls Beef Tips, are loosely organized; Johnston might tweet about where he'll be to his 105,000 followers, but for the most part, he just shows up and starts socializing. Later in the week he'll play in the Zurich Classic at TPC Louisiana, a course in a southwestern suburb. But right now, he needs a new shirt—the one he's wearing, with the Arby's slogan "We Have the Meats" on it, is stained with bird droppings. An Arby's rep fetches a replacement.
A pudgy Brit with a lumberjack beard and a big, toothy smile, Johnston first grabbed the golf world's attention in April 2016, when he won the Spanish Open at Valderrama. It was his first victory on the European Tour. In a subsequent television interview, he declared that he couldn't wait to go home to London to "get hammered" and see his mom. Three months later, at the British Open at Royal Troon in Scotland, he finished eighth and was followed by crowds shouting, "Beeeef!" "The way the crowd took to me was just, like, nuts," Johnston says at the Bulldog. "That was literally, like, the craziest week of my life." By the fall, when he earned his card to play on this season's U.S. tour, Johnston was a bona fide media sensation and golf's newest folk hero.

The most immediate comparison people make is to another folk hero: John Daly. A hard drinker in loud pants, Daly came out of nowhere to win the PGA Championship in 1991. Both men have big appetites and hit towering tee shots, but while Daly is a bumptious Southerner who picks guitar, Johnston is a bubbly millennial who listens to Wu-Tang Clan. Earlier this year, Daly hosted Johnston at his home in Clearwater, Fla., and shared video of the visit, in which Daly tries to teach Johnston to say "Arby's" the American way, with a hard "r."
Johnston ranks 119th worldwide, which is very good but not usually good enough to make the Golf Digest cover, as he did last September, or to sign deals with big nongolf brands. His challenge is to play well enough to keep offers coming. "The last thing he wants to be known for is a gregarious nature and a fun name," says Doug Shabelman, president of Burns Entertainment, an agency that helps brands find personalities for ad campaigns. "His team will be smart enough to realize this will be short-lived if he doesn't win."
The goal for this year, Johnston says, is to crack the top 50. "You want to put your name on as many trophies as possible," he says. "I like to keep it as simple as that." To get there, says Gary Koch, a former PGA tour pro and current golf analyst for NBC Sports, "he needs to improve his putting." Johnston's bad rounds, Koch adds, need to be less bad: "There are too many rounds of 75, 76, or 77. When the top players play poorly, they shoot 71, 72, or 73 and keep themselves in the tournament."

Becoming one of the world's 50 best golfers is an absurdly difficult task. And for most, it requires a monastic dedication to the game. But Johnston is beloved because he isn't another trim, boring golf machine. Can he beat the automatons without becoming one of them?
Johnston started playing golf at a local club north of London when he was 4 years old. His father, Noel, a bus driver before becoming the manager at a lumberyard, showed him the game. His mother, Jackie, still works part-time as a lunch lady at the elementary school he attended. At 12, Johnston decided to let his hair grow into unruly curls. A friend saw him on the course and decided the hairdo looked like meat. "He said, 'You've got a bit of beef on your head,' " Johnston recalls. The name stuck. (He later had it tattooed on his back.) By the time he was 15, he was a scratch golfer.
In 2006, when Johnston was 17, his father died suddenly of brain cancer. The following year, Shaun Reddin, an acquaintance of a friend's father, decided to help Johnston make golf a career. Reddin, 50, who owns an infrastructure-project-management company near Johnston's childhood home, says, "He was a bit lost at the time." He turned pro in 2009 with Reddin's company, RedRay LLP, as his sponsor. For the next seven years, Johnston toiled anonymously in Europe.

Then came the win in Spain and a call from Arby's Restaurant Group. The chain had been keeping an eye on Johnston, says Christopher Fuller, vice president for brand and corporate communications. "We heard about this player in the U.K. who was playing well," Fuller says. "We heard his name was Beef." After Johnston declared his intention to "get hammered," Arby's was smitten. "We were, like, We love this guy," Fuller says. "We've got to do something with him."
Johnston had never tried an Arby's sandwich before Fuller got in touch; the chain doesn't have franchises in Europe. "I didn't know much about them," Johnston says. The courtship was swift. When he came to play in the PGA Championship at Baltusrol Golf Club in Springfield, N.J., last July, Johnston was invited by Arby's to its newly opened location in New York south of Times Square. Without prompting, Fuller says, Johnston went behind the counter, put on an apron, and started serving customers. The chain signed him to a trial deal, putting its logo on his shirt for the tournament. (He finished tied for 60th—and was again trailed by raucous crowds.)
In the fall, during the Ryder Cup (a match between teams from Europe and the U.S.), Arby's ran a trio of TV ads titled "We Have the Beef," even though Johnston hadn't been picked for the European team. The spots showed him putting down the carpeted stairs of a golf club, lolling about with an Arby's lunch bag under a tree during a fox hunt, and chipping into an Arby's soda cup. After Johnston earned his tour card, Arby's signed him to a one-year deal beginning in January; the company declined to disclose financial terms. Johnston says he made sure to buy drinks for the friend who gave him his nickname.
In January, Johnston also signed contracts with caulk-and-spackle brand DAP Products Inc. and Swiss watchmaker Audemars Piguet Holdings SA, which outfitted him with a gold-tinted Royal Oak chronograph (price tag: $20,000-plus), the only sign on him at the Bulldog of his status as a pro athlete. Reddin declined to say how much Johnston makes from his endorsements.

During the roughly 10 hours I spend with Johnston—at the Bulldog and at the Zurich Classic the next day, where he plays the Pro-Am round with local boosters—I never hear him say no. Not to the PGA, which has him try local delicacies such as baked oysters, crawfish ravigote, and crab-claw remoulade while a videographer records his reactions; not to any fans who request autographs or photos, stopping to talk with each one, comparing notes on beard care, and inquiring about the alligators in the water hazards; and not to Bloomberg Businessweek's photographer, who, after Johnston's last tee shot of the day, asks him to lay down on the fairway for a portrait. As he reclines on his side, sailors from a nearby naval base who are at the course as part of a charity program break down laughing. "More sexy!" one of them calls out. Johnston shifts his hips into a come-hither pose, asking, "How's that?"
At the Bulldog, Johnston sets a pint glass on its side on the floor behind the bar and lines up a putt from across the room. The ball swerves on the worn wood floor and misses right by about a foot. "All right, you've all seen the break," Johnston calls out to the two dozen or so drinkers. "Anyone holes it, I'll buy the whole place a round!" After several people try and fail, Ronnie Arant, a 24-year-old graduate of Louisiana State University, hits a ball that rattles in and out. "That was in! That was in!" Johnston shouts. "Get a round of drinks!" He signs the ball—"What a Putt. Beef"—and starts chatting with Arant and his three friends, none of whom had heard of Johnston before. Now, though, they're buddies. They want to do a round of shots. Johnston says he likes whiskey. Before they order, Fuller steps in and says, "I have to steal this guy." Johnston does, after all, have a tournament to play.